You're currently on: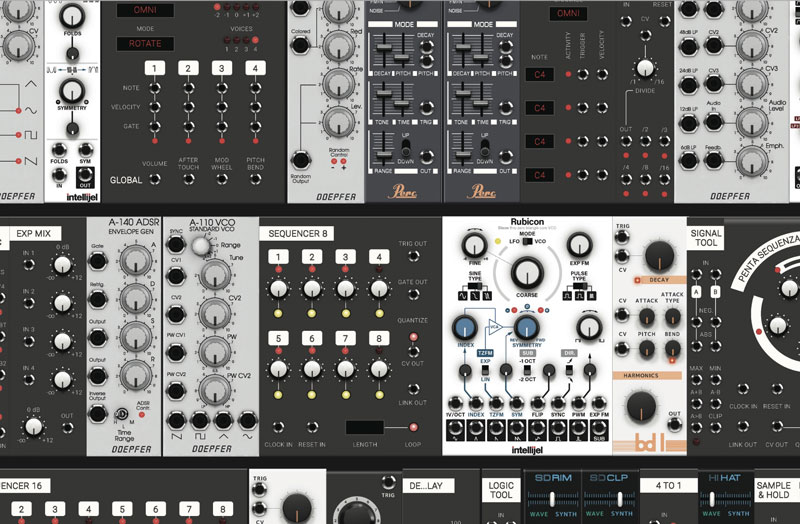 New Modules and Windows 10 Fixes
Today, we're releasing version 2.3.76 of our plug-ins installer. It contains two new modules for Modular, fixes for the issues Windows 10 users have experienced and a large number of smaller fixes and updates.

The two new Modular modules are free of charge to Modular owners.
These are the new Modular modules:

Dual X-Fade
Two channel, CV controllable crossfade module. Dual X-Fade lets you create new and interesting textures by blending two separate mono signals. For example, patch in two different waveforms from an oscillator—such as sine and saw—and use the blend knob to set the relative level between the two signals. You can also morph seamlessly between them by manually adjusting the blend knob while the song is playing, or control the knob with an LFO via CV.

Dual Pan
Two channel, CV controllable panning module. Use Dual Pan to place one or two mono signals anywhere in the stereo mix panorama, for example two percussive sounds that the user wants to separate in the stereo image. The 1+2 outputs can be used for a stereo sum of the two L and the two R outputs. Dual Pan can also be used as an A/B switch to send a CV or audio signal to different inputs.
Bug Fixes
Furthermore, the 2.3.76 software includes a large number of bug fixes. Most importantly, the issues for Windows 10 users have been remedied, so Softube's plug-ins are again fully compatible with Windows 10
Buchla and Moog started it all with their modular synthesizers in the 1960s. Doepfer made it affordable in the 1990s by introducing the Eurorack standard. Today, Softube makes the Eurorack modular synthesizer truly accessible for everyone with the Modular plug-in.
Softube is proud to announce Modular: A new cross-platform modular synthesizer plug-in that looks, works and sounds exactly like its analog Eurorack counterparts.
Softube's award-winning modeling experts have collaborated closely with legendary inventor Dieter Doepfer and the top minds at Intellijel to create circuit emulations of existing hardware modules. The resulting plug-in modules have been authorized and approved by their respective owners, guaranteeing that Softube Modular gets you as close to the analog sound as you can get.
Both effect and instrument, Softube Modular is fun, limitless and easy to use. The basic system includes six Doepfer modules and 20+ utility modules, such as sequencer, mixer, delay and more, and a massive preset library will be included. Additional modules from Doepfer and Intellijel will be available as add-ons at launch (such as LPG, uFold II, Korgasmatron, Rubicon). More emulations from top hardware synthesizer brands will be released in the future.
WINDOWS:
v. 2.3.76 (870 MB)
VST/VST3/AAX 64-bit
For 64-bit DAWs, Pro Tools 11 and newer, Cubase, Studio One, Sonar, Live, etc.
v. 2.3.76 (1543 MB)
MAC:
VST/VST3/AU/AAX
For Pro Tools, Cubase, Logic, Studio One, Live, etc.
Please Note
The Windows version of the current release (2.3.76) is only available for 64-bit. We are working on the 32-bit version and expect to release it soon.
The installer contains all Softube's plug-ins, as well as the Console 1 software. So even if you just have a license for one or a few products, choose your platform and plug-in format above, and download the entire package.
All products require at least Intel Core/AMD Athlon 64 or better processor. Please see the System Requirements for more information. If you have an older system, go to the Legacy Installers page.
Need help?
Please see the Frequently Asked Questions, or more specifically "How do I install Softube plug-ins?".
You may also be interested in: