You're currently on: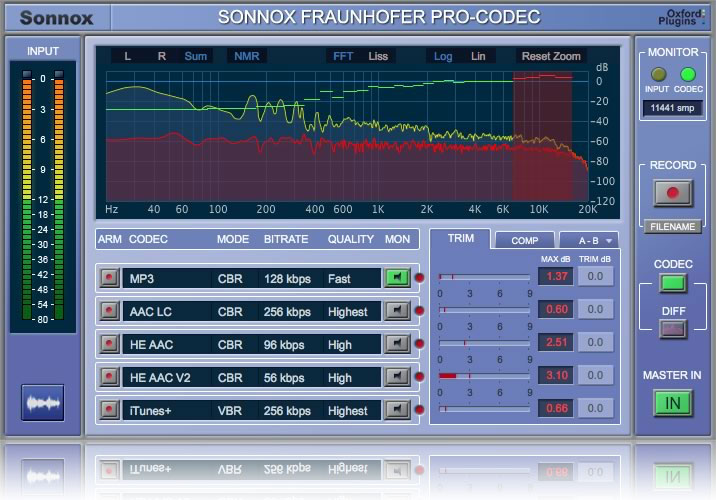 What's new with version 2?
Master for iTunes

Sonnox has just released Version 2 of the award-winning Fraunhofer Pro-Codec plug-in, which includes Apple's iTunes Plus codec so your customers can mix or master directly for the "Mastered For iTunes" programme, monitoring the same iTunes encoding chain in real-time.
Surround Formats

Version 2 also adds 64-bit support, and Fraunhofer's MPEG Surround codecs, to compliment the existing MP3 Surround codec
Forget the time-consuming cycle of encoding your mix for MP3, previewing it, then going back to tweak the mix, then encoding again and repeating the whole process several times.
The Sonnox Fraunhofer Pro-Codec allows you to critically audition and encode to multiple formats in real time within a DAW environment, and includes built-in encoding/decoding features with extensive monitoring tools.
So now you can be assured of the best possible quality, by producing compensated mixes optimized for online distribution, in much less time!
Main Features:
Supported Codecs: Stereo mp3, mp3 Surround, AAC-LC, HE-AAC, and Lossless Codecs - mp3-HD and HD-AAC
Ability to select up to five codecs for simultaneous export, and write encoded files in real time
Comprehensive auditioning with glitchless switching
AB auditioning in real time between codecs, or between codec and input signal
ABX mode for blind statistical testing
Audition difference between input signal and codec output
Graphical displays include:
High resolution display of the Input signal and Diff signal.
Indication of the audibility of output artefacts and codec-induced noise
Bitstream levels and ability to compensate for overloads
Indication of filesize or datastream compression
Phase metering
Off-line encoding and decoding
Compatible with most DAWs:
Pro Tools, Logic, Cubase, Nuendo, Sonar, Sequoia and Wavelab. (Mac and PC)
You may also be interested in: