You're currently on: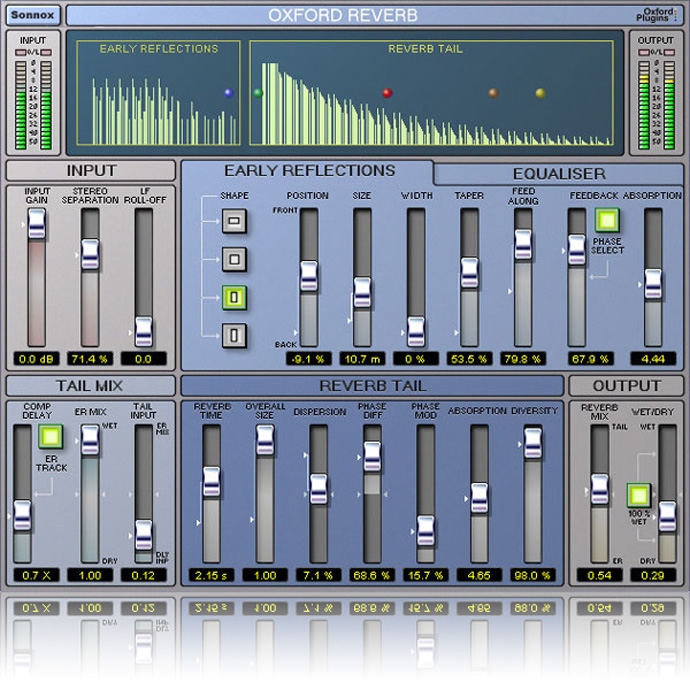 Receive special discounts when buying multiple Oxford plug-ins, simply add this Bundle Discount to your cart or enter the following coupon codes when checking out:
sonnox2 - Receive a 20% discount when ordering two Oxford plug-ins
sonnox3 - Receive a 25% discount when ordering three Oxford plug-ins
sonnox4 - Receive a 30% discount when ordering four Oxford plug-ins
sonnox5 - Receive a 35% discount when ordering five Oxford plug-ins
sonnox6 - Receive a 40% discount when ordering six or more Oxford plug-ins
Plug-In Overview:
The Oxford Reverb plug-in is a highly flexible stereo reverberation generator, designed to complement existing Oxford applications in providing the user with the highest technical and sonic performance coupled with artistic and creative facility. As well as providing stunning presets, the user has full control over all of its many parameters, including a very comprehensive early reflections section, and integrated 5-band EQ. The Oxford Reverb allows the powerful facility to create virtual spaces freely, depending on artistic need, ranging from dry reflection ambiences, room and hall simulations, sound effects, all the way to wide open reverberant spaces with a very large range of possible texture and spatial character.
Requires an iLok USB smart key.
Main Features:
Extremely flexible reverberation generator
Detailed control over early reflections
Bring sounds forward or push them back
High quality Oxford sound
Incorporated 5-band parametric EQ
Over 100 realistic, useful presets for music & post-production
Platforms Supported
Pro Tools LE (RTAS), M-Powered (RTAS), PowerCore, AU, VST

Please visit
http://www.sonnox.com/pub/plugins/shop/education.htm
For qualifications on educational Purchases.
Fill out the pdf form from the link given above and send to purchasing@jrrshop.com and please reference your order number.