You're currently on: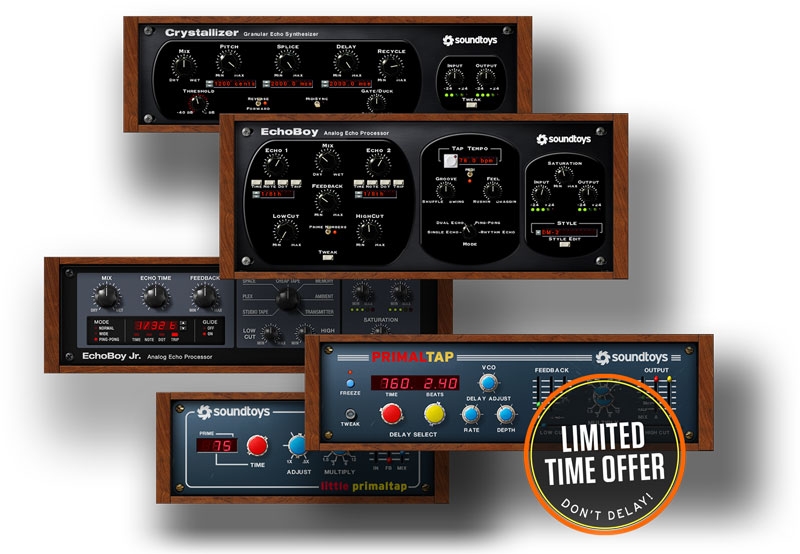 ECHO PACK
The Ultimate Echo and Delay Collection.
Control time and space in your mixes with the ultimate echo and delay collection.
Get five powerful plug-ins in the new Echo Pack! Control time and space in your mixes with the ultimate echo and delay collection. These sonically diverse processors provide a limitless creative palette of effects for mixing and production at an unbeatable value. With this set of artistic echo tools inspired by classic gear, you'll have a modern take on a whole history of analog echo and time-based effects at your fingertips. Echo Pack includes:
EchoBoy • Crystallizer • PrimalTap • EchoBoy Jr. • Little PrimalTap
ECHOBOY
Get pro-quality sound, sonic flexibility, and perfect groove-locked rhythms with EchoBoy. Its analog tone and 30 built-in echo styles have made it the go-to effect for top producers, engineers, artists, and sound designers. EchoBoy sound has made its way into countless hit songs, movies, and games – it will find its way into every corner of your mixes. We promise.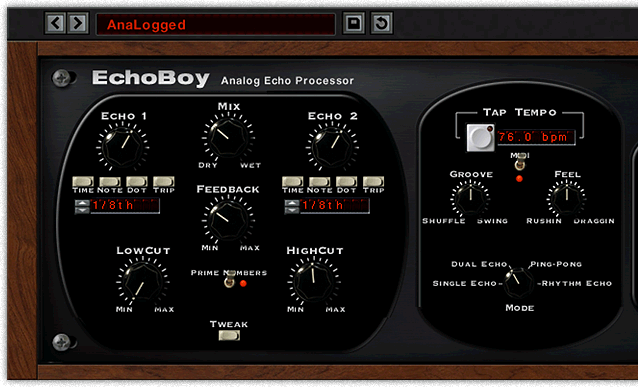 PRIMALTAP
PrimalTap captures the unusual sound and inspirational quirks of a unique hardware delay and combines them with new, modern control. Take audio to new places and unknown spaces with two delay lines, the ability to lock in loops, and create octave jumps and lo-fi effects using the Freeze and Multiply controls. Plus PrimalTap's LFO on guitar is a sweet sounding classic.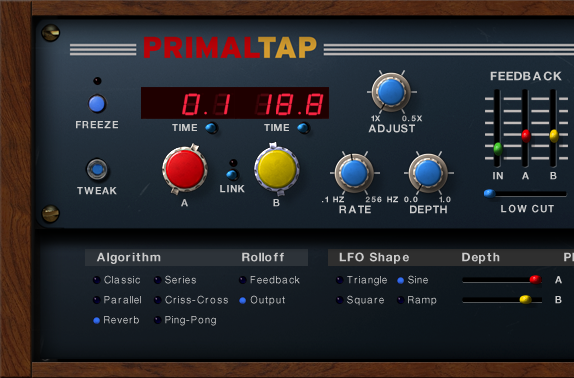 CRYSTALLIZER
Crystallizer's reverse pitch-shifting delay updated the Crystal Echoes and classic Shimmer effects for modern production. It's a magnificent myriad of possibilities, from simple doubling and chorus to granular echoes. Tap into its vast collection of quick and easy presets to dial in a unique sound in no time.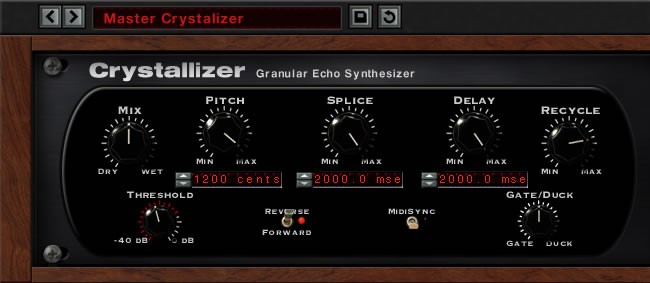 ECHOBOY JR.
Sleek and streamlined, this award-winning plug-in includes the most-used sounds and features of the hugely popular EchoBoy. EchoBoy Jr. makes it quick and easy to get to all the go-to delay effects like vocal slaps, classic tape delays, wide stereo echoes, and much more.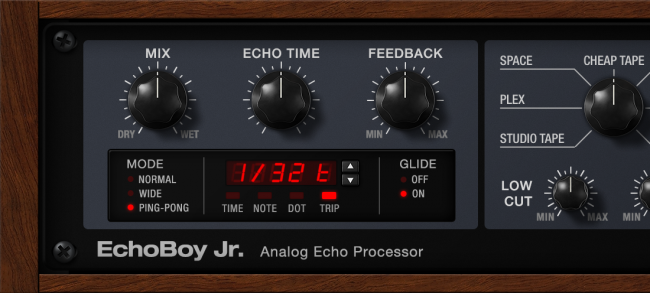 LITTLE PRIMALTAP
Use Little PrimalTap to warp, twist, and flip out with the pitch-jumping lo-fi Multiply control, or automate the Adjust control for classic chorus, flange, or wild pitch warbles. It features the same unique sound as PrimalTap, but in a single delay layout for simple intuitive control.

Quotes
"I use EchoBoy on almost every mix for slap, doubling, long delay, stereo size; it's so adaptable that I can always get what I want – quickly." – Bob Power (A Tribe Called Quest, Erykah Badu, D'Angelo)
"I've used Crystallizer and EchoBoy on more or less every track that I've produced in the last three years. We've also recently incorporated Soundtoys plug-ins into our live setup, allowing us to have studio-quality effects on live sources on stage." – Jack Patterson (Clean Bandit)
"I love EchoBoy's "Saturation" knob. It serves exactly the same as overloading the input of its analogue predecessor, only with the perfect accuracy I like when mixing." – Nick Launay, Producer/Mixer/Composer (Yeah Yeah Yeahs, Arcade Fire, Nick Cave and the Bad Seeds)
"Crystallizer is amazing for vocals and adding crazy-ass effects." – Will Clarke, Producer (Shiba San, Riva Starr, Dirtybird Records)
"The full version of PrimalTap is an absolute beast of a plug-in! PrimalTap has an attitude that I just love and haven't heard before from a plug-in." – Michael Costa, Chief Engineer at StreamAV and Soundtoys Beta Tester
Specs
Current Version: 5.3.2
Plug-in Formats (64-bit only):
AAX Native, AAX AudioSuite, VST, and Audio Units (AU)
Supported Sample Rates:
Minimum: 44.1 kHz, Maximum: 192 kHz
System Requirements:
Operating systems: Mac OS X 10.10 or later; Windows 7 or later.
An internet connection is required at the time of activation.
Supported Hosts:
Pro Tools (11 or later), Live, Cubase, Nuendo, Sonar, Logic, Digital Performer
Other requirements:
iLok.com account (An iLok USB dongle is not required).
Soundtoys, EchoBoy, Crystallizer, Little PrimalTap, PrimalTap, EchoBoy Jr., and their respective logos are all trademarks of Soundtoys, Inc.
*All other trademarks are the property of their respective owners, which are in no way associated or affiliated with Soundtoys. These trademarks are used only for historical reference or to identify products whose sounds or tone were studied in the development of Soundtoys 5.