You're currently on:
Inspired by the classic Prime Time* from 1978, Little PrimalTap captures the highly distinctive sonic imprint of this quirky, and well-loved (by those in the know) vintage digital delay. Don't be fooled by its simple interface, Little PrimalTap lets you unleash your creative urges to echo, loop, warp, distort, mangle, or create cacophonous cascades of otherworldly sounds.
The Primal Sound
The Prime Time was used by a wide variety of artists back in the 80's for rich guitar delay, chorus, flange and such, and it did a great job with those things. But the really unique character of its sound came from one of its limitations.
In an attempt to get more out of the technology (and probably stay under budget) it had a feature called Multiply that halved the sample rate each time the delay time was doubled. Sound weird? It does indeed. And it's just the kind of weird that we love.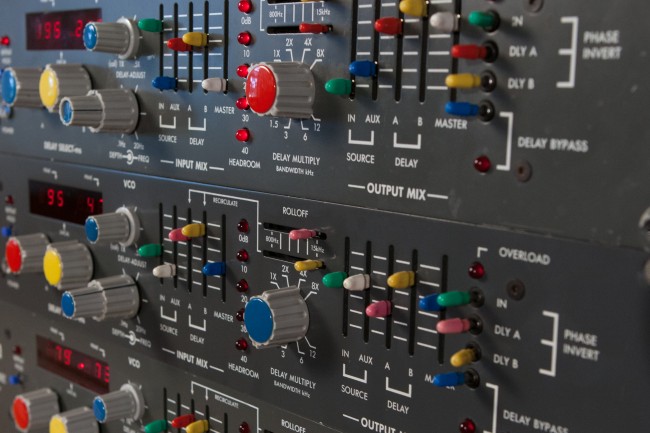 Twist And Shout
On this little beast, turning knobs is where it's at, and that's how to reveal all the oddities it can create. The Multiply knob supplies extra delay time that has drastic tonal changes with each increase. The Adjust knob creates pitch shift, chorus, or flange when moved. The Feedback and Input drive tie it all together to allow for sounds just not found on any of the "normal" delay plug-ins.
Feedback Loop
Yes, the Feedback can go infinite, and do everything from classic delay style looping to old school sci-fi space noise. Oh, and we doubled the massive 256 milliseconds of delay time from the original (128 if you had the non-expanded one) to 512 milliseconds, so you've got some serious looping power if you need it. It's ok to let it get out of control, unlike the old days where you could blow your speakers (or your ears) if you didn't stay on top of the feedback. Little PrimalTap lets you use it as another layer of sonic color, and even opens the door for synth-like sounds.
PrimalTap
Want even more creative tweakability? Check out the deluxe version, PrimalTap. You'll get that same quirky PrimalTap sound with two independent delay lines, an LFO for automated pitch shifting, a menu of different delay algorithms, and the awesome Freeze effect.

Highlights
Get vintage digital delay sounds inspired by the quirky Prime Time echo
Create complex delay effects and modulations with 2 independent delay taps
Create insane pitch jumps with the Multiply knob
Create everything from lush chorus to sci-fi warbles with the VCO section
Sample, loop and warp incoming audio using the unique Freeze control
Go beyond the original hardware with expanded memory and creative new features
Specs
Current version: 5.0.2
Plug-in formats (both 32 and 64-bit):
AAX Native, AAX AudioSuite, VST, and Audio Units (AU)
Supported sample rates:
Minimum: 44.1 kHz, Maximum: 192 kHz
System requirements:
Operating system: Mac OS X 10.8 or later, Windows 7 or later
An internet connection is required at the time of activation.
Supported host applications:
Pro Tools (10.3.5 or later), Live, Cubase, Nuendo, Sonar, Logic, Digital Performer
Other requirements:
iLok.com account (An iLok USB dongle is notrequired).
You may also be interested in: