You're currently on: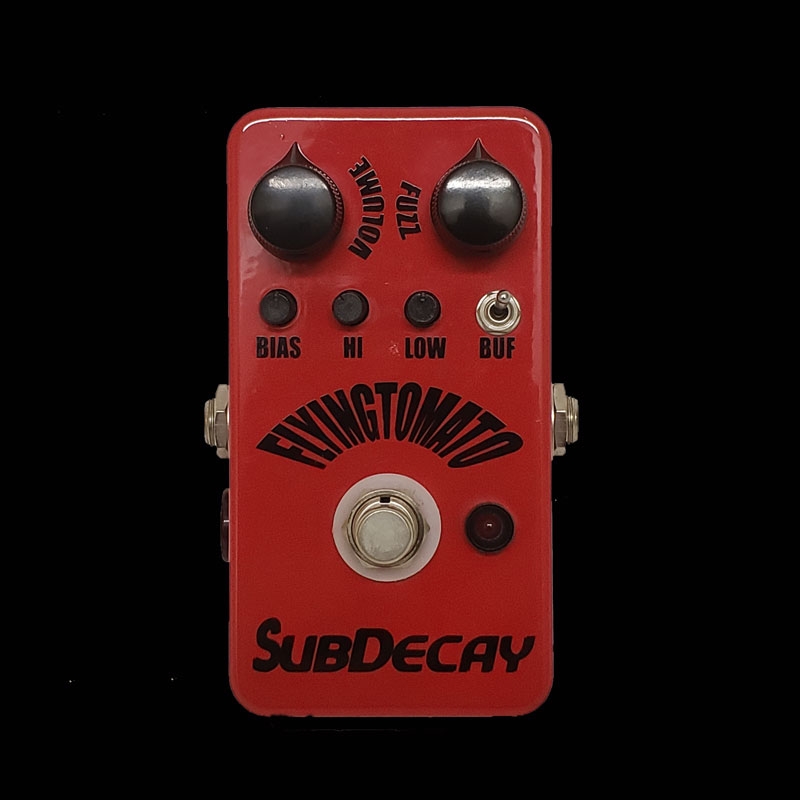 Mutant Fuzz - Similar to many classic fuzz designs the Flying Tomato adds a number of modern improvements, and it doesn't stop at true bypass, and an LED. It also works with other pedals and active pickups. We also added Tone controls, and a bias control. This fuzz goes from hair raising, to classic, to gated. Sound Clips available at www.subdecay.com!


What is the Flying Tomato?


The Flying Tomato is loosely based on the classic two transistor fuzz design, but with many modern improvements including, a switchable impedance matching input buffer, tone controls, bias control, true bypass switching, and an LED indicator.


The Flying Tomato input buffer allows it to work after virtually any pedal, or with active pickups.


One of the ideas we strive for here at Subdecay, is pedals you can "match" to your guitar and amp. Some fuzzes sound great with a combination of certain guitars and amplifiers, but sound awful with others. With the bias, and tone controls, you can dial in the sound you want, and still cut through the mix at your next gig.


Notes from the engineer:


Over the years I have built a number of fuzzes for my own personal use. Typically based on classic fuzz designs, a number of things always bugged me about them. Almost all of them had to be first in the signal chain, or they would sound awful, and they all were limited by the classic two knob design.


These characteristics were both products of my conventional thinking towards fuzz. I started to thinking "outside of the box. Sometimes this is hard when it comes to fuzz. Some might even consider it a sin to defy convention when it comes to such a topic.


If you are a "vintage tone purist" you probably want to stop reading right here (but wait you're almost done anyways.) While the Flying Tomato is loosely based on classic designs, it is not authentic to any original. Like most of the tomatoes you buy at the grocery store these days, this fuzz has been unnaturally redesigned.
Can be powered by a 9 volt battery or 9VDC adaptor with a negative center 2.1mm barrel style plug. Current draw is less than 10mA.