You're currently on:
Download License! Email Delivery!
REVOICE PRO 3
TIME-SAVING VOCAL TUNING, TIME CORRECTION AND ADR SOFTWARE
Speed up your workflow
"Revoice Pro 3 saves an obscene amount of time that used to be spent editing. I find it an incredibly musical plug-in because it allows you to make stuff tight and in tune with the guide audio, but still have variants. So you end up with backing and lead vocals that you can really push forward in a mix and into sounds. Killer to my ears."
Francesco Cameli- Engineer: Queen, Genesis, Eric Clapton, Mariah Carey, Muse and Adele
Revoice Pro is used worldwide by top audio professionals for the fastest, easiest and best sounding adjustment and alignment of vocals, instruments and ADR as well as double track generation.
Revoice Pro 3 adds a powerful set of easy to use tools, workflow enhancements for top DAWs like Pro Tools, Logic Pro X, Studio One and Cubase. Major new features include a simple yet powerful toolset for manually adjusting audio timing and pitch. What's more, users say that Revoice Pro 3 provides the most natural and transparent-sounding processing available.
At the heart of Revoice Pro is our unique Audio Performance Transfer (APT) process, that can gives the user the ability to take the timing, pitch, vibrato and level features of one audio track and use it on another, giving you the chance to match or correct timing and tuning, plus our highly-praised realistic Doubler process sounds great and is easy to use.
You can choose to work fast with automatic workflows or use our unique manual Warp process for pitch and timing. Now you have a one-stop, time-saving, high-quality solution for creative and corrective audio manipulation tasks.
Revoice Pro 3.3 for Music Production
Revoice Pro 3.3 for Post Production
---
Revoice Pro Wins Pitch Correction Software Comparison
Pitch Correction Shoot Out Results
In a recent Pro Tools Expert poll comparing pitch correction software, listeners chose Revoice Pro's output as the most preferred.
---
FEATURE SUMMARY
"I started using Revoice Pro on 'American Hustle' and it's become my favorite tool for ADR.
The sync feature is spot on and now I'm using the pitch feature to match performances."
Flexible Automatic Time and Pitch Alignment
Nothing works quite like Revoice Pro for getting tight vocal parts or ADR matched.
Revoice Pro is perfect for matching the timing of audio such as backing vocals, ADR, tuning vocals, or creating great-sounding double-tracks in an instant. And because you control the tightness of the corrections, you keep it sounding natural. What's more, tightening up stacks of vocals will take you just minutes, not hours. Try it now
Highest Quality Pitch and Time Manipulation
When you need to manually adjust audio timing or pitch, Revoice Pro's Warp functions provide simple-to-use tools for creating naturally tuned vocals, monotonic instruments, or ADR - with the right intonation. But Revoice Pro also works on instruments too.
"In the past I have found that doubling from a plug-in sounds pretty bad. Revoice Pro's Doubler is the best-sounding doubler I have ever heard"
Chris Garcia- Producer and Composer: Lana Del Ray, Celine Dion, Katy Perry and Santana
The Most Realistic Doubler Ever
Instantly double-track vocals and create stacked harmonies. Revoice Pro's Doubler process creates incredibly natural-sounding doubles in mono or stereo. Try it now
---
WHY USE REVOICE PRO?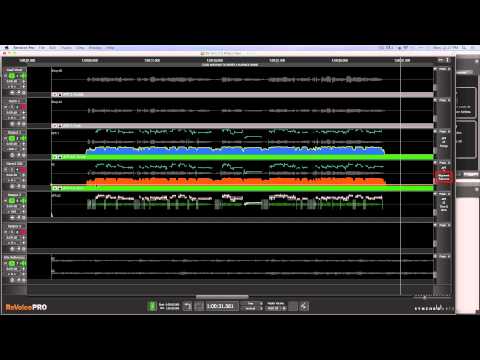 Using Revoice Pro Pitch and Time Tools
Revoice Pro is the secret ingredient used by thousands of top producers around the world. It works with any Windows or Mac OS X DAW including Pro Tools, Cubase, Studio One, Nuendo, Logic Pro, and many more. Audio is transfered either by Revoice Pro Link plug-ins, drag and drop, copy and paste or imported audio files. In some cases we have AAX, VST and AU plugins for enhanced workflow with the main Revoice Pro software.
Revoice Pro is in a class of its own, easily and quickly doing tasks that even experienced editors consider time-consuming, difficult or downright impossible.
The workflow is fast and easy to learn and it has to be different - because there is nothing else that does what Revoice Pro can do.
To get you started, we have created some free video tutorials on getting vocals in time and in tune, plus we have other great resources to get you working fast.
"I like the speed of use with the APT AudioSuite feature. It allows me to quickly tune and time vocal stacks so that I can focus more on the music and mix instead of getting caught up with tedious tuning and timing processes.
Revoice Pro 3 has become an essential tool in my digital toolbox. I highly recommend it!"
Why Should I Use Revoice Pro?
Tighten the timing, pitch and vibrato of "stacked" lead and backing vocals or instrumental tracks.
Create one or more realistic double tracks from a single input track.
Modify signal timing and pitch manually with the fastest and easy-to-use graphic interface.
Lip-sync dialogue (ADR) and vocals by the same or different performers, even when there are noisy guide tracks.
Change the inflection in dialog (ADR, voice-overs etc.) with the desired Guide pattern provided by recording the director or dialog editor.
Once you use Revoice Pro you'll never look back - this is what professionals say about Revoice Pro.
AUDIO PERFORMANCE TRANSFER (APT) PROCESS
The APT Process transfers user-selected timing, pitch and level characteristics of a good "Guide" audio signal to one or more audio signals - automatically.
User Comments
"Revoice Pro allows me to reference the pitch and pacing of a recorded piece of on-set dialog and then impress these timing and pitch features upon a dialog recording from another take or a clean wild line, void of troublesome distracting sounds."
"I use Revoice Pro to create double vocal parts and harmonies. It saves me lots of time and energy, which can be spent elsewhere."
Applications for the APT process include:
Vocal and instrumental double tracks: Tighten the timing, pitch and vibrato of "stacked" tracks while keeping them natural-sounding.
Dialog replacement: Lip-sync dialogue (ADR) and vocals by the same or different performers, even when there are noisy guide tracks.
Transfer a performance: Change the inflection in dialog (ADR, voice-overs etc.) with the desired pattern changes provided by recording the director or dialog editor's voices.
Fix corrupted live vocal recordings: Replace and sync problematic vocals with clean retakes.
---
Description of the APT Processing
Revoice Pro 3 and APT Controls
Revoice Pro 3 and New Process Controls
The user loads or transfers the Guide and Target (Dub) audio to be processed into the Revoice Pro program from DAWs or audio files. The Guide signal should have the "perfect" features: either timing, pitch or both.
However, if your Guide audio needs further time or pitch modifications, you can use Revoice Pro's new built-in Warp function to quickly and transparently adjust the Guide's (or lead harmony parts') timing and pitch.
In Revoice Pro, you can insert APT function blocks wherever you want them in dedicated "tracks" under each audio track that show where the processing starts and stops. You also chose the initial settings.
The APT process first determines the timing relationship between key features of the Guide and Target (Dub) audio signals using state-of-the-art pattern recognition algorithms based partly on Synchro Arts' VocALign technology.
Next, the APT process measures performance-related features (such as timing, pitch, vibrato and level) of both the "Guide" (which usually has certain preferred performance characteristics) and one or more Targets (Dub) signals.
User-selected Guide performance features are transferred to the Target audio to create a new Modified Target signal with the selected Guide features.
The transfer process usually includes the timing alignment, so Guide features are incorporated at precisely the correct places along the Target. However, this is an option.
If satisfactory, the processed Dub(s) can be instantly transferred back to the DAW via a number of methods including Revoice Pro Link plug-ins, drag & drop or copy & paste.
---
Important features:
Revoice Pro 3 APT Controls
The "tightness" of the transferred feature can be controlled to allow natural acceptable differences to pass through unchanged.
Optional user-inserted "Protected Regions" allow selected sections of the Dub signals to be left unchanged in timing or pitch by the APT process.
The automatic APT processing can be followed by (or replaced by) manual editing of the output features.
APT Pitch (and other feature's) processing settings can be made time-varying (automated).
"Process-based" solo switching, via single keys, provides instant audition to compare inputs and outputs one or two signals at a time.
The effects of any changes made to APT control panel parameters will be immediately visible (after rendering) in the displayed output graphics of pitch, level and waveform traces.
Multiple Dub signals can use the same Guide and be efficiently processed at the same time.
A comprehensive Preset system allows saving and reusing settings
Case Study - Replacing Noisy Dialogue
When José Luis Díaz found himself with location dialogue ruined by the sound of vehicle noise he turned to Revoice Pro to rescue the project.
"I had a take with some words ruined by the sound of moving vehicle noise. At first I tried to clean it with the top audio "cleaning" product but it was not possible. Then I searched in alternative takes and discovered one where those words were clean, but the reading was different and the pitch of the voice was too low. So it was not possible to simply replace the noisy words with the clean words. Nobody speaks in that gymnastic way.
I then tried Revoice Pro, and used the original noisy dialogue as the guide and words from the alternative take as the "dub". After a few attempts I had clean location dialogue that had both matching time and pitch. This was not previously possible without Revoice Pro."
DOUBLER PROCESS
Revoice Pro 3 Doubler - mono out
The Doubler instantly creates natural-sounding mono and stereo double tracks - for voice and instruments
Applications for Doubler
Creating realistic double tracks from vocal or instrument recording when no double track is available.
Create a wide range of special modulation effects
Process Details
Inputs can be mono or stereo signals.
Doubler automatically creates natural-sounding mono or stereo double tracks in seconds.
Provides controls for modifying timing variations, formants, and vibrato.
Supports extreme parameter variations to create special effects.
Comprehensive user Preset system
You may also be interested in: