You're currently on: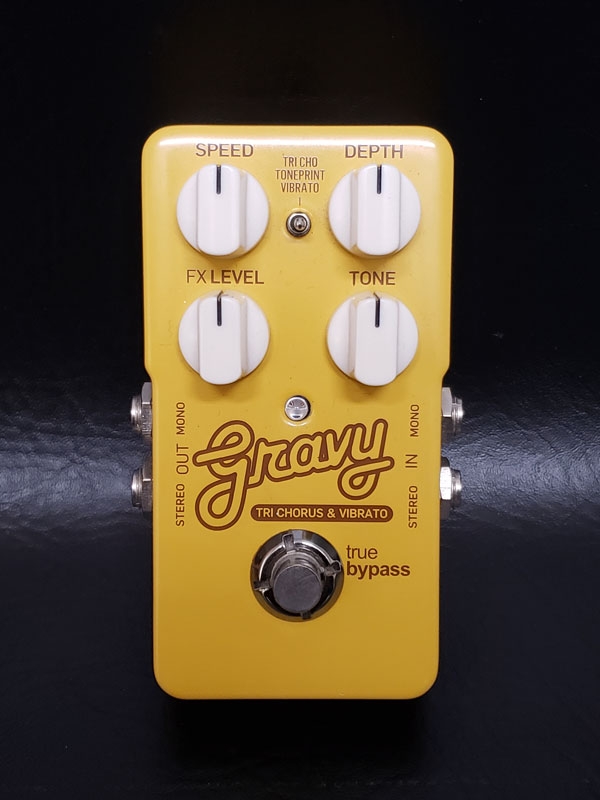 TC Electronic Gravy Tri-Chorus & Vibrato Pedal - Open Box


This TC Electronic Gravy Tri-Chorus & Vibrato Pedal - Open Box is a new open box unit in excellent condition.
Gravy Tri Chorus & Vibrato - Pour some Gravy on your sound
Delicious Chorus and Shaker

Our Corona Chorus and Shaker pedals are a runaway success, so when Guitar Center called and said they wanted to do their own version we really looked for something they could do that would add real value for guitarists. The answer? Barry Mitchell, Guitar Center's Director of Merchandise and the ultimate tone guru. This man is magic with our TonePrint editor and he knows more about tone that just about anyone, which resulted in some amazing settings for this pedal.
Two custom sounds designed by Barry Mitchell

Stereo ins- and out

True Bypass and Analog Dry-Through




TonePrint® Enabled - Signature Effects

Dripping with the DNA of rock, TonePrints are free, custom tuned tweaks of your favorite pedals provided by your favorite guitarists! TonePrints give you access to an effect as it is used by the artist of your choice - so you can tap directly into the TC tones used by rock royalty and turn your stompbox into the signature pedal of your favorite axe-slinger.



Gravy Tri Chorus & Vibrato accepts all TonePrints made for Corona Chorus



The Beauty of Barry

Barry dialed in two tones for Gravy, and just hearing them is enough to brighten up your day - playing with them is even better! Barry painstakingly created and delivered a sweet, classic Tri-Chorus and a pitch-warbly Vibrato effect with hints of Leslie tones. Gorgeous doesn't even begin to describe them.



Go Big or Go Home

Chorus is used as a very subtle or as a very pronounced effect, but the one thing that never changes is the need for options. Gravy allows you to go Mono or Stereo for an extra broad vibe and maximum swirl!



True To Tone

You love tone, so do we, and the Gravy testifies to that. So whatever route you wanna go, its got your back. With optimized headroom, True Bypass or Buffered Bypass switch and Kill-Dry on/off, this pedal guarantees optimal tonal integrity and zero loss of tone. And, no matter if the pedal is on or off, your precious dry sound is always passed through the pedal unharmed in all it's pure analog glory due to an Analog-Dry-Through.





Backstage Pass - All Access




Custom Sound 1 'Tri-Chorus'

The TriChorus setting on this pedal is fatter and has a more old school vibe than the more shimmery modern version on Corona Chorus. Pleasant, to-the-point and ultra-lush.



Custom Sound 2 'Vibrato'

This is a vibrato effect that just oozes class and warmth. Starting out as a more classic take on a pitch-warble type effect, turning the speed up can take you to a very nice phasey Leslie sound that is thoroughly musical and applicable in just about any musical setting.



Speed

Helps you set the speed of the effect, or how fast you want the sound to rotate.



Depth

Sets the depth of the effect, but you guessed that, right?



FX Level

Unlike most chorus pedals corona chorus has an fx level knob that determines how intense you want the effect to be. This allows you to dial in more subtle settings with ease



Tone

This determines the warmth of the effect - crank it for pristine shimmery modulation or back it down for old' school vintage chorus tones.



Gravy Tri-Chorus & Vibrato is available at Guitar Center and Musician's Friend from September 21, 2012.




Gravy's Resume
Two exclusive effects in one pedal tuned by Barry Mitchell

TonePrint enabled

Stereo in & out - for added flexibility to your set-up

True Bypass - zero loss of tone

Analog-Dry-Through - maximum tonal integrity and clarity

Easy battery access - makes changing batteries fun! (well, almost)

High quality components - only the best will do when it comes to tone

Road-ready design - ready to follow you wherever your playing takes you