You're currently on: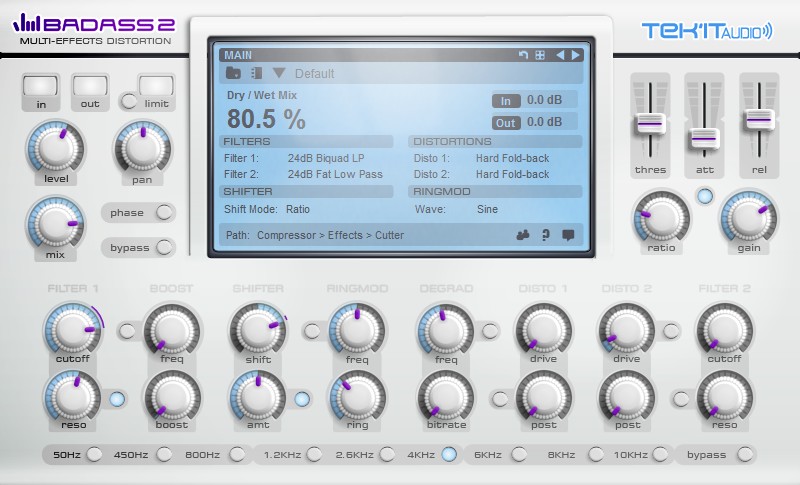 Badass multi-effects distortion plug-in, give to your sounds a little bad grain or destroy them completely with the help of twelve effects available simultaneously, including two distortions, pre and post filters, a lo-fi resampler, a bit degrader, a pitch-shifter, a frequency cutter, a frequency booster, a ring modulator, a limiter and a compressor.
Each effect can be used individually, but combined they become a powerful tool to distort your sound.

DISTORTIONS AND FILTERS
Badass 2 offers 15 distortion types from classic Fold-back and Clipper to extrem algorithms.
Eleven filter types, from low-pass with an analog tone to variants that sounds more digital.

MODULATORS
Each knobs can be modulated by a Multi Segment Envelope Generator (MSEG) which allows you to draw your envelope shape using your mouse or a LFO that come with 24 waveforms or an envelope follower. The MSEG and the LFO can be triggered at note play or sync to the tempo of your DAW. Get creative and create additional effects like auto-pan and gate.
MIDI
Assign all the parameters to your MIDI controller easily. Click on "Learn" on the parameter, move the control on your MIDI controller, and that it's!
Random & Undo
Randomly generate your effect with a single click. Undo your changes on all the parameters, just as easily.