You're currently on: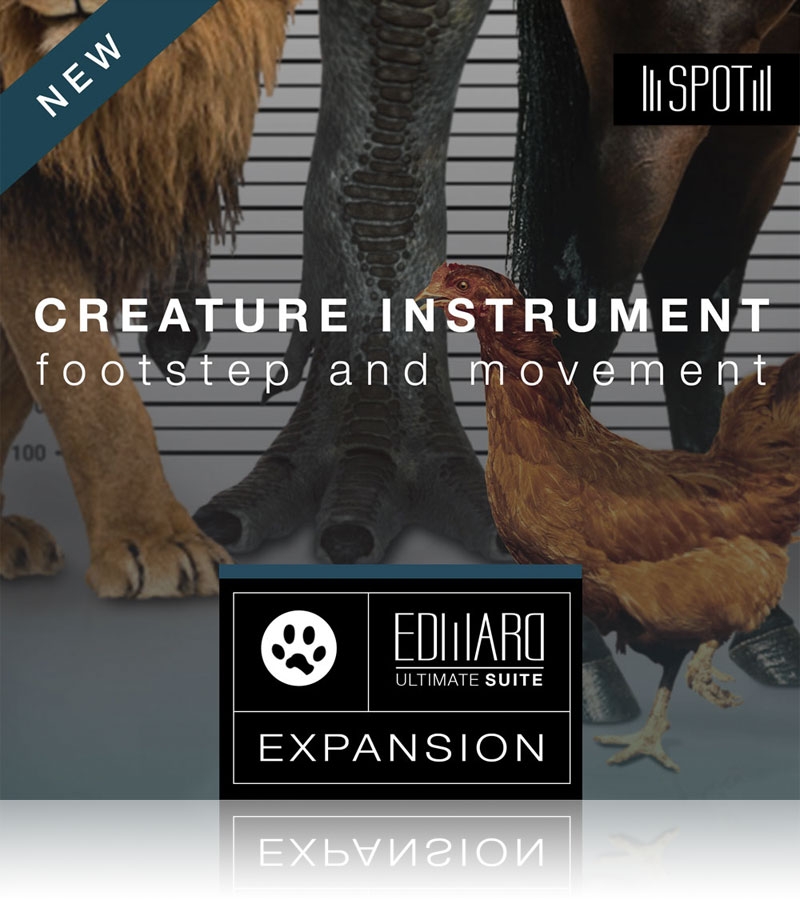 SPOT – CREATURE INSTRUMENT
Looking for great-sounding animal footsteps? No matter if dogs, horses, aliens or even monsters define the scene or if you are working on a comic or real cinema. With Spot you get the perfect partner to Edward, whom you have missed for a long time.
A full version of Edward Ultimate SUITE is required to use this product.
SPOT FOR EDWARD ULTIMATE SUITE
This expansion pack adds animal feet and movements of horses, dogs, aliens, robots and more to the versatile Edward Ultimate SUITE instrument!
33,500 SAMPLES
Spot includes 33.500 real recorded and lovely edited Foley Artist sounds. Recorded with state-of-the-art equipment in a professional environment.
32 VARIATIONS
Great sounding Foley lives from its variation. Spot comes with 32 different combinations of footsteps, props and movements. This well thought out arsenal offers you endless and crazy possibilities.
7 MOVES
Two different gallop speeds and trot plus stomp, scuff and two types of scrapes! All varieties mapped to a specified key for real time performance with your MIDI keyboard.
SURFACES
Concrete • Dirt • Grass • Rocks • Wet • Wood
PERFORMANCES
Trot • Gallop • Gallop Fast • Stomp • Scuff • Scrape 1 • Scrape 2
FEET
Hoof 1 • Hoof 2 • Hoof 3 • Hoof 4 • Monkey • Monster • Paw 1 • Paw 2 • Paw 3 • Paw 4 • Robot • Gum • Small Feet • Talons
MOVEMENTS
Water • Water deep • Chamois 1 • Chamois 2 • Cloth • Fur • Leather • Rubber • Skin
PROPS
Saddle • Tackle Light • Tackle Medium • Tackle Heavy • Cat Tag • Dog Tag Leather • Dog Tag Metal • Chains
Please note, that not every combination is available.
CREATE COMPLETE CREATURES !
Spot doesn't just have foot steps that can be combined in any way. With this expansion you also get the matching assesoirs and even the motion sounds. Everything well edited and playable together with the Midi keyboard. This is not only easy and fun but also sounds fantastic.
You may also be interested in:
| | |
| --- | --- |
| Variant | 1 |
| Specials | Nov 25, 2019 |