You're currently on: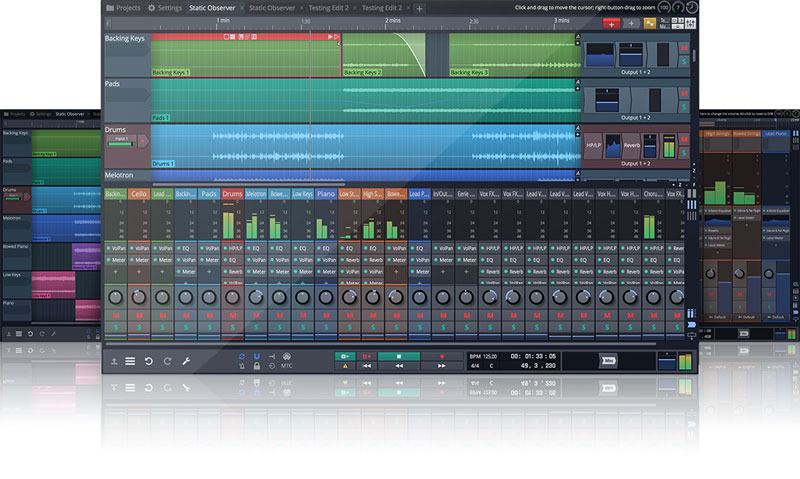 Waveform Extreme Pack
Waveform 11 Extreme Pack Unrestricted workstation
application with unlimited track count, comprehensive
automation system, effects, dynamics and mixing tools.
Mac/Windows/Linux.
Includes DAW Essentials Collection, BioTek2, MOK Waverazor, Retromod Collection, Delta-V Audio SpaceCraft, and 3 Imagina Loops packs.
Collective: Collective is a powerful sampler and synthesizer capable of generating a wide variety of instrument sounds. Quickly select from over 600 presets and deep dive to surgically craft your unique sound. Pull from the included sample library or load your own, combine with synthesis or cherish the supreme quality of traditional samples.
Antares Auto-Tune Access: Waveform Pro is the only DAW to include genuine Auto-Tune® technology from Antares Technologies. Waveform includes the new Auto-Tune Access plug-in to provide the legendary real-time pitch correction and vocal effects that have launched countless hits. Auto-Tune Access delivers the core Auto-Tune features with a simple and intuitive interface. 3-position Retune Speed and Humanize knobs allow for a variety of tuning applications, from subtle and natural-sounding pitch correction to the most extreme Auto-Tune Effect. Low latency processing lets you perform through Auto-Tune Access in real time on stage or in the studio.
Melodyne Essential: If a good take is spoiled by small errors, you don't have to throw it away; with Melodyne you can simply repair it. Regardless of whether they are intonation or timing errors, notes that are too loud or too quiet, with too much vibrato or too little. And since Melodyne works in a highly musical way, neither the vitality nor the naturalness of the performance is sacrificed in the process. Furthermore, the unbelievable flexibility of audio in Melodyne can be the launching pad for your boldest ideas. Notes, phrases, rhythms and noises in Melodyne become raw material that you can stretch, reshape, layer and transform – virtually at will.
DAW Essentials Collection: A collection of 16 contemporary FX plugins for use with any DAW. Utilizing the very latest algorithms and coding techniques, the plugins feature extraordinary sound quality in an extremely efficient package, allowing the plugins to be used liberally across a wide range of native computer systems. Empower your creativity with the DAW Essentials Collection.
Biotek 2: A powerhouse sampling and synthesis workstation offering unlimited sound design in a unique and inspirational environment. In a world full of virtual instruments, BioTek was designed to be different from the ground up. Not only is the engine more capable than existing offerings, but the choice to use natural and environmental samples gave the instrument its unique character. Dive into the weird and wonderful immersive world of BioTek.
MOK Waverazor: Unleash your dark side with Waverazor — a futuristic synth that gives you the power to splice waveforms into aggressive new sounds. The patented oscillator design utilizes a new form of synthesis to produce biting leads, glitched-out basses, cinematic pads and everything in between. Twist and torture every parameter of sound using a central oscilloscope for precise waveform creation. Morph multiple parameters at once using an array of performance controllers. The collection of included presets provides a launchpad into endless sonic exploration.
RetroMod Collection: As the name suggests, the RetroMod series is more than just a collection of sample based imitations – the goal of this series is to capture the soul of classic hardware synthesizers and add something new – a contemporary twist. With huge sample libraries and preset banks, the RetroMod series allow you to add an arsenal of sound sources to your virtual studio.
Delta-V Audio SpaceCraft: SpaceCraft Granular Synth is well known for providing instant gratification and inspiring creative flow. Two parallel granular engines provide grain frequency/length control, sample position LFO, stereo reverb/filter and pitch/ring-modulation. The innovative grain pitch sequencer, MIDI / MPE and live sampling capability open up further depths of performance and expression.
Details
Bundle and save with Tracktion's Extreme package, providing all the tools needed to create your next masterpiece.
NOTE: Please check the Celemony website for detailed system requirements for their Melodyne Software
Check out the following pages for more information on the Tracktion software products:
Tracktion Waveform
BioTek
DAW Essentials Collection
Master Mix (Embedded)
FM Synth (Embedded)