You're currently on: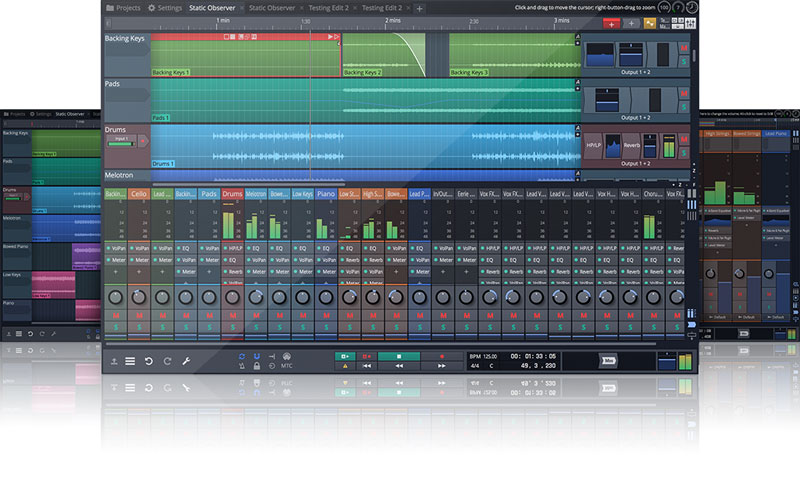 WAVEFORM
CONTEMPORARY MUSIC PRODUCTION SOFTWARE
Waveform 11 Basic Unrestricted Workstation application with
unlimited track count, comprehensive automation system,
effects, dynamics and mixing tools. Mac/Windows/Linux.
The most creative, inspirational and affordable digital audio workstation ever created.
Unleash Your Creativity
Waveform is a rapidly evolving application specifically designed for the needs of modern music producers. Specializing in creative and inspirational workflows and avoiding features not explicitly needed allow the app to remain surprisingly fun and intuitive. While other apps try to appeal to broad user groups, for example film score, live sound, performance – we are laser focused on music production.
INCLUDED WITH WAVEFORM
NO RESTRICTIONS
Unlike other affordable DAW's, Waveform does not impose any restrictions whatsoever – we believe in unlimited track count, full feature set and freedom to add any plugins. Waveform also runs on all the major desktop operating systems – macOS, Windows and Linux. Your imagination is the only limit.
INSTRUMENTS / FX
Waveform includes a massive suite of over 80 built in FX plugins. Also included are a suite of extremely powerful virtual instruments, Collective provides a vast array of different instrument types for every musical genre, the revolutionary Multi Sampler is a sound designers playground and Subtractive brings classic analog sounds to your compositions.
LOOPS
Waveform includes the excellent Imagina Loops 'Alex Sanfilippo' collection of world class multi track drum loops. These compliment the creative MIDI production tools such as the pattern generator and premium instruments, allowing you to focus on creativity rather than programming.
TRAINING / SUPPORT
Extensive free online video tutorials are constantly being expanded and a detailed user guide is available within the app, plus contextual popup help guides you when needed. Free online support is available via our streamlined Zendesk portal, connecting you to the most relevant team member.
WHAT IS THE DIFFERENCE?
All Tracktion DAWs feature a single screen interface and an ever-growing list of premium features. They've been designed specifically for use by musicians, artists and composers in need of a powerful, easy-to-use and affordable recording platform. The differences between T7 and Waveform are shown on the comparison chart.
| FEATURES | | WAVEFORM 10 | | WAVEFORM 8 OEM | | T7 FREE |
| --- | --- | --- | --- | --- | --- | --- |
| | | | | | | |
| | | | | | | |
| Support for macOS | | 10.10 or later (64bit) | | 10.9 or later (32/64bit) | | 10.9 or later (32/64bit) |
| Support for WINDOWS | | 7 / 8 / 10 (64bit) | | 7 / 8 / 10 (32/64bit) | | 7 / 8 / 10 (32/64bit) |
| Support for LINUX | | Ubuntu 18.04 (64bit) | | Ubuntu 16.04 (64bit) | | Ubuntu 16.04 (64bit) |
| Support for Plugins | | VST/AU/Linux VST | | VST/AU/Linux VST | | VST/AU/Linux VST |
| Unlimited Audio Tracks | | Yes | | Yes | | Yes |
| Unlimited MIDI Tracks | | Yes | | Yes | | Yes |
| Automation | | Yes Enhanced | | Yes Enhanced | | Yes Enhanced |
| Keyboard Shortcuts | | Yes + User Scripts | | Yes + User Scripts | | Yes + User Scripts |
| Video Sync | | Yes | | Yes | | Yes |
| Timestretch Algorithm | | Professional | | Professional | | Professional |
| Latency Management | | Yes | | Yes | | Yes |
| Step Sequencer | | Enhanced | | Enhanced | | Enhanced |
| Freeze Point Technology | | Yes | | Yes | | Yes |
| Edit Clips | | Yes | | Yes | | Yes |
| MIDI Learn | | Yes | | Yes | | Yes |
| Audio Comping | | Advanced | | Advanced | | Advanced |
| Warp Time | | Yes | | Yes | | Yes |
| Track Tags | | Yes | | Yes | | Yes |
| Hardware Insert for Plugins | | Yes | | Yes | | Yes |
| Pitch Fades | | Yes | | Yes | | Yes |
| | | | | | | |
| | | | | | | |
| Clip Layer Effects | | Yes | | Yes | | Yes |
| Integrated Setup Assistant | | Yes | | Yes | | Yes |
| Multi-Browser Sync | | Yes | | Yes | | Yes |
| Slimline Transport Bar | | Yes | | Yes | | Yes |
| Animated Panels | | Yes | | Yes | | Yes |
| Visual Plugin Selector | | Yes | | Yes | | Yes |
| Grouped Clips | | Yes | | Yes | | Yes |
| Linked Clips | | Yes | | Yes | | Yes |
| Automation Patterns | | Yes | | Yes | | Yes |
| LFO Generators | | Yes | | Yes | | Yes |
| Edit Previews | | Yes | | Yes | | Yes |
| Quick Zoom | | Yes | | Yes | | Yes |
| | | | | | | |
| | | | | | | |
| Collective Sampler/Synthesizer | | Yes | | Yes | | |
| Master Mix DSP | | Yes | | Yes | | |
| Modular Mix Environment | | Yes | | Yes | | |
| MIDI Pattern generators | | Yes | | Yes | | |
| Realtime MIDI chord player | | Yes | | Yes | | |
| Detail MIDI Editor | | Yes | | Yes | | |
| Crashed plugin assistant | | Yes | | Yes | | |
| Variable color schemes | | Yes | | Yes | | |
| Support for Raspberry Pi | | Yes | | Yes | | |
| | | | | | | |
| | | | | | | |
| Multi-Sampler Instrument | | Yes | | | | |
| Plugin Macros | | Yes | | | | |
| Plugin Faceplates | | Yes | | | | |
| Rack 'Stack' Editor | | Yes | | | | |
| 6 New Modifiers | | Yes | | | | |
| Chord Track | | Yes | | | | |
| Track Loops | | Yes | | | | |
| Track Presets | | Yes | | | | |
| Quick Render | | Yes | | | | |
| | | | | | | |
| | | | | | | |
| Customizable Actions Panel | | Yes | | | | |
| Edit Groups | | Yes | | | | |
| Groove Doctor | | Yes | | | | |
| Detail Track Edit Windows | | Yes | | | | |
| Range Selection Editor | | Yes | | | | |
| Vertical Cursor Editor | | Yes | | | | |
| Subtractive Synthesizer | | Yes | | | | |
| Artisan Plugin Collection | | Yes | | | | |
| Constant Save Technology | | Yes | | | | |
| Advanced Multi Sampler | | Yes | | | | |
| Celemony Melodyne Essential | | Yes | | | | |
| Antares Auto-Tune Access | | Yes | | | | |
| Free online support | | Yes | | | | |
| | | | | | | |
| | | | | | | |
SYSTEM REQUIREMENTS
macOS 10.10 or Later
64-bit
Intel Core 2 Duo 2GHz Processor
2GB RAM (8GB Recommended)
Windows 7, 8, 10
Intel Core 2 Duo 2GHz Processor
2GB RAM (8GB Recommended)
Tested on Ubuntu 18.04
64-bit
Intel Core 2 Duo 2GHz Processor
2GB RAM (8GB Recommended)
Raspberry Pi 2 & 3
32-bit
Ubuntu Mate 16.04