You're currently on:
Download License! E-Mail Delivery!!


Rewind to 1975 ...
A machine of luxury is birthed for the musical elite. Using electronics developed for NASA, this revolutionary instrument was unprecedented for its time. Starting off its life as a gorgeous FM synth, it evolved into a comprehensive workstation through subsequent expansions. Its emergence into the professional studio inspired many of the leading avant-garde artists and sonic visionaries to embrace its potential, including Frank Zappa, Chick Corea, Michael Jackson, Sting, Kraftwerk, Stevie Wonder, and Depeche Mode, among others.



... Fast Forward to Today
Once again inspired by the sounds of yesteryear, we at UVI have set out to construct our own 'beast'. The result is a comprehensive software suite comprised of 3 complementary digital instruments - each fully equipped with a vast array of both cutting edge original sounds and classic presets. We've employed our trusted combination of advanced programming and meticulous sampling, using the best analog and digital gear, to bring the beloved vintage character of this workstation to a new generation of musicians and sound explorers. The result is an entirely new, comprehensive and intuitive luxury instrument which we are proud to present to you - The Beast.



Sparkverb™ Technology Included
Also included is the latest UVI technology - Sparkverb™ - a highly advanced synthetic reverb that focuses on sound quality and musicality. From stratospheric choruses, to lush ambiances and to resonant unisons, Sparkverb™ gives you a huge palette and direct control over the patches. Add lush atmosphere to any of your configurations instantly!

Recapture the past, and let The Beast inspire the sounds of your future!


* Synclavier®, NED & New England Digital are trademarks of their respective owners and are not affiliated, endorsed, connected or sponsored in any way to this website or any of our affiliate sites ; therefore do not be confused between UVI and Synclavier®.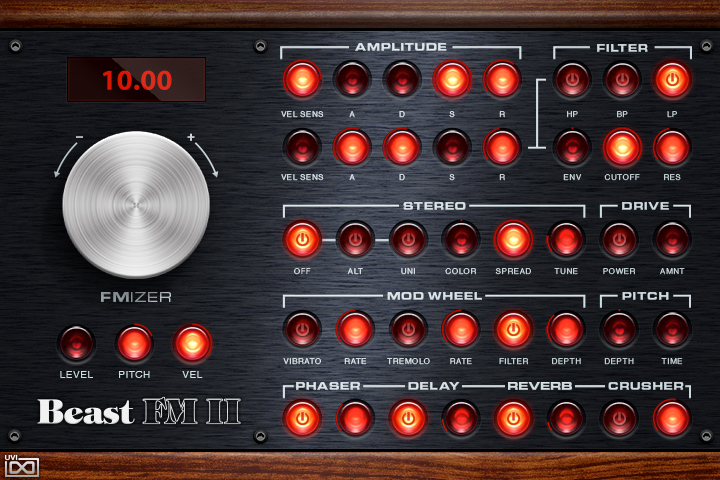 Beast FMII
An FM and additive synthesis monster. As a result of our combination of deep multi-sampling and integrated true FM synthesis module, this instrument offers a unique approach to reproducing these vintage sounds, allowing for subtle to extreme variation.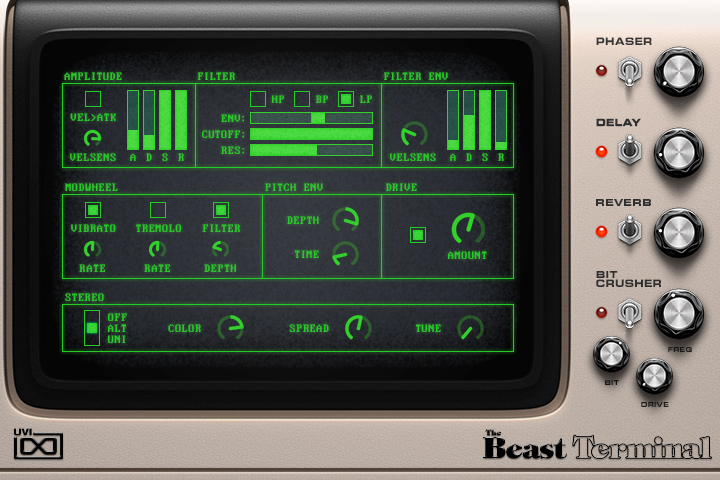 Beast Terminal
With careful attention to historical details, the presets and sonic character of Beast Terminal traverse a wide territory. Ranging from acoustic to electric, they encompass the full sonic spectrum: from lush strings to strikingly bright brass timbres and beyond.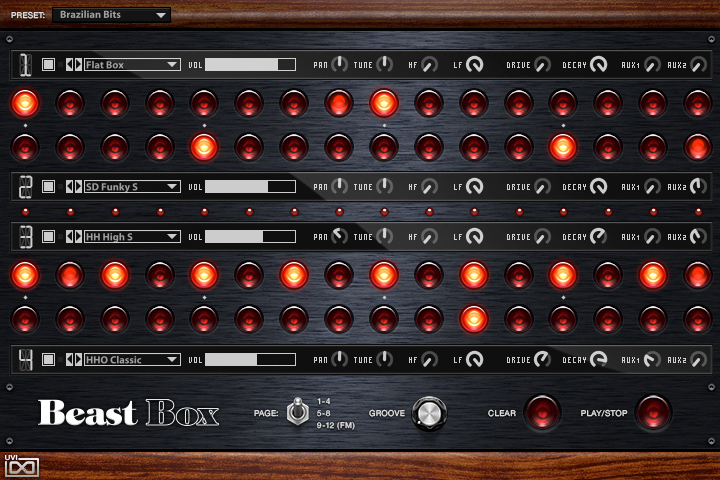 Beast Box
Combining the best FM-synthesized percussion sounds with recordings of the deepest drum hits and percussion samples, Beast Box is a massive drum machine with an extensive library of over 1,200 sounds.

AUTHORIZE THE WAY YOU WANT

Updated licensing system gives you more flexibility than ever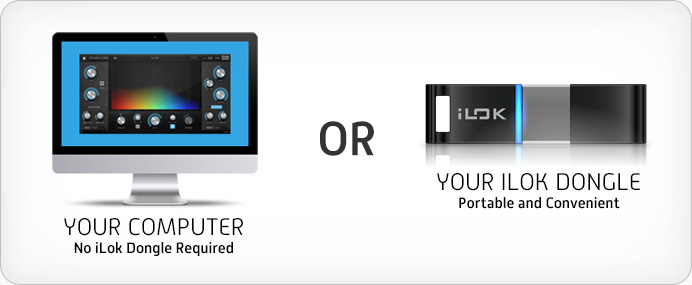 Conveniently switch between these two license protection modes at any time.
The choice is yours.
Summary
Size : 4.25 GB library
Collection : Vintage Synth and Sampler
Content : 3 instruments, 297 presets, 8,313 samples
Sample Resolution : 44.1 kHz

A Truly Massive Library of Sound Effects

Get lost in this 9.13 GB library including categories such as atmospheres, scenes, electric disfunctions, generators, overloads, sparks, impacts, metallic, musical, rhythmic, engine and explosions, alien factory, mechanical, steam, blur, cyber gun, geiger, hard short, hardwarfx, insectus, interference, lower, metafx, pacvox, radio, sas, slicing, tek rumble, teleport, trash, human textures, bad trip, sick mind, magical, mystical, space storms, solar fires, space winds, space water, lost souls, apparitions, unknown presence, cyber buttons, cyber computers, radio buzz, small electronics, musical bells, single bells, weird bells, unreal drums, cartoonesk, gaming, whoosh, aliens, aliens race, beasts, cyber birds, cyber insects, gnomes and bugs, funny, mad machines, doors and sas, emergency and alarms, horror, lasers and guns, slow motion, special guns, robots, scifi drones, mystic and vox, organic, spheroid, synthetic, watermatic, slow motion space, cyber planes, flying saucers, sirius agitation, ufo landing, weird vehicles, zombies, drone machinery, mystical, steady textures, sub natural, and many, many more.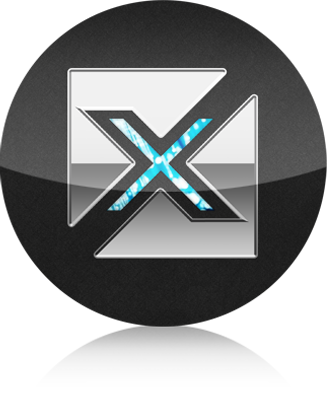 Summary
Size : 9.13 GB library
Collection : Special Effects and Ambiences
Content : 5,140 presets, 6,550 samples
Sample Resolution : 44.1 kHz
You may also be interested in: