You're currently on: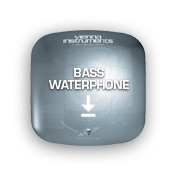 The bass waterphone is an unusual, evocative instrument with a diameter of 14 inches and considerably larger than the waterphone used in the Vienna Instruments Percussion Collection. Its larger number of sounding rods, their increased length, the larger opening as well as the bigger resonating body with more water, furnish the musician with more unusual sonic possibilities and a wider variety of colors.
Sample Amount Standard Library Full Library
184 184 601
Download File Size 254.6 MB 602.2 MB
Installed File Size 614.4 MB 1.7 GB
Bass Waterphone
ARTICULATION GROUP
BASS WATERPHONE
STANDARD LIBRARY
Staccato A
Sustained
Tremolo crescendo
Arpeggios
Glissando
EXTENDED LIBRARY
Staccato B
Portato A and B
Repetitions
Crescendo fore and fortissimo
Hotrods
Wood
Strokes
System Requirements
PC Windows 7 (latest Service Pack, 32/64-bit), Intel Core 2 Duo or AMD Athlon 64 X2
Mac OS X 10.8 (latest update), Intel Core 2 Duo
2 GB RAM (4 GB recommended)
VIENNA KEY (Vienna Symphonic Library USB protection device) or other USB
eLicenser
(e.g., from Steinberg or Arturia)
1.0 GB free hard drive space
for the Standard Library, 1.0 GB for the Full Library
Other configurations may work but are not actively supported.
*Extended Requires Full
*Full= Standard+Extended
You may also be interested in: