You're currently on: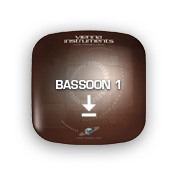 The bassoon is a woodwind instrument in the tenor and bass register. It has been used to provide the bass voice in the orchestral woodwind section since the middle of the 19th century, a role it shares with the bass clarinet. In all its registers, the notes of the bassoon – especially staccato notes – are well suited for the performance of humorous, comic effects and the depiction of musical caricatures.


Sample Amount Standard Library Full Library
4,213 4,213 17,863
Download File Size 995.5 MB 4.1 GB
Installed File Size 1.9 GB 8.1 GB
Bassoon 1
ARTICULATION GROUP
STANDARD LIBRARY
EXTENDED LIBRARY

01 SHORT + LONG NOTES

Staccato
Portato short
Sustained with and without vibrato
Portato medium
Portato long with normal and strong vibrato
Portato long without vibrato, normal and marcato
Sustained with progressive vibrato

02 DYNAMICS

pfp with vibrato, 3 and 5 sec.
Fortepiano and sforzato without vibrato
Medium dynamics with vibrato, 2, 3, and 5 sec.
Strong dynamics with vibrato, 3 and 5 sec.
Medium dynamics without vibrato, 1.5, 2, 3, 4, and 6 sec.
Strong dynamics with vibrato, 3 and 5 sec.
Strong dynamics without vibrato, 3, 4, 6 sec.
pfp with vibrato, 8 sec.
fpf with vibrato, 5 sec.
pfp without vibrato, 4, 6, 8, and 10 sec.
fpf without vibrato, 6 and 8 sec.
Sforzatissimo without vibrato

03 FLATTER + TRILLS

Flutter tonguing
Trills, half and whole tone
Trills dynamics

10 PERF INTERVAL

Legato
Grace notes
Marcato interval performance

11 PERF INTERVAL FAST

Legato
Marcato

12 PERF TRILL

Trills, legato, minor 2nd to major 3rd

13 PERF REPETITION

Legato slow
Portato fast
Staccato
Legato fast
Portato slow
Dynamics for all repetitions

14 PERF UPBEAT REPETITION

1 and 2 upbeats, slow and fast, normal and dynamics

15 FAST REPETITION

Staccato, 9 repetitions, 150, 170, 180 BPM
Staccato, 9 repetitions, 140 and 160 BPM
Dynamics for all repetitions

16 GRACE NOTES

Grace notes
Minor 2nd to octave
Up and down
17 SCALE RUNS
Octave runs
Major and minor, C to B key
Chromatic and whole tone
Up and down
System Requirments
PC Windows 7 (latest Service Pack, 32/64-bit), Intel Core 2 Duo or AMD Athlon 64 X2
Mac OS X 10.8 (latest update), Intel Core 2 Duo
2 GB RAM (4 GB recommended)
VIENNA KEY(Vienna Symphonic Library USB protection device) or other USB
eLicenser
(e.g., from Steinberg or Arturia)
1.9 GB free hard drive space
for the Standard Library, 1.9 GB for the Full Library
Other configurations may work but are not actively supported.
*Extended Requires Standard
*Full= Standard+Extended