You're currently on: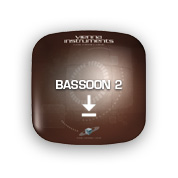 Both the instrument as well as the performance of bassoonist Stepan Turnovsky, a frequent first bassoonist with the Vienna Philharmonic, proved to be perfect for the Bassoon 2.
His ability to play exceptionally broad tonal reaches, and to change his playing position to compensate for variances from note to note, coupled with the Vienna team's extensive array of mic positions, result in an extraordinarily precise sampled sound.
Consequently, two solo bassoons are now available in our instrumental collection. The Bassoon 2 with a range spanning from tenor to bass offers an extended pitch range from Bb to F2, and is therefore also recommended to perform as first bassoon.
Sample Amount Standard Library
6,322 6,322
Download File Size 2.1 GB
Installed File Size 3.7 GB
Bassoon 2
ARTICULATION GROUP STANDARD LIBRARY
01 SHORT + LONG NOTES Staccato
Portato short and medium
Sustained with and without vibrato
02 DYNAMICS Medium dynamics with vibrato, 1.5/2/3/4 sec.
Strong dynamics without vibrato 1.2/2/3/4sec.
Fortepiano, sforzato, sforzatissimo
03 FLATTER Flutter tonguing, normal and crescedo
10 PERF INTERVAL Legato with and without vibrato
11 PERF INTERVAL FAST Legato fast
12 PERF TRILL Multi interval performances: Trills
13 PERF REPETITION Legato, portato, staccato
Normal and crescendo
14 FAST REPETITION Fast repetitions, 16ths at 140 to 180 BPM
Double tonguing 16ths at 160 to 200 BPM
System Requirments
PC Windows 7 (latest Service Pack, 32/64-bit), Intel Core 2 Duo or AMD Athlon 64 X2
Mac OS X 10.8 (latest update), Intel Core 2 Duo
2 GB RAM (4 GB recommended)
VIENNA KEY(Vienna Symphonic Library USB protection device) or other USB
eLicenser
(e.g., from Steinberg or Arturia)
3.7 GB free hard drive space
for the Standard Library, 1.9 GB for the Full Library
Other configurations may work but are not actively supported.
*Extended Requires Standard
*Full= Standard+Extended
| | |
| --- | --- |
| Variant | 1 |
| Specials | Jan 14, 2020 |