You're currently on: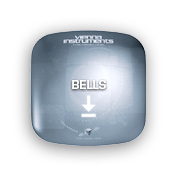 This library features various types of bell and bell substitutes that are used in the orchestra: Tubular bells, plate bells, church bells, hand bells, cowbells (cencerros), burma bells, sleigh bells, altar-boy bells and more. The tubular bells were originally developed as an easily portable substitute for church bells in the orchestra. They are arranged chromatically and cover a range of approx. two octaves. Although their sound was intended to be as close as possible to church bells, this target has never been reached. However, nowadays the timbre of the tubular bells is valued in its own right and particularly useful in the higher register, whereas the lower register is usually covered by the plate bells.
Sample Amount Standard Library Full Library
900 900 2,190
Download File Size 1.3 GB 2.3 GB
Installed File Size 4.0 GB 6.8 GB
Bells
ARTICULATION GROUP
STANDARD LIBRARY
EXTENDED LIBRARY

01 TUBULAR BELLS - A

Medium, hard and soft mallets
Single notes

Hard and soft mallets
Rolls normal and crescendo

02 TUBULAR BELLS - B

Medium, hard and soft mallets
Single notes

Rolls, medium, hard and soft mallets, brushes
Glissandos, slow and fast
Clusters

03 PLATE BELLS

Single notes

04 HAND BELLS

Metal mallet, triangle beater, bowed
Single notes

05 CENCERROS

Soft felt, soft and medium yarn mallet, wood mallet
Single notes

Hard felt mallet, metal mallet; single notes
Rubbing stick, slow and fast rubs

06 COWBELLS

Cowbells 1 and 2
Wool and wood mallets, triangle beater, bowed, rubbing stick
Single notes, variations, rubs

07 CHURCH BELLS

Wood and metal mallets
Single notes

08 BURMA BELLS

2 Burma bells
Yarn, wood and metal mallets
Single notes

09 JINGLE BELLS

Single notes
Tremolo 1 and 4 sec.
Performance repetitions, slow and medium

10 BELL TREE

Metal mallets and triangle beaters
Strokes and glissandos, up and down

11 BELLS misc
Ship's bell, altar-boy bells, finger bells
Single notes
System Requirements
PC Windows 7 (latest Service Pack, 32/64-bit), Intel Core 2 Duo or AMD Athlon 64 X2
Mac OS X 10.8 (latest update), Intel Core 2 Duo
2 GB RAM (4 GB recommended)
VIENNA KEY (Vienna Symphonic Library USB protection device) or other USB
eLicenser
(e.g., from Steinberg or Arturia)
4.0 GB free hard drive space
for the Standard Library, 4.0 GB for the Full Library
Other configurations may work but are not actively supported.
*Extended Requires Full
*Full= Standard+Extended
You may also be interested in: