You're currently on: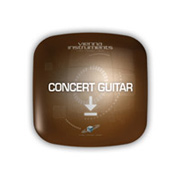 The Vienna Concert Guitar is the only one of its kind. This hand-made instrument was specially constructed with an arched back put together from several pieces of wood. Its balanced, homogeneous sound allows it to stand its ground as a solo instrument as well as in accompaniment. Due to its polyphonic nature, the concert guitar presented a special challenge. Specifically, chords only sounded authentic when the chords themselves were sampled! After a three year production cycle for the orchestral sample libraries, the Vienna Symphonic Library team felt ready to take up this challenge, capturing all of the concert guitar's versatility and its many playing techniques. The samples were "tamed" and made reproducible with the help of Vienna Symphonic Library's unique Vienna Instruments algorithms.
The Vienna Concert Guitar became a reality through a combination of individual prerequisites: The project's godfather, Thomas Meitz, in the framework of his concert guitar diploma, spent 1 1/2 years on developing the Library's structure. Due to his practical background as a recording engineer and chief editing engineer of the Vienna Symphonic Library, he was able to realize his concept optimally and without compromise.
Standard Library Full Library
Sample Amount 6,010 14,196
Download File Size 1.5 GB 3.5 GB
Installed File Size 4.6 GB 10.3 GB

Concert Guitar
ARTICULATION GROUP
STANDARD LIBRARY
EXTENDED LIBRARY
01 SHORT + LONGNOTES
Staccato normal and Bartók
Sustained and ponticello, without and with vibrato
Harmonics artificial and natural

Staccato étouffé
Flautando with and without vibrato
Bartók (snapped) with and without vibrato
Étouffé
Tambora

02 HAMMER

Hammer-ons
D, E, A, d, g, b, e strings
All strings combination

03 TRILLS & CO
Trills, half and whole tone

Tremolo, short
Bends, half tone, up and down

04 FX
Scratches combination

Golpe
Harp effects
Scratches on E, A, D
Muted chords

10 PERF INTERVAL

Legato normal
Legato sul ponticello
Glissando
Hammer-ons and pull-offs

11 PERF REPETITION
Legato slow
Legato fast, var. 1
Staccato

Legato medium
Legato fast, var. 2
Ponticello medium and fast
Legato crescendo and diminuendo

12 FAST REPETITION

Fast repetitions
Normal
Ponticello
Crescendo and diminuendo

13 CHORDS on 4-6 Strings - Major and minor

3- and 4-key chords, C to B major and minor
Battente
Pulled
Rasguando short
Arpeggio/rasguando long

13 CHORDS on 4-6 Strings - Chromatic

Chords in chromatic progression
Battente, pulled, rasguando short, and arpeggio/long rasguando
Major, minor, dominant 7, major 7, and minor 7 chords on 6, 5, and 4 strings
Diminished 7, major 7 with augmented 5th, minor 7 with diminished 5th, and minor with major 7th chords
Sus4 and 7sus4, with the E, A, and D strings as base

14 CHORDS on 3 Strings
Chords played on 3 strings in chromatic progression
Battente, pulled, and rasguando short
Major base, 1st inversion, 2nd inversion, with 8ve
Minor base, 1st inversion, 2nd inversion
Minor 7, dominant 7, diminished 7, sus4
System Requirements
PC Windows 7 (latest Service Pack, 32/64-bit), Intel Core 2 Duo or AMD Athlon 64 X2
Mac OS X 10.8 (latest update), Intel Core 2 Duo
2 GB RAM (4 GB recommended)
vienna key (Vienna Symphonic Library USB protection device) or other USB
eLicenser
(e.g., from Steinberg or Arturia)
4.6 GB free hard drive space
for the Standard Library, 4.6 GB for the Full Library
Other configurations may work but are not actively supported.
*Extended Requires Full
*Full= Standard+Extended