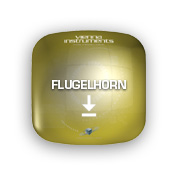 The flugelhorn in Bb is a member of the bugle-horns family like the euphonium or the (contra)bass tuba, even though the instrument looks rather like a larger trumpet. The name originates from the "Flügelmeister" of the 18th century, who had to coordinate various regimental flanks in a battle with blasts from the instrument. Beyond its use in military and marching bands it is a favorite solo instrument in jazz music today. Being almost as flexible as the trumpet, the flugelhorn features a much softer and warmer tone due to its cone-shaped and wide bell.
Sample Amount Standard Library
7,939 7,939
Download File Size 3.7 GB
Installed File Size 6.0 GB
Flugelhorn
ARTICULATION GROUP STANDARD LIBRARY
01 SHORT + LONG NOTES Staccato, portato short and medium
Sustained with normal, progressive, and without vibrato
Marcato
Upward slides with vibrato
Falls
02 DYNAMICS Medium crescendo and diminuendo with vibrato, 1.5, 2, 3, and 4 sec.
Strong crescendo and diminuendo, without vibrat, 1.5,2, 3, and 4 sec.
Crescendo-diminuendo with and without vibrato, 2, 3, 4, and 6 sec.
Fortepiano, sforzato, sforzatissimo
03 FLATTER Flutter tounging, normla and crescendo
10 PERF INTERVAL Legato with and without vibrato
Portamento
11 PERF INTERVAL FAST Legato, fast
12 PERF TRILL Trills, minor and major 2nd; all other intervals legato
13 PERF REPETITION Legato, portato, staccato
Legato crescendo, 5 repetitions
Portato and staccato crescendo, 9 repetitions
15 FAST REPETITION Staccato, 16 repetitions
16ths at 140 to 200 BPM
System Requirements
PC Windows 7 (latest Service Pack, 32/64-bit), Intel Core 2 Duo or AMD Athlon 64 X2
Mac OS X 10.8 (latest update), Intel Core 2 Duo
2 GB RAM (4 GB recommended)
VIENNA KEY (Vienna Symphonic Library USB protection device) or other USB
eLicenser
(e.g., from Steinberg or Arturia)
6.0 GB free hard drive space
for the Standard Library, 6.0 GB for the Full Library
Other configurations may work but are not actively supported
*Extended Requires Standard
*Full= Standard+Extended