You're currently on: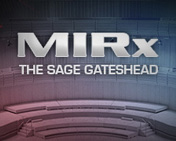 A new MIRx reverb extension for Vienna Instruments and Vienna Instruments PRO
Vienna's new MIRx convolution reverb extension "The Sage Gateshead" is a convenient and affordable way for your customers to integrate the world-class acoustics of the famous UK landmark building directly into the software players Vienna Instruments and Vienna Instruments PRO. Just click on the MIRx button and select one of the many presets for your loaded instrument — it will be placed automatically and aligned at the appropriate spot on the stage.
MIRx The Sage Gateshead includes 360 individually handcrafted and masterfully pre-EQ'd presets for placing every available Vienna instrument and ensemble at its perfect-sounding postion in this remakable concert hall.
You may also be interested in: