You're currently on: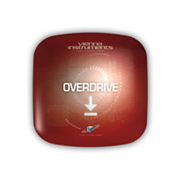 Imagine a brilliant guitarist playing absolutely fluid legato solos and awesome power chord grooves on a world-class guitar: You can hear it from various guitar legends – but could you expect that level of performance from a sampled guitar?
OVERDRIVE makes it possible by means of the revolutionary Legato Performances, one of the most intriguing outcomes of Vienna Symphonic Library's years of sampling experience. Create your own authentic and unique riffs, exploit the limits of technical feasibility, and get a completely real tube sound performance for the first time ever!
OVERDRIVE contains about 6 gigabytes of samples, including Vienna's unique Performance Elements, featuring a seven-string distorted guitar. Along with various short and sustained notes, power chords, slides, hammer-ons, pull-offs, picked notes, and more, you get loads of effect samples like octave runs, feedbacks, scratches, and e-bowed notes – for a smooth, fat sound and unbelievably realistic performances! Incidentally, repetitions and sustains start at B0 on the lower end, extending the range of a standard guitar down a 4th!
The state-of-the-art gear used to make Overdrive was hand selected to provide the perfect total distortion sound, including a fantastic 7-string solid-body guitar, and classic amplifiers and cabinets, mic'd and recorded in Vienna's Silent Stage.
Equipment
Steve Vai signature, 7 strings
Brunetti XL II R-EVO
Marshall 1960 TV monitors, 4x12
Ernie Ball 9 – 52 strings

Standard Library Full Library

Sample Amount 6,850 12,264

Download File Size 1.4 GB 3.1 GB

Installed FIle Size 2.5 GB 5.2 GB
Overdrive
ARTICULATION GROUP
STANDARD LIBRARY
EXTENDED LIBRARY
01 SHORT + LONG NOTES
Staccato short soft, medium, hard
Sustained with and without vibrato
Sub-bass sustained
Staccato normal soft, medium, hard
Portato short
Portato long with and without vibrato
Sustained with whammy bar (2 variations)
02 HARMONICS
Artificial harmonics, 5th and octave
Natural harmonics
03 TRILLS + PHRASES
Tremolo
Trills, minor 2nd to major 3rd
Grace noise, normal and with whammy bar, base note and octave
04 POWER CHORDS
Power chords, 4th and 5th
Power chords, major and minor
05 FX
Scratches on E and B string
Feedback effects, soft and hard
Bowed
Scratches with whammy bar
Scratch effects
10 PERF INTERVAL
Legato normal and with vibrato
Hammer-ons and pull-offs
Legato with whammy bar (2 variations)
Marcato, normal and with vibrato
Bends
11 PERF REPETITION
Staccato, normal and muted (2 variations each)
Power chords, 4th and 5th
Staccato dynamics, normal (2 variations)
Power chords dynamics, 4th and 5th
Sub-bass repetitions
12 FAST REPETITION
Staccato, 140 to 160, 180, 200, and 220 BPM, normal and dynamics
Effects, 140 to 160, 180, and 200 BPM
13 SCALE RUNS
Octave runs, legato, major and minor harmonic, C to B scale
System Requirements
PC Windows 7 (latest Service Pack, 32/64-bit), Intel Core 2 Duo or AMD Athlon 64 X2
Mac OS X 10.8 (latest update), Intel Core 2 Duo
2 GB RAM (4 GB recommended)
vienna key (Vienna Symphonic Library USB protection device) or other USB
eLicenser
(e.g., from Steinberg or Arturia)
2.5 GB free hard drive space
for the Standard Library, 2.5 GB for the Full Library
Other configurations may work but are not actively supported.
*Extended Requires Full
*Full= Standard+Extended