You're currently on:

Inspiring Soundscapes
Synchron FX Strings I is our most daring strings library to date, recorded with the signature ambience of our newly refurbished scoring stage, Synchron Stage Vienna. For the first time in Vienna Symphonic Library's long history of developing sample libraries,this Collection includes production-ready musical textures and loops using a 50-piece string orchestra, enabling you to create everything from ethereal, spheric soundscapes to pulsating melodic ornaments, suspense clusters and aggressive strikes!
Explore new sonic worlds!
Synchron FX Strings I is an infinite source of inspiration and a fantastic tool for designing entire worlds. Easily create effects and soundscapes simply by holding one or two keys, and add variety and changing colors by moving pre-configured controllers. We captured unique sounds and playing techniques that have never been sampled before. Where other products quickly reach their intrinsic limits, your musical journey into previously unheard sonic worlds is just beginning with Synchron FX Strings I.
Whereas Vienna's excellent musicians usually avoid experimentation during sampling sessions, in this case they were asked to cast aside convention and go far beyond their normal limits. The result is a treasure trove of tonal and atonal textures and elements that you may blend effortlessly for creating your very personal, unique sound. All varieties and combinations are easily accessed with the new Vienna Synchron Player. Synchron FX Strings I is not limited to orchestral applications but can be used in any contemporary genre and style, such as Ambient, Alternative, EDM, World and many others.
Key Features
Ready-to-use musical elements, from breathy, spherical pads to pulsating or even aggressive patterns and rhythms
Large 50-piece string ensemble, divided in 6 sections: 14 first violins, 10 second violins, 6 first violas, 6 second violas, 8 cellos, 6 double basses
Total flexibility for infinite creative possibilities – almost "everything may be combined with anything"
Large selection of presets in ten categories (spherical textures, spherical chord textures, character textures, rises and hits, glissandos, clusters, tremolos, harmonic FX, pizzicato FX, Inspiration XFades)
All-new, easy-to-use
Synchron Player
with high-performance playback engine
Intuitive access with three pre-configured real-time controllers: Bow Style (CC 1), Velocity (CC 2), Density (CC 3).
Multiple microphone arrays provide for a wide variety of sonic possibilities, from stereo to 5.1 surround and Immersive Audio (Dolby Atmos, Auro 3D). Additionally, each musician was recorded separately with a dedicated microphone, and all signals were down-mixed to provide you with an optimized section sound.
All-new Synchron Player
Synchron FX Strings I comes with our dedicated Synchron Player that incorporates a brand new audio engine built from the ground up. It provides unprecedented streaming performance and a new level of sophisticated simplicity – just step through the articulations, select their variations and explore how the pre-configured controllers (Density, Bow Style and Velocity Crossfade) affect the loaded preset.
The Synchron Player also includes an internal mixer with 5-band EQ, individual delay settings for runtime compensation, algorithmic reverb, phase switching and panorama controls. It runs under Windows and Mac OS X as a VST, AU and AAX Native plug-in in your DAW.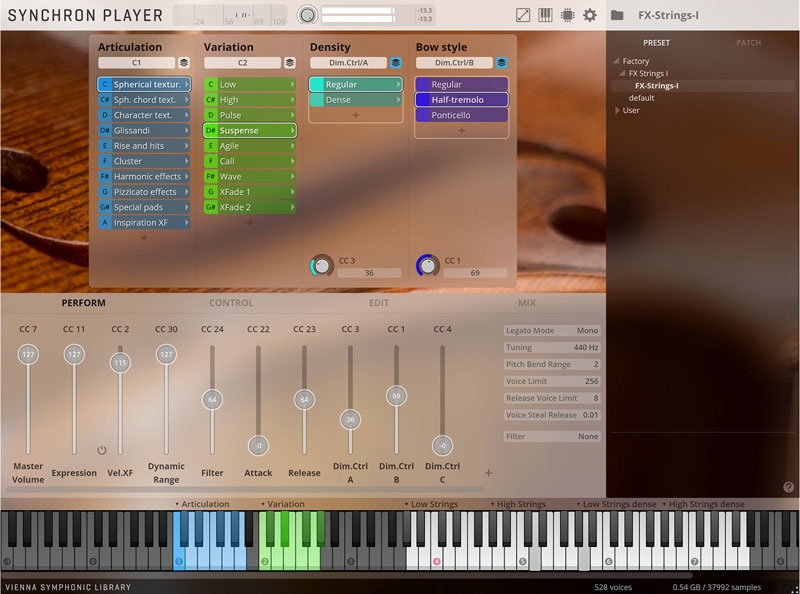 Synchron Player – Perform View
50 Microphones – 50 Musicians
We spared no effort recording Synchron FX Strings I, using dedicated close microphones for each player of the string orchestra. For easy handling, you have quick access to six stereo down-mixes of these individual close mic signals (Violins 1 & 2, Violas 1 & 2, Cellos, Double Basses). Due to the comprehensive selection of further stereo and room mic arrays you can create your individual string ensemble sound in stereo, 5.1 surround, or even 9.1 immersive audio format, using the player's full-fledged mixer.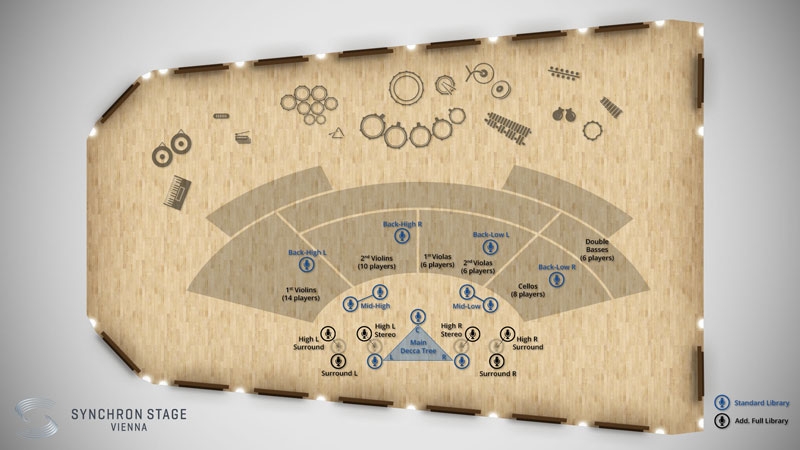 Microphone and instrument setup


Microphone Positions
| | | |
| --- | --- | --- |
| | Standard Library | Full Library |
| 0. Room Mix – Down-mix of positions 6 - 10 (L/R) | • | • |
| 1. Close Mics for each ensemble (mono each) | • | • |
| 2. Mid Mic – Front of High String Ens. (L/R) | • | • |
| 3. Mid Mic – Front of Low String Ens. (L/R) | • | • |
| 4. Back Mic – Back of High String Ens. (L/R) | | • |
| 5. Back Mic – Back of Low String Ens. (L/R) | | • |
| 6. Main/Room Mic – Decca Tree Stereo (L/R) | • | • |
| 7. Main/Room Mic – Decca Tree Mono (Center) | • | • |
| 8. Main Surround – Stereo (L/R) | | • |
| 9. High Stereo (3D) – Stereo (L/R) | | • |
| 10. High Surround (3D) – Stereo (L/R) | | • |
Ten Categories of Presets
The preset patches are organized in ten categories. By using our pre-configured controllers you may adjust the "bow style" and "density" in real-time, e.g., for building up tension by gradually blending from basic to more complex and agile variations of one of the same pattern.
Spherical Textures (e.g., slightly pulsing effects with aleatoric rhythms and random bow changes)
Spherical Chord Textures – based on the so-called "Alpha"-chord (please see more details below)
Character Textures – screaming and shouting high strings and grumbling low strings, aleatoric cluster FX with random pizzicatos, dirty and aggressive sounds with high bow pressure, ethereal "outer space" sounds performed behind the bridge, staggered, pulsating bow-bouncings on a string, melodic ornaments in the Ionian scale
Glissandos – regular and fingered, available in "regular", "half-tremolo", and "ponticello" bow styles
Rises & Hits – upwards runs and glissandos with high dynamics and big crescendo, with speed variations
Clusters – short and long note clusters, as well as glissando clusters with speed variations
Harmonic FX – "freaky" sounds, e.g., with slightly detuned harmonics or upward and downward glissandos
Pizzicato FX – e.g., random pizzicatos in various tempos or finger glissandos after the pizzicato
Special Pads – various "breathy" sounds, e.g., by strings tuned down a minor third
Inspiration XFades – crossfading combinations from different preset categories
About the Alpha chord (spherical chord textures)
The spherical chord textures are based on the "Alpha chord" that is composed of two symmetric layered diminished seventh chords, with a whole tone gap in between. In Synchron FX Strings I this chord is featured in its basic form (on center key "C") and in two inversions.
The notes of the alpha chord are derived from an alternating octatonic (eight-note) whole step-half step scale:
The whole step-half step (or "diminished") scale was first found in 20th century music, particularly in the music of Béla Bartók, Alexander Skrjabin and Olivier Messiaen, e.g., in his magnum opus, the "Turangalîla" symphony. Messiaen described this scale as the second mode of his seven "modes with limited transpositions", as it can only be transposed three times (the fourth transposition would already be a repetition). Apart from the above-mentioned composers, the scale is frequently used in Jazz music.
About the composer, orchestrator and conductor
Born and raised in Vienna, composer and conductor Johannes Vogel graduated from the Vienna University of Music and Performing Arts as a percussionist with honors. He started his career as a musician with the Vienna Philharmonic, the orchestra of the Zürich opera house, and the Camerata Academica Salzburg. As a composer, his film and TV music projects include the MGM/Paramount production "Hercules" with Dwayne Johnson, Guillermo del Toro's "Crimson Peak", "The Colony" with Emma Watson and Daniel Brühl as well as numerous episodes of the German TV series "Der Bergdoktor". Since 2016 Johannes Vogel has been the principal conductor at Synchron Stage Vienna, with most of the film music productions at Vienna's new scoring stage recorded under his baton — including scores by Hans Zimmer, Harry Gregson-Williams, Rupert Gregson-Williams, Lorne Balfe and many others.
Johannes Vogel
| | Standard Library | Full Library |
| --- | --- | --- |
| Sample Amount | 33,242 | 52,239 |
| Download File Size | 19.4 GB | 31.8 GB |
| Installed File Size | 41.2 GB | 66.6 GB |
Sample Content

ARTICULATION GROUP
ARTICULATIONS
01 Spherical Textures

Low – low-range sounds with harmonics
High – high-range sounds with harmonics
Pulse – aleatoric pulsing harmonics
Suspense – detuning effect in octaves
Agile – chromatic ornament played aleatorically
Call – 4ths in staggered thythms
Wave – legato sixtuplets, Lydian scale
XFade 1 – Pulse, Call, Wave
XFade 2 – Low, Suspense, Agile

02 Spherical Chord Textures

Patches are identical with those of Spherical Textures, but based on the so-called 'Alpha chord'

03 Character Textures

Scan – aleatoric 5th/4th arpeggios
Swarm – strong bow pressure near the frog
Whisper – aleatoric melodic ornaments in the Ionian scale
Dialogue – rhythmic and melodic cluster aleatoric with random pizzicatos
Behind the bridge – a cluster-like, 'outer space' sound canvas
Crawl – staggered bouncing of the bow on the strings
Action – high-energy performance 'over the top'
XFade 1 – Crawl, Scan, Swarm
XFade 2 – Whisper, Dialogue, Action

04 Glissandi

Slow, Medium, Fast – Regular glissando played with one finger
Fingered fast, super-fast – 'scale-like' fingered glissandos
Cross fast, super-fast – one-finger glissandos with players going in different directions

05 Rise + Hits

Legato slow, fast – fingered legato upwards runs, last note accent
Detache slow, fast – fingered détaché upwards runs, last note accent
Slide clean slow, fast – clean upwards glissandos, last note accent
Slide dissonant slow, fast – dissonant upwards glissandos, last note accent
Steps slow, fast – staggered upwards glissandos, last note accent

06 Cluster

Short – staccato notes, fifth range clusters
Long – sustained notes, fifth range clusters
Glissando slow, fast – one-finger glissandos, up and down, fifth range clusters

07 Harmonics FX

Natural harmonics rubbing – natural harmonics, slightly detuned
Natural harmonics cluster
Natural harmonics glissando up/down/cross
Artificial harmonics glissando up/down slow
Artificial harmonics glissando up/down fast

08 Pizz FX

Cluster – pizzicato clusters in fifth range
Glissando – üizzicatos with subsequent finger glissando
Random – detuned random pizzicatos in different tempos
Random XFade – random pizzicatos, slow/medium/fast crossfading option

09 Special Pads

Hades sustains – strings tuned down by a minor third
Breath sustains – very fast bow tempos with little pressure
Vertical tremolo – bowing up and down the fingerboard
XFade – Breath sustains, Hades sustains, Vertical tremolo

10 Inspiration XFades

Spherical & scan
Spherical & swarm
Spherical & harmonics
Behind the bridge & pizzicato
Glissando & pizzicato
Cluster & pizzicato
Spherical & hades
Vertical tremolo & harmonics
System Requirements
PC Windows 7/8/10 (latest update, 64-bit), Intel Core 2 Duo or AMD Athlon 64 X2
Mac OS X 10.10 (latest update) or higher, Intel Core 2 Duo
SSD (M2, Sata 6 or USB3/3.1 UASP Support) for sample content
8 GB RAM (16 GB recommended)
VIENNA KEY (Vienna Symphonic Library USB protection device) or other USB
eLicenser
(e.g., from Steinberg or Arturia)
Free hard drive space
Standard Library: 41.2 GB
(individual microphone data can be removed)
Free hard drive space
Full Library: 66.6 GB
(individual microphone data can be removed)
Other configurations may work but are not actively supported.
Recommended
Windows 7/8/10 (latest update, 64-bit), Intel i5/i7/Xeon
Mac OS X 10.12 (or higher), Intel i5/i7/Xeon
16 GB RAM
AU/VST/AAX Native compatible host
AAX version requires Pro Tools 10.3.5 or higher
88 key master keyboard
You may also be interested in: