You're currently on: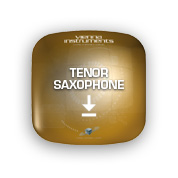 The classical Swing big-band ensemble includes 5 saxophones: 2 Alto, 2 Tenor and 1 Baritone saxophone. The transposing Tenor saxophone in Bb covers the middle range. Its sound can be very raw and "dirty". Stan Getz is one of a large number of well-known players of this instrument.
The musician for all the instruments, Robert Bernhard, plays in illustrious circles. His experience in orchestral music is as profound as his improvisations in jazz, funk and blues. He has captured all the nuances of the Selmer Mark VI series instruments (reissues of the famous vintage saxes of the Sixties) – from sensitive to aggressive, from whispering to screaming, exploiting the full dynamic range of these instruments.
Sample Amount Standard Library Full Library
3,361 3,361 13,012
Download File Size 920.1 MB 2.8 GB
Installed File Size 1.5 GB 5.2 GB
Tenor Saxophone
ARTICULATION GROUP
STANDARD LIBRARY
EXTENDED LIBRARY

01 SHORT + LONG NOTES

Staccato, portato short
Sustained with and without vibrato
Portato medium, portato long marcato
Slap normal and muted, key noise
Sustained with progressive vibrato, "dirty"
Short and long bends

02 DYNAMICS

pfp with vibrato, 3 and 5 sec.
Fortepiano and sforzato with vibrato
Medium dynamics with vibrato, 2 and 4 sec.
Strong dynamics with vibrato, 3 and 5 sec.
Medium dynamics without vibrato, 1.5 and 2 sec.
Sforzatissimo with vibrato

03 FLATTER + TRILLS

Flutter tonguing, crescendo
Trills normal, minor and major 2nd
Trills accelerando, minor and major 2nd
Dynamics for all trills

10 PERF INTERVAL

Legato with vibrato
Legato without vibrato, sustain crossfading
Grace notes, minor 2nd to octave
Portamento
Glissandos, up, minor 2nd to octave
Marcato

11 PERF INTERVAL FAST

Legato
Marcato

12 PERF TRILL

Trills, legato, minor 2nd to major 3rd

13 PERF REPETITION

Legato slow
Portato fast
Staccato
Legato fast
Portato slow
Dynamics for all repetitions

14 FAST REPETITION

Staccato, 9 repetitions, 150, 170, 180 BPM
Staccato, 9 repetitions, 140 and 160 BPM
Dynamics for all repetitions

15 GRACE NOTES

Grace notes
Minor 2nd to octave
Up and down

16 SCALE RUNS

Octave runs
Legato, chromatic and whole tone
Up and down

17 BENDS DOWN

Sustained with and without vibrato
Legato with vibrato
Sustained with progressive vibrato, and 'dirty'
Grace notes, portamento, glissando up, marcato interval performances
Performance trills
System Requirements
PC Windows 7 (latest Service Pack, 32/64-bit), Intel Core 2 Duo or AMD Athlon 64 X2
Mac OS X 10.8 (latest update), Intel Core 2 Duo
2 GB RAM (4 GB recommended)
VIENNA KEY (Vienna Symphonic Library USB protection device) or other USB
eLicenser
(e.g., from Steinberg or Arturia)
2.2 GB free hard drive space
for the Standard Library, 2.2 GB for the Full Library
Other configurations may work but are not actively supported.
*Extended Requires Full
*Full= Standard+Extended
You may also be interested in: