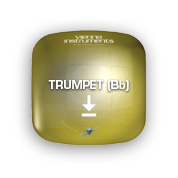 Once again, trumpet player Alfred (Freddy) Staudigl, one of Vienna Symphonic Library's longest engaged musicians, proves to be an experienced master of his art.
His skillfully crafted performances turn our Trumpet in Bb into an effective crossover instrument. In its expressive tonal range, the classic European style is expanded with more intense vibrato and brasher tones, while sacrificing nothing in aesthetics. In addition to a wider sound spectrum than provided by the trumpet in c the Trumpet in Bb also offers "Rips & Falls"
Sample Amount Standard Library
8,290 8,290
Download File Size 4.2 GB
Installed File Size 7.0 GB
Trumpet Bb
ARTICULATION GROUP STANDARD LIBRARY
01 SHORT + LONG NOTES Staccato, portato short and medium
Sustained with normal, progressive, and without vibrato
Marcato with vibrato
Upward slides with and without vibrato
Falls
02 DYNAMICS Medium crescendo and diminuendo with vibrato, 1.5, 2, 3, and 4 sec.
Strong crescendo and diminuendo, without vibrato, 1.5, 2, 3, and 4 sec.
Crescendo-diminuendo with and without vibrato, 2, 3, 4, and 6 sec.
Foretepiano, sforzato, sforzatissimo
03 FLATTER Flutter tonguing, normal and crescendo
10 PERF INTERVAL Legato with and without vibrato
Portamento tight and loose
11 PERF INTERVAL FAST Legato, fast
12 PERF TRILL Trills, minor and major 2nd; all other intervals legato
13 PERF REPETITION Legato, portato, staccato
Portato and staccato crescendo, 9 repetitions
15 FAST REPETITION Staccato, 16 repetitions
16ths at 140 to 190, and 210 BPM
System Requirements
PC Windows 7 (latest Service Pack, 32/64-bit), Intel Core 2 Duo or AMD Athlon 64 X2
Mac OS X 10.8 (latest update), Intel Core 2 Duo
2 GB RAM (4 GB recommended)
VIENNA KEY (Vienna Symphonic Library USB protection device) or other USB
eLicenser
(e.g., from Steinberg or Arturia)
7 GB free hard drive space
Other configurations may work but are not actively supported
*Extended Requires Standard
*Full= Standard+Extended