You're currently on: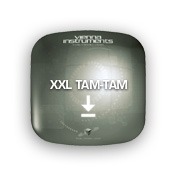 The oversized tam-tam, with a diameter of more than 65 inches, was treated with all the tricks of the trade, with a special nod to Stockhausen's opus "Mikrophonie". It was struck with metal rods, cardboard and jigsaw blades, hit and rubbed with chains, and manhandled with fly swatters, an egg cutter, and even a massaging rod.
Sample Amount Standard Library Full Library
184 184 373
Download File Size 376.8 MB 518.5 MB
Installed File size 819.2 MB 1.1 GB
XXL Tamtam
ARTICULATION GROUP
XXl TAMTAM
STANDARD LIBRARY
Basic articulations:
Single hits. rim and middle
tremolo dynamics, muted
tremolo normal and dynamics, open
Long tremolo
Effects:
Paperbox
Miscellaneous 1 and 2
EXTENDED LIBRARY
Effects:
Flexatone
Metal
Cardboard tube
Plastic
Fretsaw and egg cutter
System Requirements
PC Windows 7 (latest Service Pack, 32/64-bit), Intel Core 2 Duo or AMD Athlon 64 X2
Mac OS X 10.8 (latest update), Intel Core 2 Duo
2 GB RAM (4 GB recommended)
VIENNA KEY (Vienna Symphonic Library USB protection device) or other USB
eLicenser
(e.g., from Steinberg or Arturia)
1.0 GB free hard drive space
for the Standard Library, 1.0 GB for the Full Library
Other configurations may work but are not actively supported.
*Extended Requires Full
*Full= Standard+Extended
You may also be interested in: