You're currently on: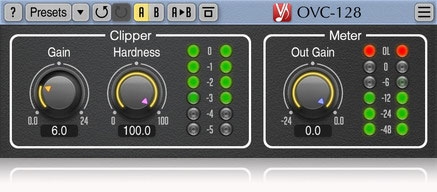 OVC-128
OVC-128 is a massively-oversampled soft/hard clipping effect AudioUnit, AAX and VST plugin for professional music production applications. A common use for this plug-in is hard-clipping before the final peak limiter. This is an effective approach in contemporary electronic music when loudness is boosted using a clipper plug-in while minor excessive peaks are absorbed by a final peak limiter that applies no additional gain itself.
Clipping the tracks via OVC-128 is practically similar to clipping using high-quality outboard analog gear. At 44.1kHz source sample rate, the internal audio sample rate of OVC-128 is a whopping 5.6 MHz!
A perfect combination for contemporary electronic music production is OVC-128 followed by Voxengo Elephant mastering limiter in EL-C mode. This combination produces both energy and smoothness.
Note that OVC-128 is a relatively CPU-demanding effect plug-in, it requires a higher-end processor for comfortable use. Performing 128X-oversampled clipping on a single stereo track is computationally similar to performing simple clipping on 1000 tracks.
Features and Compatibility
128X linear-phase oversampling
Clipping hardness control
64-bit floating point processing
38 ms compensated processing latency
Demo limitations
Processing output is muted for a moment every 45 seconds.
(Demo version is authorized with a product key, which is a text string - no challenge/response nor dongle required)
Compatibility
This audio plugin can be loaded into any audio host application that conforms to the AudioUnit or VST plugin specification. Plugins with AAX version available can be loaded in ProTools 12+.
This plugin is compatible with Windows (32- and 64-bit Windows XP, Vista, 7, 8, 10 and later versions) and macOS (10.7 and later versions, 64-bit Intel processor-based) computers (2.5 GHz dual-core or faster processor with at least 4 GB of system RAM, SSE4.2 instructions support required, e.g. any Intel Core i-, AMD Bulldozer- or Zen-based processor). A separate binary distribution file is available for each target computer platform and audio plugin specification.
Compatible Windows and macOS plugin software: Cubase, Logic Pro, ProTools, Ableton Live, Reaper, Presonus Studio One, FL Studio, Cakewalk, Nuendo, WaveLab, GarageBand, Vegas, SoundForge, Audition, Samplitude, Digital Performer, Mixcraft, Bitwig Studio, Edius, others.
If you cannot get plugin to work on macOS High Sierra/Mojave, you have to logout from the system and login again, it's a known issue not caused by plugin's own bug.