You're currently on: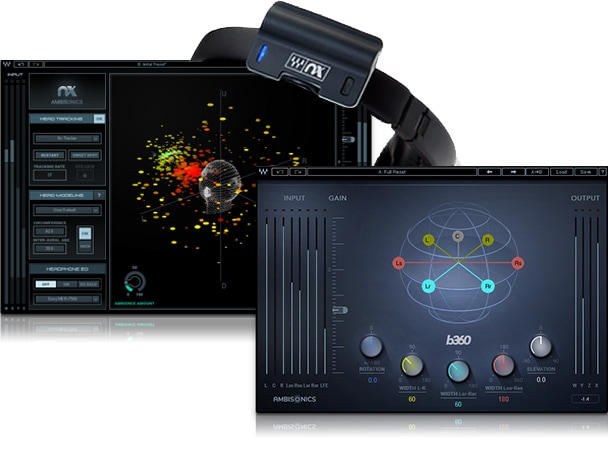 Ambisonics B-format is the industry standard for recording, mixing and playing back audio in a full spherical 360-degree soundfield. It is the audio format most widely used in VR/AR and in Facebook and YouTube 360° videos.

With the tools in this combo, you can convert stereo and surround to Ambisonics B-format, mix B-format audio, and monitor it in high fidelity on your regular stereo headphones, all as part of your intuitive workflow.
The combo includes:
B360 Ambisonics Encoder: Use this plugin to easily convert mono, stereo and surround tracks to Ambisonics B-format for 360° playback and mixing.
You can either insert B360 on your entire mix to convert it to B-format; or open the plugin on each individual track in order to pan it in your 360° mix.
Nx Virtual Mix Room: Use this plugin to monitor your B-format mix on any pair of standard stereo headphones, with professional audio quality that doesn't color your sound.
Simply insert the plugin's Nx Ambisonics component on the buss you wish to monitor, and send it to your regular headphones.

Nx Head Tracker: This small Bluetooth device enhances the 360° realism of the Nx plugin by tracking your head movements with full precision.


Combined, these tools give you the most intuitive, user-friendly way to handle Ambisonics B-format audio for your 360° or VR/AR projects.
Less
Industry-standard tools for mixing and monitoring Ambisonics B-format
Includes B360 Ambisonics Encoder, Nx Virtual Mix Room, Nx Head Tracker
Convert surround mixes into 1st-order Ambisonics B-format
Mix stereo and mono elements into Ambisonics B-format
Easily pan each element in your 360° mix
Monitor your 360° mix on any stereo headphones, with high fidelity binauralization and precision head tracking
You may also be interested in: