You're currently on: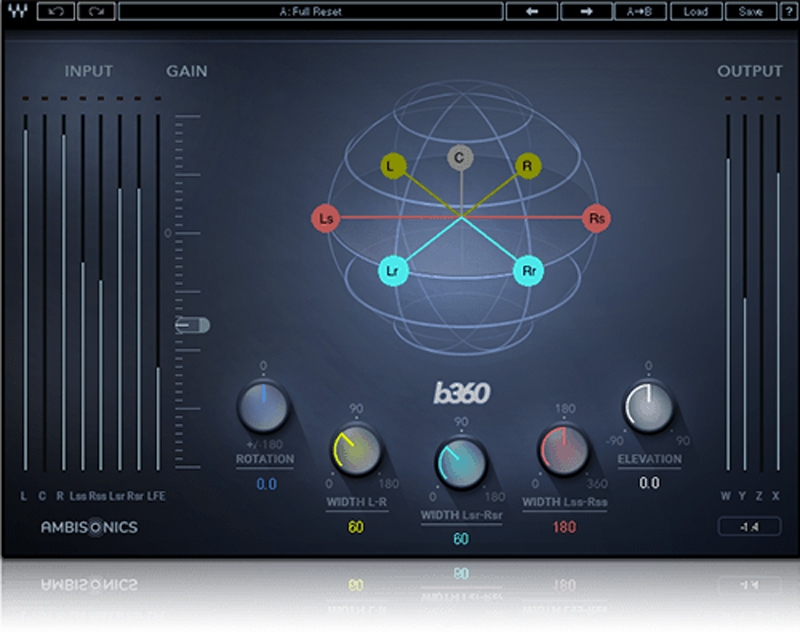 Convert and mix mono, stereo and surround tracks into Ambisonics B-format to deliver 360° audio mixes for YouTube 360, Facebook 360 and VR projects.
Ambisonics B-format is the industry standard for mixing audio in a full spherical 360-degree soundfield. Unlike standard mono, stereo or surround tracks, which route to individual speakers, B-format has four channels that together represent the entire spherical soundfield. When you want to include mono, stereo or surround tracks in an Ambisonics mix, you first need to convert them to B-format.
The B360 Ambisonics Encoder enables you to do this via two basic workflows:
You can insert B360 on your entire stereo or surround mix, and it will convert the original file into Ambisonics B-format.
Or you can insert B360 on each individual channel in your session, for precise positioning of that channel in your Ambisonics mix.
In either case, B360 lets you control the mix's width, elevation, and rotation, as well as position the different elements in your mix inside the three-dimensional soundfield.
With an intuitive GUI and streamlined controls, B360 is designed to make your Ambisonics audio workflow faster, easier and more user-friendly than ever.
Features
The industry-standard way to deliver audio for VR and 360° videos
Convert mono, stereo & surround into 1st-order Ambisonics B-format

Precisely position elements in your 360° audio mix

Intuitive interface; fits into your traditional mixing workflow

Width, rotation and elevation controls

AmbiX-compatible
Includes AmbiX-to-FuMa and FuMa-to-AmbiX utility convertors
System Requirements
Mac
CPU
Intel Core i5 / i7 / Xeon

Memory
8 GB RAM
8 GB free disk space on the system drive

Operating System
10.10.5 - 10.12.6

Screen Resolution
Minimum: 1024x768
Recommended: 1280x1024 / 1600x1024
USB displays are not supported as the primary display.

Support for Visually Impaired Users
Mac OS Sierra 10.12.4
VoiceOver Utility enabled
Pro Tools 12.7
Logic 10.3.1
Please note: Preset management via the WaveSystem Toolbar is currently not supported (will be added soon).
Windows
CPU
Intel Core i3 / i5 / i7 / Xeon / AMD Quad-Core

Memory
4 GB RAM
8 GB free disk space on the system drive

Operating System
Windows 7 with SP1 64 bit
Windows 8.1 64 bit
Windows 10 64 bit

Screen Resolution
Minimum: 1024x768
Recommended: 1280x1024 / 1600x1024
You may also be interested in:
| | |
| --- | --- |
| Variant | 1 |
| Specials | Feb 1, 2020 |