You're currently on: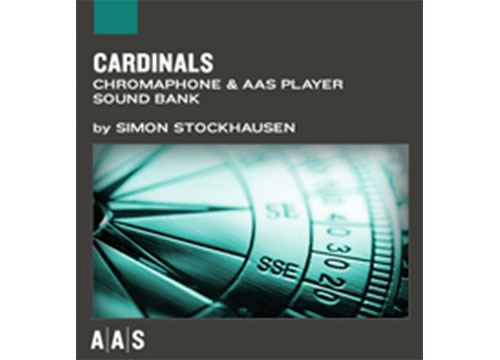 Cardinals is sound designer and composer Simon Stockhausen's presentation of dualism in various realms. You'll find dark and light, tonal and atonal, serenity and anxiety, and Eastern and Western influences scattered across its Achromatic and Chromatic Percussion. Other categories include "Danger Zone", Keys, Synths, Strings, Pads, Textures, and Soundscapes. Each of the 109 presets creates its own enclosed universe, inviting many hours of exploration.
Who is Simon Stockhausen?
Simon Stockhausen got in touch with music at the age of five and never looked back. With his father's impressive musical works as patrimony, he explored a remarkable chunk of the entire music gamut. The last four decades saw many collaborations and projects that he carried out wearing the hats of performer, composer, arranger, and sound designer.
The 109 presets of Cardinals
Achromatic Percussion
Micro Rimba
Split Worlds
Percussive Synth
Metal Microcussion
Stick Percussion
Tube Percussion
Gloomy Bells
Micro Metal
Metallic Thing
Rattle Drum
Strange Splitter
Beaten Tube
Log Drummer
Oak Percussion
Doom Drum (org)
Doom Drum (var)
Someone at the door
Frankenbell
Wood Cluster
Danger Zone
Metal Breeze
Rising Alien
Alien Random Syncer
Jupiter Swamp
Howling Scape
Something coming
Ominousness
Breathing Bell
Syncopath
Ominous Riser
Unstable Landing
Metal Brain
Synced Meth (org) - microtonal
Synced Meth (var) - chromatic
Mabuse's Labratory
Alarm Alarm!
Keys Synths and Strings
Gentle Boy
Tine Whistler
Christmas Synth (org)
Christmas Synth (var)
Flutish Tines (org)
Flutish Tines uncoupled (var)
Soft Chime Keys
Mellow Mallets
Emperor's Palace
Asian Thing
Koto Me
Plucked Beauty
Strat Harp Pad
Medieval Pluck
Tube Drops
Paradise Fifth
Express yourself!
Funk Mallet
Stinger Synth
Wood Bass (org)
Wood Bass (var)
Release Tubes
Chroma Wurli
Dirty Wah Wah Wurli
Fat Tubebass
Pad Synths
Lonely Shepard
Crystal Stabpad
Melancholic Cembalo Synth
Vox Humana
Gongswell Pad
Asian Stringtube Pad
Mysterious Girl
Garden Eden
Bell Pad
Space Organ (org)
Space Organ (var)
Mellow Tines Pad
Eden Glass Pad
New Age Delight
PsychaDelica
Textures and Scapes
New Planet
Seaside Drone
Grainy Stranger
Frozen Timp
Over Lord
Raining Mallets
Metal Stranger
Squarehead
Windspiel 1
Windspiel 2
ÜberDrone
Machine Room
Chemtrails
Mercury
Particles
Atmospheric Rider (org)
Atmospheric Rider (var)
Tchernobells
Pluto Meditation
Strings & Pads
Airy Strings
Overload Strings
Crinkle Cut 5ths
Grunge Strings
Cyclotron Strings
Whisper Of Rosin
Camshaft Strings
String Swirl
Sawing The Grand
Delicata
Bowed Handbells
Breath Of Life
Tremulando
SYSTEM REQUIREMENTS
MAC minimum system requirements
Mac OS X 10.5 or later
Intel Core processor or later
512 MB of RAM
70 MB of free hard drive space
1024 x 768 screen resolution
Built-in audio interface
Mac OS X-compatible MIDI interface/keyboard
Mac compatibility
VST plug-in hosts
Audio Unit plug-in hosts (see restrictions below)
Mac OS X-compatible audio interface
Mac Audio Unit (32-bit/64-bit) compatibilty
Apple Garageband 1.1 or later
Apple Logic 7.1 or later
Ableton Live 8 or later
Audiofile Engineering Rax
MOTU Digital Performer 6 or later
Cockos Reaper 3.1 or later
Mac non-compatibilty
Native Instruments Kore 2
PC minimum system requirements
Windows XP SP2 32-bit or Windows Vista/7 32-bit/64-bit
Intel Pentium III 1 GHz or equivalent processor
512 MB of RAM
70 MB of free hard drive space
1024 x 768 screen resolution
Windows-compatible audio interface
Windows-compatible MIDI interface/keyboard
PC compatibility
VST 32-bit/64-bit plug-in hosts
ASIO, WDM, DirectSound audio drivers