You're currently on: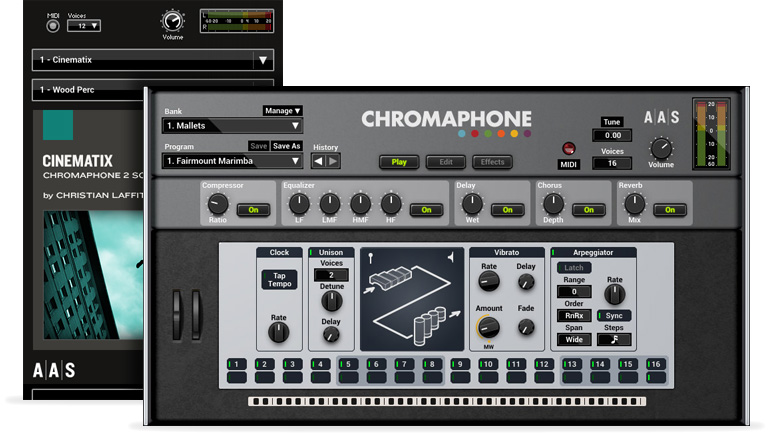 Long time Chromaphone user Christian Laffitte sends us his first contribution to the Sound Bank Series with the high impact Cinematix. Whether it's epic scenes or fast-paced pursuits, with its strong emphasis on monumental hits and percussions, Cinematix is sure to fuel your next score. Cinematix gathers 100 presets grouped into percussions, snares, toms, cymbals, chimes and bells, hits, strings and pads, effects, and arpeggiators.
Who's Christian Laffitte?
Christian Laffitte is a French musician and sound designer based in south of France. He has been developing sounds for Dream, Arturia, Zoom, Applied Acoustics Systems, M-Audio, Avid to name a few. He also composed music for Sony video games trailers and music for french TV channels and radio stations. As a keyboard player with a great interest in synthesis and new technologies, Christian Laffitte has put all his passion of music and sounds in creating Wejaam: a free music sequencer for smartphones and tablets
THE 100 PRESETS OF CINEMATIX
Percussions
Wood Perc
Metal Perc 1
Metal Perc 2
Guiro Perc
Guiro Metal
Tabla World
Mini Tablas
Indian Tap
Wood Block
Shaker
Eggs Shaker
Washboard
Cowbell
Cowbell Middle
Triangle
Tambourine
Tambourine Filter
Tambourine Studio
Savana
Voodoo Beatz
Snares
Boom Snare
Timbre Snare
Royal Snare
Imperial Snare
Battle Snare
Napoleon Snare
Trailer Snare
Stick Rebellion
Brush Ensemble
Louis XVI
Toms
Tom Warrior
Tom Barik
Tom Train
Tom Box
Granular Tom
Jungle Tom
Tribute Tom
Park Tom
Tambour Tom
Secret Tom
Army Tom
Empik
Steel and Wood
Cymbals
Real Cymbal
Finest Cymbal
Factory Cymbal
Timer Cymbal
Low Cymbal
Alien Cymbal
Cymbal Hit
Star Cymbal
Studio Cymbal
Drum Crash
Train Crash
Ball Cymbal
Chimes and Bells
Newbox
Remember F
Ghost Carillon
Deep Water
Ice Bells
Asian Bells
Holy Bells
Tubular
Hits
Hammer
Big Boom
Metal Shape
Timpani Hell
Iron System
Clap Angels
Bronx Vibes
Strings and Pads
Mozart's Time
Medieval Harp
Textured
Warmer
Strings Mo
Red Alert
Conductor Star
Effects
Dialect SFX
Metallic Paper
Metallic Cross
White Wind
Take Off
Weather Report
Tonka
Tibetan Spirit
Ancient Perc
Motorizer
Arpeggiators
Perc Chaser
Chromobass
Pulsar
Latinistic
Stereophone
Black Horse
Ghost Marimba
Alien Talk
Flanger Theme
Bass Attack
Hybrid Memory
Celestial Ride
Steel Drum
PICK YOUR INSTRUMENT
Cinematix was created with the Chromaphone acoustic object synthesizer. You can obviously play and edit the sounds in Chromaphone, but you can also access and play them via the free AAS Player included with your Cinematix purchase.
AAS Player—included with purchase
Distraction-free playing experience
More than an hundred free extra presets via Swatches
Chromaphone—sold separately
Sound manipulation at the source core
Starting point for new sound design ideas
---
WINDOWS · MAC OS X · 32-/64-BIT
VST · AU · RTAS · AAX NATIVE ·
STANDALONE
Chromaphone and AAS Player are compatible with nearly all DAWs.
Mac minimum system requirements*
Mac OS X 10.7 or later
Intel Core processor or later
512 MB of RAM
70 MB of free hard drive space
PC minimum system requirements*
Windows 7 32??64??it or later
Intel Core or equivalent processor
512 MB of RAM
70 MB of free hard drive space
You may also be interested in: