You're currently on: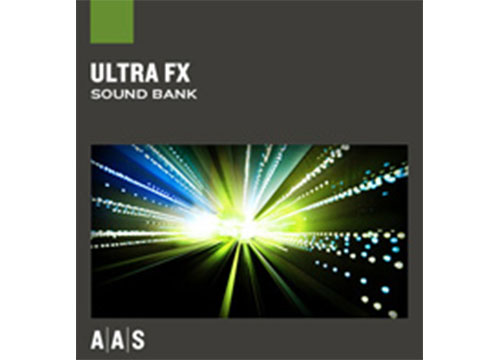 Ultra FX is a must-have complement of highly customizable sound ideas, room tones, and sound effects perfect for sound designers doing films, animations, or video games. It's also a whole lot of fun!
The 128 presets of Ulra FX
7am
Alien
Aluminum Rain
An Emergency Procedure
Applause Ovation MW
At The Barbers
Automation
Bird Song MW
Blender MW
Boiler Velocity
Bonus
Boomrang
Bouncy Bouncy
Broom Sweeps
Burglar Saws
Buzzy Ambience
Car Horm MW
Car Locked
Car Alarm MW
Cartoony
Cauldron
Code Strokes
Creepy Crawly MW
Croak Meow
Deck Ambience
Deep Note-ish Wiggly
Dial Tones
Dial-Up
DigiLight
Dirty Motor
Distan Blasts
Down the Memory Lane
Drillers
Drop in the Ocean
Effect Logo 1
Effect Logo 2
Electric Horse
Energizer Beam (Play Legato)
Energy Release MW
Faller
Fancy Phone
Fast Foward
Flangy Noise Sweeps
Forbidden Velocity Bubbles
Game Loop 2
Gas Chamber
Gongy Kick
Gunshot Distant
Heavy Machine Fundamentals
HeliSynth
Hitch Feet
Hold'n'Tap Big Siren
Humanoid Grunts
Id Steps
Impact Square
Incision Laser
Jump 2
Jump Old Game
Kill the Tenor
Kungfoo Hit Points
Large Siren
Laser Aircuts
Lava
Lizardy
Mark Tree Coin
Menacing Signature
Modulation Effects MW
My Harley
Nightmare Ambiences
Night Object
Noise Curl Sweeps
Noise Acrobatics Dual
Noise Sweep Pitched
Noise Woosh Deux
Noise Woosh Multiple
Offset Alarm
Old Projector Velocity
Pheeesh
Piercing Drill
Polyphonic Alarms MW
Posessed Kid
Power Tools with Tone
Projectile
Radio Logic
Rainy Day and Storm MW
Rainy Day MW
Rattler's Fall
RevOnce
Richochety
Robot P2C2
S and H Beeps
Scrapey
Scratchy and Release
SFX Collage Maker (Play Hi)
Shear Set Velo
Shivering Decay MW
Shorting
Shorting Sequence
Simple Alarm MW
Siren Trickle
Small Beep
Small Beep Multistep
SOS Morse Alarm
Spinner
Spiral Downward
Spiral Up and Down
Spiral Upward
Spook Ring
Star Walkie
Steam Engine
Step 2 Down
SubTactics
Take Offs and Landings Porta
Talky Stabs
Tennis Carricature Velo
The Barron's Planet
The Three Witches
TOS Door Slide
Train Ambience Distant
Train Ambiences
Travelog
Typing Keystrokes
Voc Hit FX
Waaa Whigfield
Watch Beeps
Whistling Soldiers
Wound Up Alarm
Yelping Alarm Tone
SYSTEM REQUIREMENTS
Minimum system requirements:
Mac: Intel Core Solo 1.5GHz with 512MB of RAM, Mac OS X 10.4.4 or later, 1024x768 video, or 866MHz Power Macintosh G4 with 512MB of RAM, Mac OS X 10.3.9 or later, 1024x768 video
Windows:Pentium III 1GHz / Athlon™XP 1GHz with 512MB of RAM, Windows XP, 1024x768 screen.
Supported Formats: AU, VST, RTAS (Mac/Win)
Ultra Analog or the AAS Player (included) are required