You're currently on: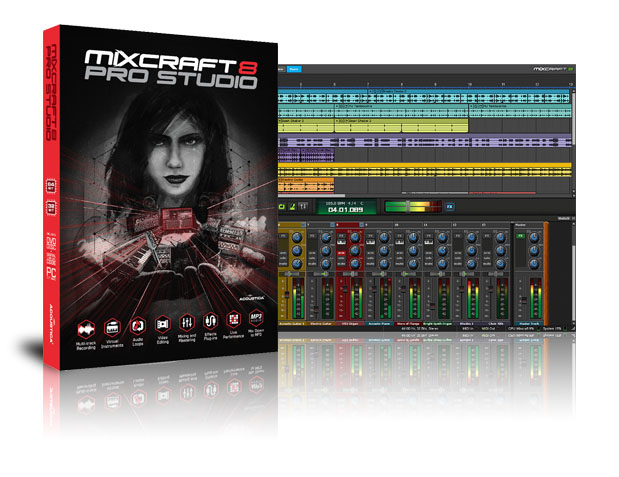 New Sound Engine
Mixcraft's next-generation sound engine offers increased flexibility for insert effects and send tracks, as well as extensive delay compensation for sample-accurate timing of internal audio paths.
Sidechaining & Audio Control
Easily route and control sidechain-enabled effects from any audio path. The innovative new Audio Control feature transports the sidechaining concept to a new level, allowing audio signals to control dozens of instrument and effect parameters.
VST3 Support
VST3 instrument and effects plug-in support for comprehensive compatibility.
MP4 Support
Import and export MP4 video files for easy editing of videos directly from your camera or phone.
Live Recording To Performance Panel Grid Locations
The Performance Panel now supports recording loops directly to grid locations for fast, fun, and instant creation of layered live loop performances without ever stopping the music!
Improved User Interface
Extensive user interface improvements with a beautiful and modern visual design including dark and light visual themes.
Sound Library
Improved sound browsing for rapid auditioning and adding sounds to projects. Lightning-fast search and access to over 325,000 sounds with built-in Freesound.org browsing and import functions.
Automation
Effortlessly automate dozens of parameters with Mixcraft 8's new global automation recording feature.
New Instruments and Effects
Mixcraft 8 delivers bold new effects including the EU PromixEQ-10A mastering EQ, the super-transparent G-Sonique DTC-1, and the sonically adventurous Epralux ORB7000 Octave Reverb. Mixcraft 8 Pro Studio steps it up with bold and brash Kastelheimer Veldberg XD virtual synth, a flexible new 8-Out version of the Omni Sampler pad-based sample instrument, and Celemony's astounding Melodyne tuning software, integrated directly into the Mixcraft sound edit tab.
Additional Features
Mix Down To Stems feature with flexible rendering options
Route MIDI from one track to another
Transmit MIDI Clock
Unlimited nested submixes
Configurable mixer with many improvements
Select and group multiple tracks
Record all automation mode
Audio metering on all effect & instrument dialogs
MIDI auto-quantize feature
Marker List for quick editing and navigation
Edit and view effects list directly on tracks & mixer
Dry, wet, and post-fader sends
Much much more, of course.
Mixcraft 8 Pro Studio
Take your music to the next level
The ultimate software tool for pro-level mixing and mastering! With 6 additional virtual instruments and 28 additional effects, Mixcraft 8 Pro Studio features over $1250 worth of plug-ins - the complete package for "record-ready" productions with incredibly realistic instruments and superlative audio processing capabilities. For a list of all instruments and effects, view the comparison chart below.
Integrated Melodyne Tuning Software
Celemony's groundbreaking Melodyne tuning software sets the standard as the most natural-sounding and easiest to use vocal tuning software available. Mixcraft 8 Pro Studio takes it one step further by integrating Melodyne Essential directly into Mixcraft's clip sound edit window (and eliminating time-consuming audio "transfers"). Whether you're simply touching up intonation, or moving notes to wildly alter performances, vocal pitch editing has never been easier!
Stunning Synths
Mixcraft 8 Pro Studio adds painstakingly modeled virtual analog and digital professional synthesizers. Memorymoon is a spot-on recreation of the Moog Memorymoog's crushing analog fatness. ME80 Version 2 is a killer model of the classic Yamaha CS-80 synthesizer, now with a gorgeous new user interface and a whole new sound engine. Kastelheimer Veldberg XD is new virtual analog synthesizer based on algorithms from hardware VA synthesizers with immense programming possibilities - a veritable goldmine of powerful analog and digital timbres!
Peerless Piano
Pianissimo is an incredibly playable and realistic virtual piano. Combining 250 MB of high quality Steinway™ Model D piano samples with advanced physical modeling, Pianissimo recreates the warmth, response, and playability of a real grand piano. With modeled sympathetic resonance, incidental mechanical hammer sounds, remarkable tonal control and velocity response, 256 voices of polyphony, and incredibly low CPU usage, Pianissimo Virtual Piano lends an air of class and realism to any project.
Superior Mastering Tools
Your tracks will reach a new level of audio fidelity with an awesome array of mastering plug-ins. Add a professional sheen with iZotope Mastering Essentials suite. EQ to perfection with TB Parametric EQ or GSXL4070 Parametric, replicating the equalizer section of one of the world's most coveted mixing consoles. Impart analog tape compression and punch with Ferox Tape Emulator. Create bangin' dance remixes with SideKick6 Sidechaining Compressor.
Vacuum Tube Virtuosity
Who doesn't love the warm, smooth sound of tubes? Mixcraft 8 Pro Studio delivers a knockout punch of tube-modeled effects with the Pentode Audio Series featuring the VTC-1 Vacuum Tube Compressor, TRW-1 Vacuum Tube Triode Warmer, PSEQ-1 Vacuum Tube Passive EQ, and VBE-1 Vacuum Tube Bass Enhancer. Treblecream smoothes harsh high frequencies to perfection, while FAT+ combines analog warmth, vacuum-tube distortion, and tape saturation into a single effect for enormous-sounding tracks.
Innovative Sound Shapers
Recreate the grunge of 8-bit video games and 12-bit samplers with TimeMachine Bit Crusher. Build lush, three-dimensional sonic spaces with Fusion Field's convolution reverb technology. Inspire sonic anarchy with Dubshox Multi-Band Distortion, featuring over 40 types of distortion and shapers. Recreate the warm, smooth, trippy textures of early tape-based delay systems with the VTD-42 Psychedelic Delay.
And So Much More!
Boost your bass to the max with XBass Bass Enhancer. Enhance stereo imaging with Mid-Side Harmonic Vitaliser+. Add grunge and warmth to vocals with Twisthead VS-206 Preamp. The list goes on and on! Click here to see all the extra plug-ins included with Mixcraft 8 Pro Studio. Your music will never sound the same.
System Requirements
Windows XP, Windows Vista, Windows 7, 8, or 10 (32 or 64 bit)
2 GB RAM
1.8 GHz Dual Core CPU (Quad Core or higher recommended)
Sound card, USB, or Firewire sound device
Translated into 17 languages: English, Chinese Traditional and Simplified, Dutch, French, German, Indonesian, Italian, Japanese, Norwegian, Portuguese, Russian, Spanish, Swedish, Turkish, Danish, Hungarian.
Mixcraft is a Windows based product that can be used on a Macintosh computer running bootcamp.
You may also be interested in: