You're currently on:
The GD-6 Acoustic Guitar is based on a Guild D-40 custom edition electro-acoustic guitar.

We recorded it with a pair of microphones and using the built in pickup.
We sampled it very deeply, all frets of all strings with upstrokes, downstrokes, round robins, releases, staccatos, mutes, palm mutes, hand blocks, slides, hammer ons, pull offs, retriggers, fretnoises, percussions other articulations. All of these details allow us to reproduce the real playing of a guitar player, and easily.
There are basically 4 modes (that you can choose using keyswitches, G5 to C6), the solo mode that allows to play melodies, the chord mode that helps playing strums or picking very easily, the patterns mode that does all of the strumming or picking for you and the MIDI mode that allows you to use your preffered midi guitar controler.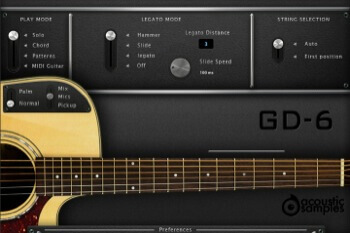 Solo mode, automatic hand position
The solo mode is very simple, and is suited to play melodies. It uses a smart hand position system that decides for you where a real guitarist would put his hand and which string he would play. A piano only has one middle C for example, but a guitar offers a few different options and our script will decide it for you. You can of course deactivate it and use only the first hand position if you want.

The GD-6 features our powerful legato engine that will automatically trigger legato, hammer ons, pull offs, or slides and the legato distance will define the maximum interval in which the legato will apply.

You also have access to key switches to play palm mutes, harmonics (flageolets) or even percussion sounds and control the legato engine.

Strumming engine / chord recognition
We sampled each fret of each string and we use a chord recognition engine to convert your chords into standard guitar chords. You can also choose from a large selection of chord voicings for each chord.

As a keyboard is not suited to play the guitar, we separated the triggers from the note selection, C4 to C5 are triggers, strum up, strum down, strum for mutes, and then the six separate strings. This makes it very easy to trigger the previously recognized chord in different ways.
Every aspect of the strumming engine can be tweaked to achieve the sound you want.

The chords can also be strummed only using the chords or even mix melodies with chords.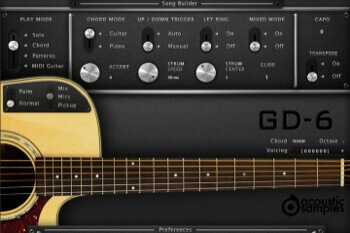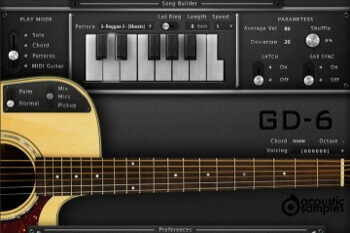 Realistic patterns
The patterns mode is very similar to the chord mode, the chord recognition engine works the same way, but this time the triggers are not simple strums anymore, they are a set of patterns that you can loop, adapt to the tempo or the metrics, change the velocity in real time using a controller, synch to your host, add groove to.
You can choose from a large selection of patterns and assign them to each trigger to create a full song in a few clicks.

Song Builder
The song builder panel is the feature that will let you compose songs extremely quickly. Sometimes playing a series of chords can be complicated, especially if you are not an advanced keyboardist. The song builder allows you to decide which chord will be triggered when selecting only one note. For example pressing only the C will be recognized as a C Major. You can repeat the operation for the whole 12 notes of the octave and this way construct your songs and play them easily.
We included a selection of presets to give song ideas, chord progressions, modes or chord types.
Combine this with the patterns and pressing two keys at the same time is enough to play a song.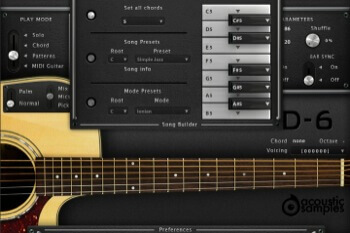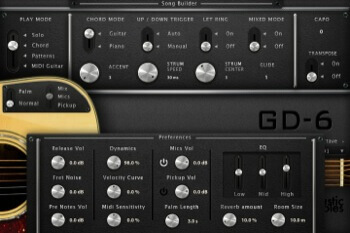 MIDI guitar / Preferences
If you own a MIDI guitar and want to expand its sound capabilities, then the MIDI mode is for you, all you need to do is select the 7 different MIDI chanels your guitar outputs and you are ready to play.
Preferences
Every aspect of the library can be tweaked, the release, fret and pre-notes volumes, as well as the midi response of your keyboard.
A three band EQ and a reverb module can be adjusted from the preferences panel, and you can enable and load/unload the pickup or the microphones.
The MIDI guitar mode allows you to play the GD-6 using a midi guitar controller, all you need to do is select the 6 midi channels. You maybe have to use the set patch as omni to allow the plugin to respond to all midi channels.


The Preferences panel can be opened by clicking at the bottom of the interface, in there you have access to all of the different parameters of the library.
The Release Vol controls the volume of the release samples,
The Auto Fret noise vol controls the volume of the automatically generated fret noises, they happen when the left hand moves in solo mode and when you change chord in the chord mode,
The Pre Notes Vol controls the volume of the soft noises your left hand makes when selecting a chord in chord/Guitar mode,
The Dynamics controls the volume of the lowest velocity,
The Velocity Curve controls the volume response of the library to velocity,
The Midi Sensitivity is some kind of a midi remapper, and it controls how hard you need to press a key for it to trigger a certain velocity,
The Mics Vol / Pickup Vol controls the volume of the Microphones and of the Pickups, we recorded both and you can load and mix them as you like,
The Palm Length controls how long the palm mutes last,
The EQ is a simple 3 band EQ based on the EQ module found on the Guild D-40,
The Reverb Amount and Room size are two simple controls for the UVI SparkVerb, and you can tweak it a little more using the FX section in UVI Workstation.
Sample player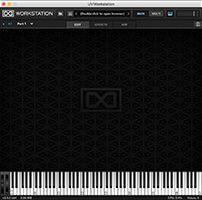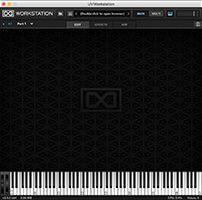 GD-6 Acoustic Guitar comes with its own sample player, the
UVI Workstation 2
(requires v2.5.2 or later).
We provide it for free with every library that you buy, you don't need to buy an expensive sampler to use our products. It works on Mac (10.6 or later) and PC (windows XP SP2 or later), in standalone or as a plugin (VST / AU / AAX / RTAS / MAS) and in 32 and 64 bits. You can find more info about it here. If you want to use our products in osx 10.5, please contact us, you will need UVI Workstation v2.1.8 and earlier versions of the UFS files.

As it is based on the same engine (UVI engine XT), you can also use our products in
MOTU MachFive 3
(requires v3.2.1 or later).

Technical description
4.43Gb, 7000 samples.
Strumming engine (features chord recognition and a smart strumming technique to produce guitar-like chords) and complete control of all its parameters.
67 realistic patterns for easy strumming, picking and advanced playing styles.
Integrated song builder to create songs within minutes and very easily
Legato script to play natural hammer ons, pull offs and slides.
Natural hand placement simulation.
39 different samples per fret and all 21 fret sampled for each string.
Multi velocity Hammer on, pull off, slides up, slides down, mutes, ghost notes, pre notes.
Included sparkVerb©.
Control over the microphones and pickup volumes.
Advanced bend control.
Advanced UVI scripting giving you access to a simple yet powerfull interface and advanced features.
and more...
iLok or computer based


You can register your library to your computer or to an iLok key. All of our libraries are protected with the iLok system, and you can use our libraries with or without an iLok usb key. Both V1 and V2 iLok usb keys are working with our products. To authorize your library, you will need to download the iLok authorization manager from here: https://www.ilok.com/ilm.html and simply authorize your iLok key or your computer to use the library.

Registration

Once your order is complete, you will be provided with a serial number.

You will then be able to register it to your iLok account from our website on this page (you need to be logged in to access this page). The whole process is described in the FAQ (instructions + screencast).
You may also be interested in: