You're currently on: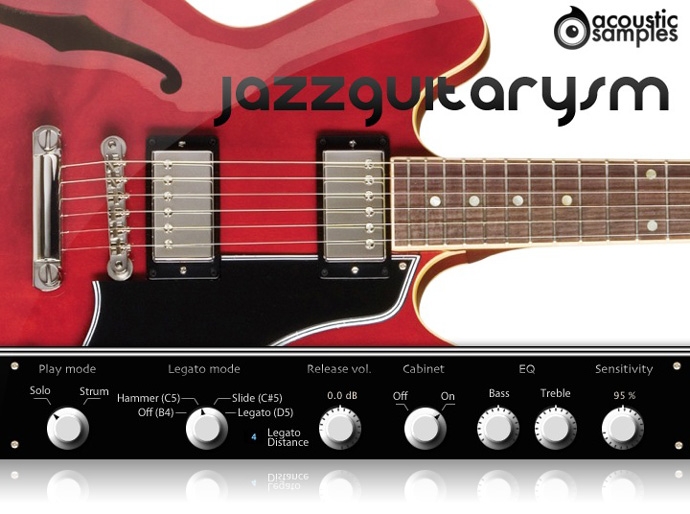 The JazzGuitarysm guitar is an ES335 Gibson jazz guitar.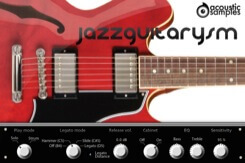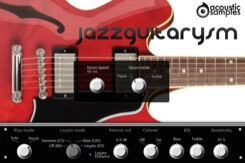 Default interface
At the bottom of the interface, you can control the behavior of the instrument:
Play mode: you can choose between the solo mode or strum mode.
Legato mode: you can choose wether playing a legato will trigger Hammer ons, slides, sustains, or simply have no effect.
The legato distance will define the maximum interval that in which the legato will apply.
The release Volume: the sound produced when you release a string if a note was going on.
Cabinet: you can turn the Cabinet simulation on or off.
EQ: you can edit the Bass and Treble of the parametric EQ.
The Sensitivity will set the minimum volume for velocity 1 and give you access to all the dynamics that you want.
Strumming interface
The strumming interface has the same controls as the default one, but adds a few parameters:
Strum speed: the automatic strums can be played at different speeds.
Strum mode: you can choose between the Piano mode or Guitar mode.
The piano mode is simple, you play a chord, the engine will recognize it and play it right away, you can retrigger it by replaying any note that is part of the chord.
The guitar mode is a little different, playing a chord on the keyboard will only dfine what chord will be played and you need to press C5 to strum that chord down and D5 to strum it Up or the notes above to play all of the strings separately (for arpeggios for example). This mode is a little less easy to play but will lead to a more realistic playing.
Sample player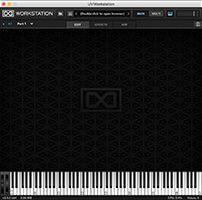 JazzGuitarysm comes with its own sample player, the
UVI Workstation 2
(requires v2.5.2 or later).
We provide it for free with every library that you buy, you don't need to buy an expensive sampler to use our products. It works on Mac (10.6 or later) and PC (windows XP SP2 or later), in standalone or as a plugin (VST / AU / AAX / RTAS / MAS) and in 32 and 64 bits. You can find more info about it here. If you want to use our products in osx 10.5, please contact us, you will need UVI Workstation v2.1.8 and earlier versions of the UFS files.

As it is based on the same engine (UVI engine XT), you can also use our products in
MOTU MachFive 3
(requires v3.2.1 or later).

Technical description
1.03Gb, 1190 samples.
Legato script.
Strumming engine (features chord recognition and a smart strumming technique to produce guitar-like chords).
9 velocity layersfor the sustain.
15 release samples per note.
Hammers samples, ghost notes and various fretnoises.
Fender Frontman 212R cabinet simulation.
Eq with the same parameters as on the real guitar.
Bends can be done with pitch bend and/or aftertouch.
Easy control of the parameters (like strum speed or play modes) with any controller to be able to control everything via automation.
Advanced UVI scripting giving you access to a simple yet powerfull interface and advanced features.
iLok or computer based


You can register your library to your computer or to an iLok key. All of our libraries are protected with the iLok system, and you can use our libraries with or without an iLok usb key. Both V1 and V2 iLok usb keys are working with our products. To authorize your library, you will need to download the iLok authorization manager from here: https://www.ilok.com/ilm.html and simply authorize your iLok key or your computer to use the library.

Registration

Once your order is complete, you will be provided with a serial number.

You will then be able to register it to your iLok account from the Acousticsamples website.
You may also be interested in: