You're currently on:
Petit Piano is a small 50 keys children piano.
This piano is manufactured by a french piano manufacturer called "Klein" and this is the only "Childrens" piano of this size. It features a real wooden keyboard and a 2 string system which makes it sound close to a full sized upright piano and not like a toy.

It is a small piano, but we still wanted to make it as realistic as possible, so we added our top piano features like sympathetic resonances, true pedal action, or really accurate release samples to get great sounding staccatos.
We recorded 6 velocity layers as well as key noises, resonances, release samples, pedal noises, etc… and you can control every bit of it using the interface.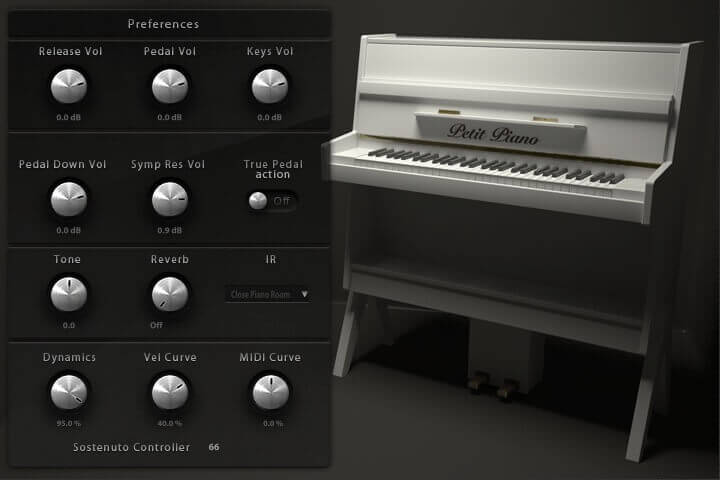 Default interface
The default interface gives you access to many parameters.

Volumes:
The release samples volume.
The pedal noises volume.
The keys up volume.
The pedal down resonances volume.
The volume of the sympathetic resonances.
The true pedal action allows you to decide if pressing the pedal down when notes are held with trigger the pedal down and smoothly fade it in, just like on a real piano.

Effects:
We added a built-in tone control for a brighter or darker sound.
The reverb is based on high quality impulse responses that you can choose from the interface.
You also get complete control over the dry and wet volume of the reverb.

Midi:
The dynamics controls the volume of the low velocities.
The Vel Curve (Velocity curve) controls how the volume answers to the velocity of your keyboard.
The MIDI curve controls is a velocity remapper.
Sample player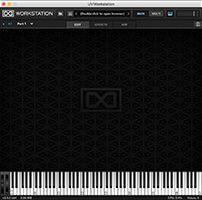 Petit Piano comes with its own sample player, the
UVI Workstation 2
(requires v2.5.2 or later).
We provide it for free with every library that you buy, you don't need to buy an expensive sampler to use our products. It works on Mac (10.6 or later) and PC (windows XP SP2 or later), in standalone or as a plugin (VST / AU / AAX / RTAS / MAS) and in 32 and 64 bits. You can find more info about it here. If you want to use our products in osx 10.5, please contact us, you will need UVI Workstation v2.1.8 and earlier versions of the UFS files.

As it is based on the same engine (UVI engine XT), you can also use our products in
MOTU MachFive 3
(requires v3.2.1 or later).

Technical description
1.29GB, 859 samples.
6 Velocity layers for the sustain.
6 Velocities for the release.
Pedal and key noises.
Pedal down resonances.
Sympathetic resonances.
True pedal action.
Access to impulse response list.
Tone control.
Advanced UVI scripting giving you access to a simple yet powerfull interface and advanced features.
iLok or computer based




You can register your library to your computer or to an iLok key. All of our libraries are protected with the iLok system, and you can use our libraries with or without an iLok usb key. Both V1 and V2 iLok usb keys are working with our products. To authorize your library, you will need to download the iLok authorization manager from here: https://www.ilok.com/ilm.html and simply authorize your iLok key or your computer to use the library.

Registration

Once your order is complete, you will be provided with a serial number.
You will then be able to register it to your iLok account from our website
on this page
(you need to be logged in to access this page). The whole process is described in the
FAQ
(instructions + screencast).
You may also be interested in: