You're currently on:

VibysM, concert vibraphone


The VibysM is a 3 1/2 octaves Musser concert vibraphone. This is one of the best vibraphone models ever made.
It was played with soft mallets during the recording session to capture the maximum of dynamics and the softness of this instrument. The Vibraphone was very popular in the Jazz music of the 50's but somehow got used a lot less since then.
Today it is used more and more in popular music as well as modern jazz and even electronic music.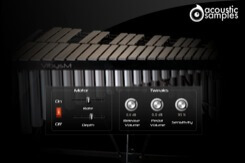 Default interface
This is the default interface of the plugin. You have access to a motor simulation, the vibraphones often have one, there is a spinning bar that is basically blocking the resonance tubes (all at the same time) and you can choose the rate and whether it's on or off. We wanted to add this in the library as it's very characteristic and some vibraphone players never play without it.
We also added the capability of controling the depth of that vibrato which is not really possible on the real instrument, but it can be different on two different vibraphones. You also have access to the release and pedal volume as well as the sensitivity to adjust the library to your taste and feeling.
Sample player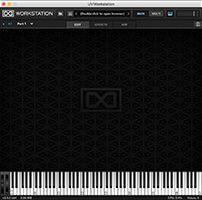 VibysM comes with its own sample player, the
UVI Workstation 2
(requires v2.5.2 or later).
We provide it for free with every library that you buy, you don't need to buy an expensive sampler to use our products. It works on Mac (10.6 or later) and PC (windows XP SP2 or later), in standalone or as a plugin (VST / AU / AAX / RTAS / MAS) and in 32 and 64 bits. You can find more info about it here. If you want to use our products in osx 10.5, please contact us, you will need UVI Workstation v2.1.8 and earlier versions of the UFS files.

As it is based on the same engine (UVI engine XT), you can also use our products in
MOTU MachFive 3
(requires v3.2.1 or later).

Technical description
Recorded with in ORTF configuration for a full stereo image.
913Mb, 411 samples.
9 velocity layers for the sustain.
3 velocity layers for the releases.
Sustain pedal noises (up and down), triggered automatically.
Tremolo (Motor) simulation with conytrol over depth and speed.
Advanced UVI scripting giving you access to a simple yet powerfull interface and advanced features.
iLok or computer based


You can register your library to your computer or to an iLok key. All of our libraries are protected with the iLok system, and you can use our libraries with or without an iLok usb key. Both V1 and V2 iLok usb keys are working with our products. To authorize your library, you will need to download the iLok authorization manager from here: https://www.ilok.com/ilm.html and simply authorize your iLok key or your computer to use the library.

Registration

Once your order is complete, you will be provided with a serial number.
You will then be able to register it to your iLok account from our website
on this page
(you need to be logged in to access this page). The whole process is described in the
FAQ
(instructions + screencast).
You may also be interested in:
| | |
| --- | --- |
| Variant | 1 |
| Specials | Dec 14, 2019 |