SAMPLING MEETS MODELING
We have always had the idea that the future of virtual instruments was going to be the sound quality of sampling but with the playability of modeling. This allows VTines to weigh only 80Mb (retina graphics and presets included), to really sound like a Fender Rhodes© with all of its imperfections, to have a fully continuous velocity response (if you're not convinced, listen to the 127 velocity example in our video), and to have a highly tweakable sound.
The VTines MK1 interface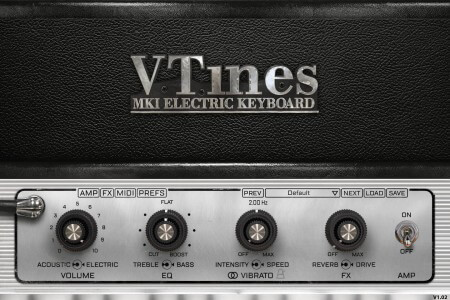 Pure Rhodes© sound, uncompromised playability
Our model is based on real samples of a 1978 Fender Rhodes© Mark1 fully restored with clean pickups and tines, new grommets, new hammer tips, etc, so it is the best an electric piano can sound.
Our model gives you access to a 100% continuous response, a very small sized library (80Mb) and a very high tweakability.
It also ensures that the staccatos and releases that make up for half of the realism sound perfect, not like a fadeout, not too loud, just perfect.

Vibrato and front FX
We carefully measured the output of the preamp of a Rhodes© suitcase and created an exact replica of the stereo panning of the Vibrato. We just added the possibility to sync it to your tempo and also extended the speed range just like some real mods do.
The Bass and treble EQ are precisely adjusted to the frequencies and ranges of the original preamp.
Pre 1969 Rhodes© only had a mono tremolo, so we added that option and you can get that old school vibrato effect.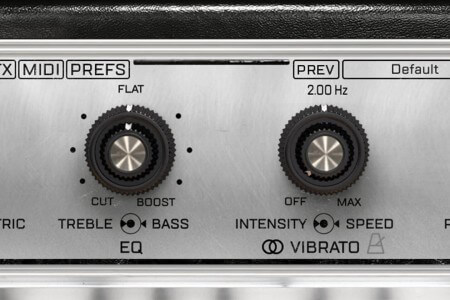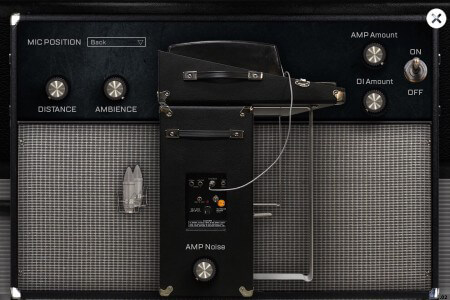 Suitcase AMP
Rhodes© are often recorded through the direct output, but the suitcase models have a stereo amp that has a very recognizable sound with two 12' speakers facing the front and two facing the back and each side.
We captured different microphone positions and distances to cover most of the real life recording placements.
Our AMP simulation is true stereo, meaning that we have a very precise stereo image which is extremely useful when the Vibrato is on.

FX Pedalboard
Rhodes© pianos are often used with FX, so we created an FX panel with the most common ones, each of them is one of the very efficient and high quality FXs made by UVI.
Each FX can be tweaked in real time.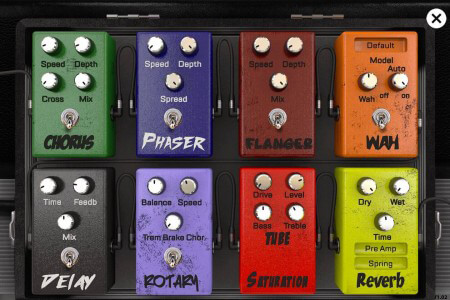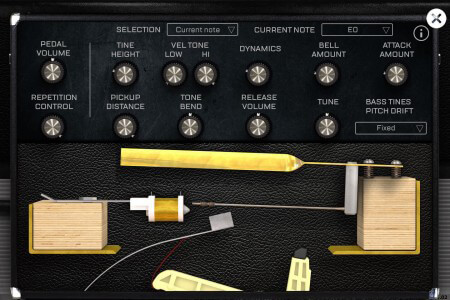 Precise adjustments
Modeling also means customization, you can alter the sound of the V Tines like you would on a real electric piano and in a very easy way.
A real electric piano can be customized with a screwdriver, you basically adjust the angle and distance between the tine and the pickup. It's exactly the same on the V Tines, you just don't need the screwdriver.
You can adjust many different parameters for each note, for all notes or using a mapper for each parameter.

MIDI Control
Every keyboard has its own MIDI response.
Our MIDI mapper allows to adjust the response of the V Tines velocity by velocity if necessary, and we created a tool that does it automatically by analysing what you play.
Just repeat a few linear velocity repetitions and it will be all set and ready to play.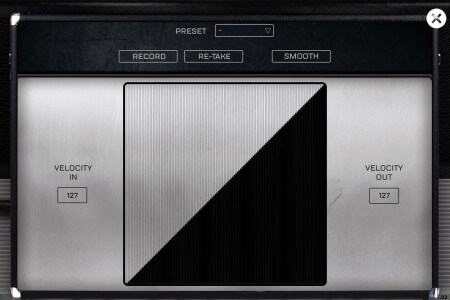 Sample player
VTines MK1 comes with its own sample player, the UVI Workstation 3 (requires v3.0.0 or later).
We provide it for free with every library that you buy, you don't need to buy an expensive sampler to use our products. It works on Mac (10.7 or later) and PC (windows 7 or later), in standalone or as a plugin (VST / AU / AAX ) and in 64 bits only.

Technical description
UVI Workstation v3.0.0 is required for the library to function properly, the V Tines will not work on windows XP, or OSX 10.6, it will not work either on a receptor.
80Mb compressed in lossless flac format.

- Sampling and modeling hybrid of a Mark1 Fender Rhodes©
- Full continuous velocity
- Perfect staccatos and release samples
- Around 35 high quality presets
- Fully customizable instrument to match any real life Rhodes voicing and adjustment.
- Precisely measures Vibrato effect
- Very detailed Rhodes© AMP simulation with different mic placements and true stereo response.
- FX Pedalboard with 8 high quality effects
- Completely adjustable MIDI response
- Auto keyboard velocity adjustment tool