You're currently on: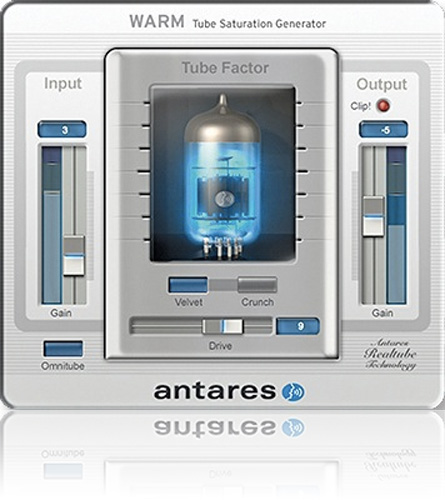 Based on Antares' legendary Tube plug-in, WARM warms up vocals with Antares' world-renown analog tube modeling technology, while being so processing-efficient that you can put an instance on pretty much every track in a project and still barely see your CPU meter twitch.
With two tube models, a variable Drive control to set just the right amount of dynamic saturation, and an innovative OmniTube™ function to apply the tube effect to the entire signal (as opposed to just the transients), WARM is a great-sounding, incredibly easy-to-use tool for giving your vocals the benefits of a wide range of modeled analog tube effects.
WARM
Nothing warms up a vocal track, or, in fact, pretty much any track, like being recorded through a high quality analog tube preamplifier. And thanks to our WARM Tube Saturation Generator, you can add this gorgeous tube warmth to every track of your mix without having to take out a second mortgage for a bank of exotic preamps.
Details
WARM is an easy-to-use plug-in that accurately models the sonic effects of recording audio through a high-quality analog tube preamplifier.
WARM offers the choice of two different tube models:
WARM's Velvet tube models the subtle effects of classic tube saturation. While most often useful for adding warmth to vocals, it's just as useful for acoustic guitar, horns, strings, synth pads, in fact pretty much anything.
The Crunch tube models the deep, warm distortion of an overdriven tube amplifier. You can also crank it up for that "industrial" vocal sound or as an effect for electric guitar, bass, or synths.
Finally, WARM's unique OmniTube function allows the application of the tube effect to the entire signal (as opposed to only the transients, as is typically the case with a tube preamp).
And since WARM is extremely DSP efficient, you can use it on an almost unlimited number of tracks simultaneously. Which is great, since once you start using WARM, you're going to want it on almost everything.
WARM authorization requires an iLok USB smart key and the ability to access ilok.com (on any computer).
You may also be interested in: