You're currently on:

MiniFreak V
Twinned algorithmic softsynth
MiniFreak V is an experimental virtual instrument fusing digital voices with modeled analog filters, spontaneous modulation, and playing sequencing, unleashing endless sweet spots between familiar and unheard, order and chaos, beauty and beast. Set your wildest sonic creations free.
Presets
Out of the box, explore a curated selection of over 250 patches to whip up your appetite for Freaky hybrid sound. Created by some of the world's most experienced and prolific sound designers, this library has a little something for everyone.
Full hybrid synthesizer power, directly in your DAW
Bridging the gap between hardware and software doesn't just mean getting the best of both worlds
Surpass hardware limitations by firing up multiple instances in your DAW, automating parameters, and having total flexibility over the 'Freak's sound without committing to audio. Enjoy a softsynth that has the tactility of a hardware instrument, the rich hybrid response of digital engines and analog filters, and the expressive features of a polyphonic performance keyboard.
MiniFreak V goes further in every sense - so too can your sound.
Dual sound engines
Start with two sound generators, including every mode from MiniFreak itself, and combine them in whatever fashion you see fit. Stack, blend, or process one engine with the other with gloriously wild results.
Analog response
We modeled MiniFreak's polyphonic multimode filters in extreme detail, to truly bring the fusion of digital and analog to life in your DAW. Capture the crunch, savor the warmth, and embrace the scream.
Express yourself
MiniFreak is an instrument designed to be played; it's only fair that its software counterpart matches that. Sequence & automate expression in your DAW for a seamless & expressive workflow.
Mind-bending modulation
Unlock MiniFreak V's advanced panel to open the like-for-like modulation matrix, letting you rewire and create connections between its parameters. Tap into any aspect of MiniFreak V's sound and make it your own.
Seq & Arp combined
Blur the lines between sequencing & arpeggiation with this intuitive, powerful, and sometimes unpredictable feature, putting playful melodies, patterns, and rhythmic ideas at your fingertips.
Stereo perfection
Just like its hardware relative, MiniFreak V features 3 FX slots with 10 FX to choose from, so you can embellish and color your sound with any combination of rich, delicate, or explosive FX in full stereo.
A Freak of all trades
Tap into the mad inner-workings of a hybrid virtual instrument that does it all.
Skull-rattling FM bass; shimmering cinematic brass pads; bit-crushed white noise mechanisms; cavernous wavetable leads. MiniFreak isn't just digital engines, modeled analog filters, stereo FX, deep modulation, and expressive sequencing. It's every sound you've ever wanted - and some you've never heard before.
Capture the experimental spirit, untamed sonic character, and uncharted sound design depth of a wild hybrid polysynth right in your DAW, and dare to sound different.
Choose your player
Pick a workflow that suits your setup and your style, and MiniFreak V will respond in kind to keep your creativity firing on all cylinders.
No hardware needed
Use MiniFreak V in your DAW or as a standalone virtual instrument, without needing any hardware, so you can keep your setup compact, fast, and super-fun.
Controller-friendly
Enjoy hands-on tactility with MiniFreak V by connecting your favorite MIDI controller and mapping your controls, or connect any Arturia Lab controller for an optimal hybrid workflow.
Mirroring MiniFreak
If you're the happy owner of both MiniFreak and MiniFreak V, enjoy one-for-one mirroring, from mapped parameters to sound editing to your preset library.
Hybrid, simplified
An accessible softsynth that delivers quick results.
Accessible, inspiring, chaotic sounds are always only seconds away thanks to MiniFreak V's simplified control layout, giving you essential control over your sound engines, filters, modulation, and expression. When you need to delve deeper, advanced controls are ready and waiting - but for now, you can sit back, relax, and enjoy the mayhem.
As if you're standing over MiniFreak itself, this is your overview of the sonic essentials. Choose and tweak your oscillator modes, sweep and interact with your filters, dial in your own combination of effects, and get expressive with macro and keyboard controls.
Dual sound engines
Choose your modes for Oscillators 1 & 2, tweak their unique settings, and feed one engine into the other for unique compound sounds.
Polyphonic filter
Modeled on MiniFreak's resonant multimode filters, dial in low-pass, band-pass, or high-pass sweeps complete with self-oscillation.
FX slots
Send your sounds spinning, crush them into oblivion, or launch endless echoes into glorious stereo orbit with 3 customizable FX slots.
Chord & Scale
Lock your note input to a scale or chord shape, for quickly creating perfect melodies and progressions to suit your composition.
Voices control
Customize MiniFreak V's polyphony, from full 6-voice to ultra-fat unison.
LFOs
Customize the wave, rate, and sync of dual LFOs to keep MiniFreak V's sound in motion.
Envelopes
Choose or combine a familiar polyphonic envelope with a cycling envelope for responsive, ever-evolving, endlessly repeating curves to affect your sound.
Expression strips
Identical to MiniFreak itself, use the two expression strips for pitch bend, mod wheel, macros, or real-time sequencer customization.
Macro/Matrix & LFO Shaper
Assign modulation sources to destinations, and create custom macro expressions. Draw your own LFO shapes and assign them to either LFO for uniquely wild, unpredictable, jagged shapes that would be impossible with traditional hardware.
Sequencer
Access MiniFreak V's signature spicy sequencer for creating melodies, automations, and loops without ever leaving the instrument's interface.
A mirror image
MiniFreak and MiniFreak V don't just look alike; their connection goes deeper.
Whatever your style, whatever your project, MiniFreak V gives you the best of both worlds. Enjoy the tactility of hardware, the flexibility of software, or whatever balance of both that works for you.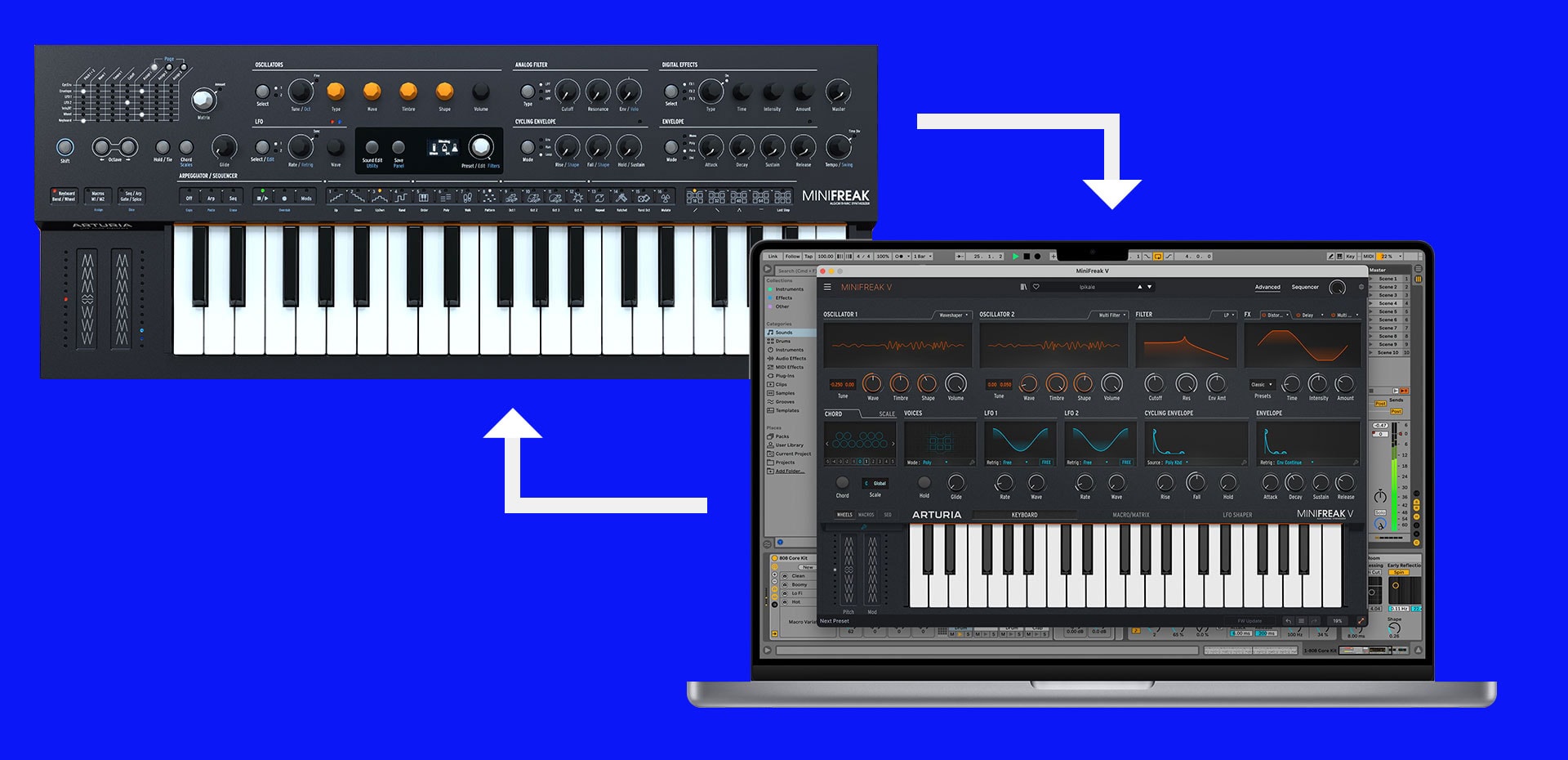 Presets unity
Edit presets on MiniFreak and pick up where you left off on MiniFreak V, or vice versa. Use the same sounds in your DAW and your hardware setup for a seamless sound design workflow.
Synced to hardware
Use your MiniFreak keyboard and controls to tweak and play its VST companion in perfect sync, letting you interact with your DAW projects in real-time without committing to audio.
Dedicated controller
Use MiniFreak V freely alongside other virtual instruments by utilizing your MiniFreak hardware as your dedicated controller, using its creative sequencing and expression to control your favorite instruments.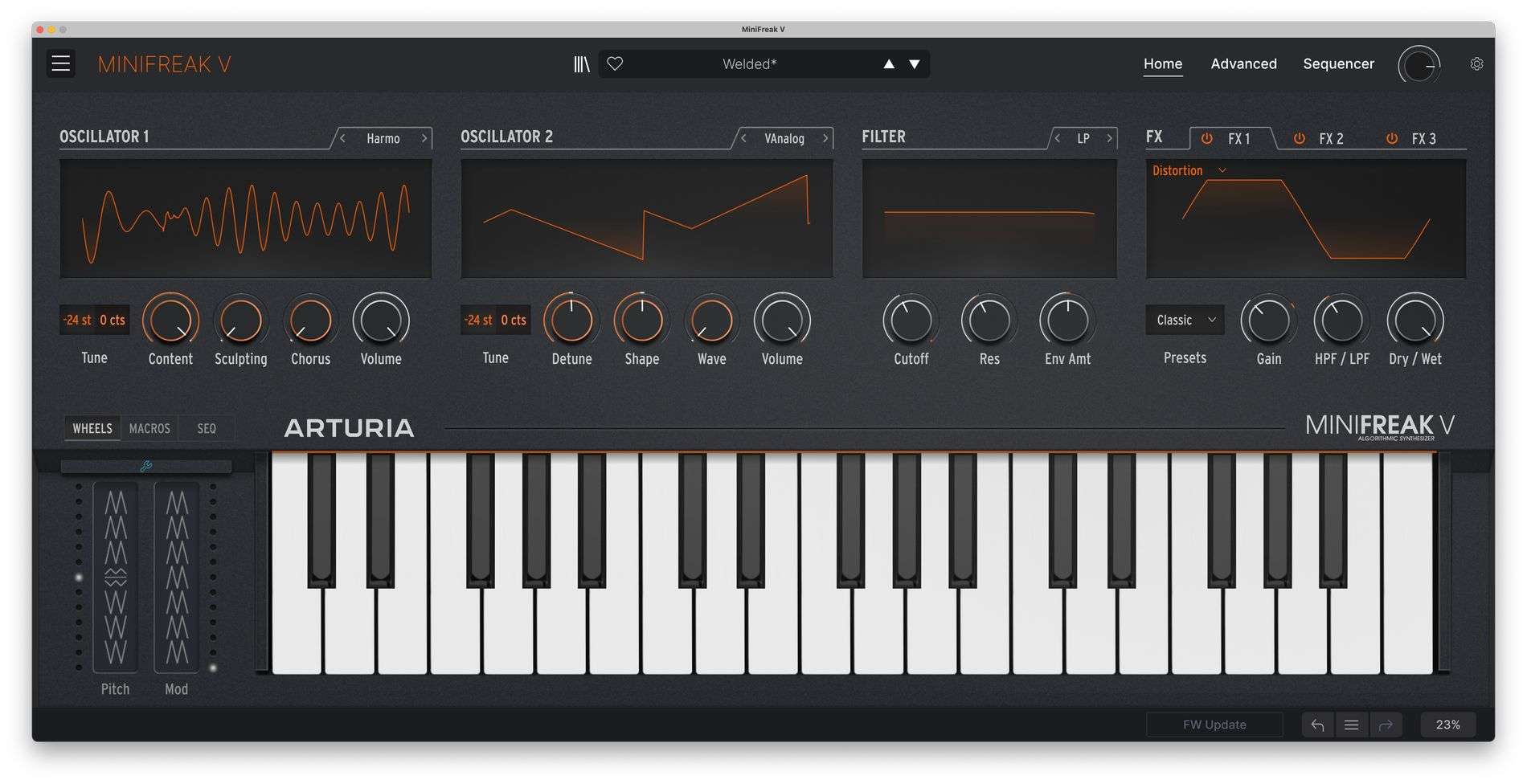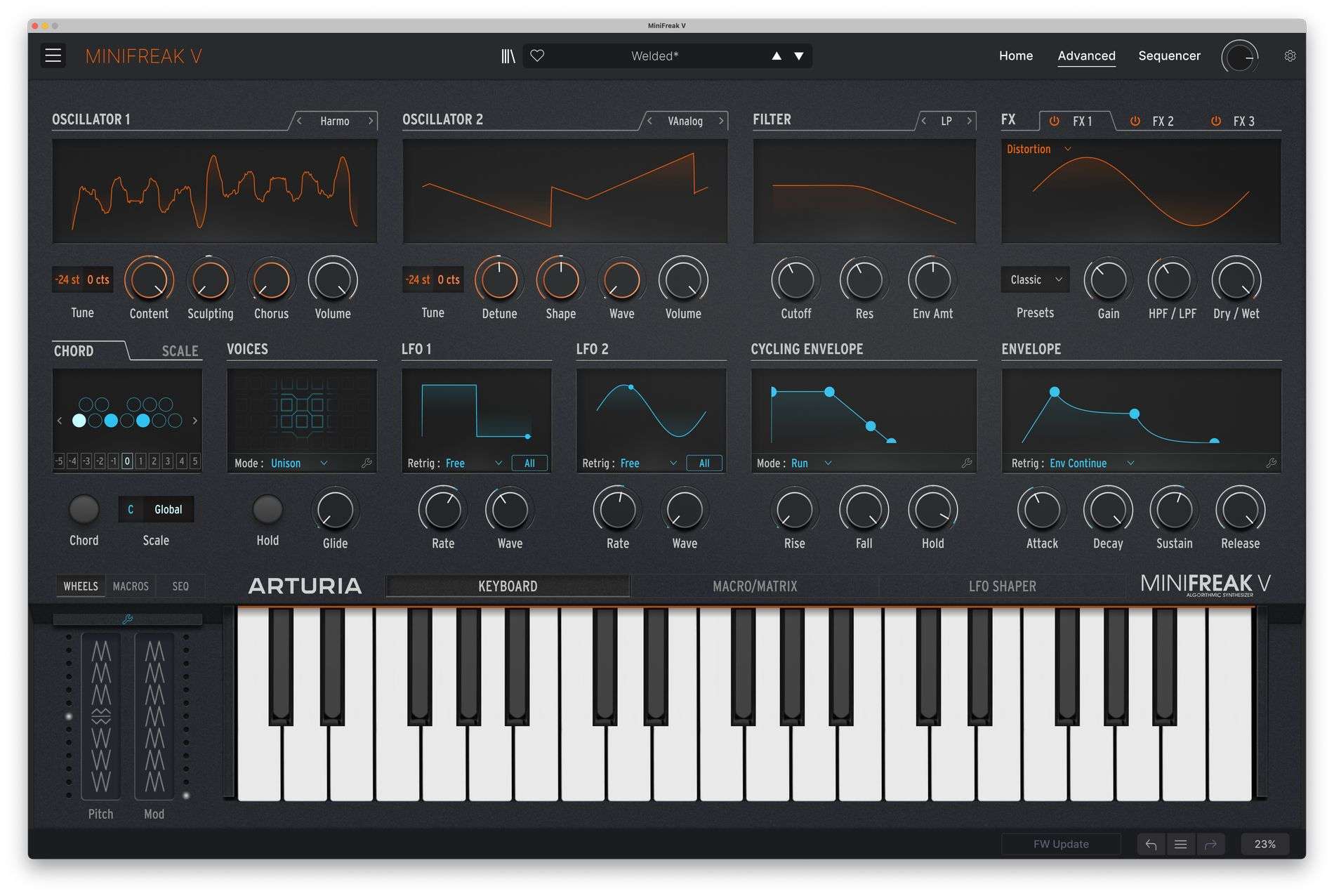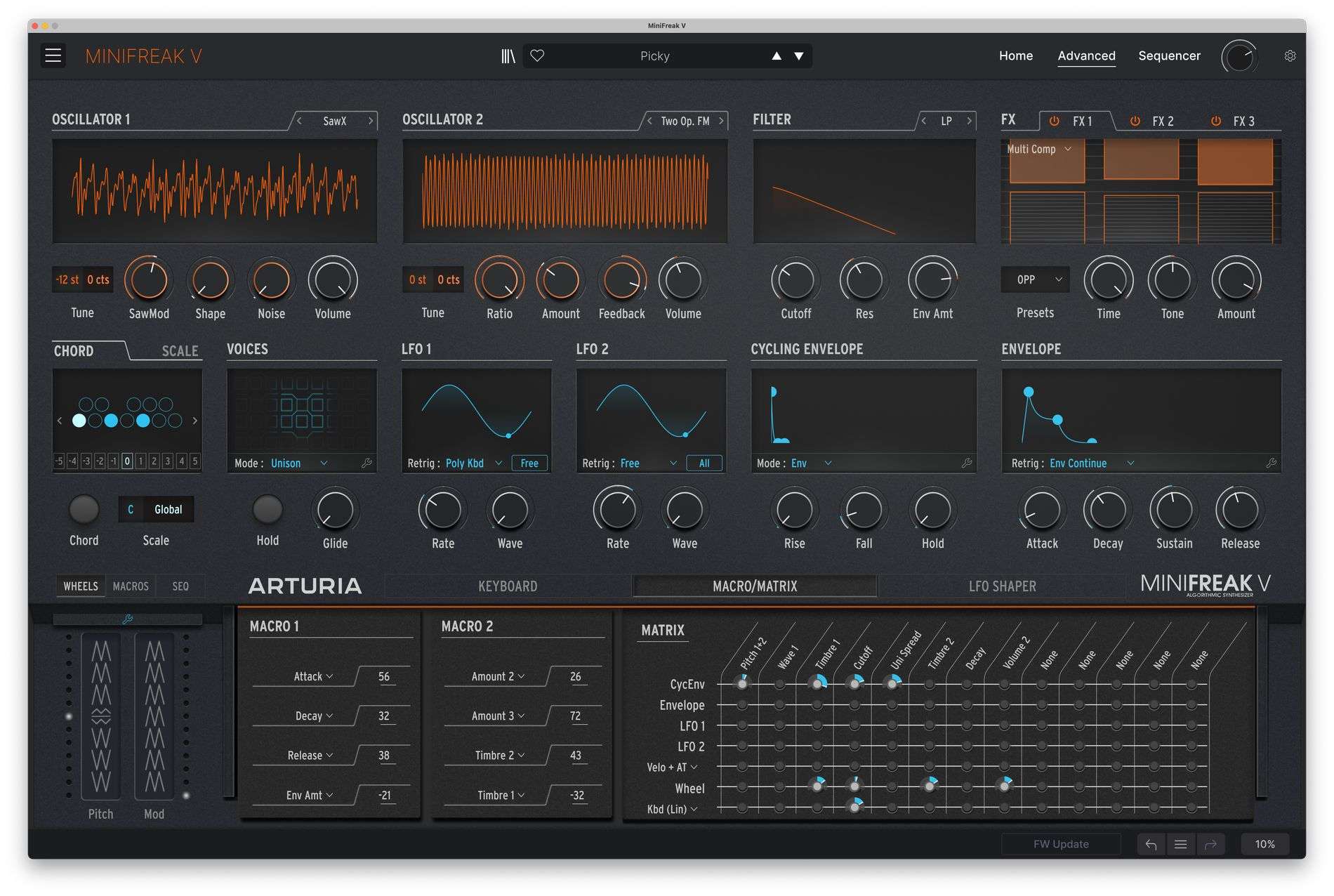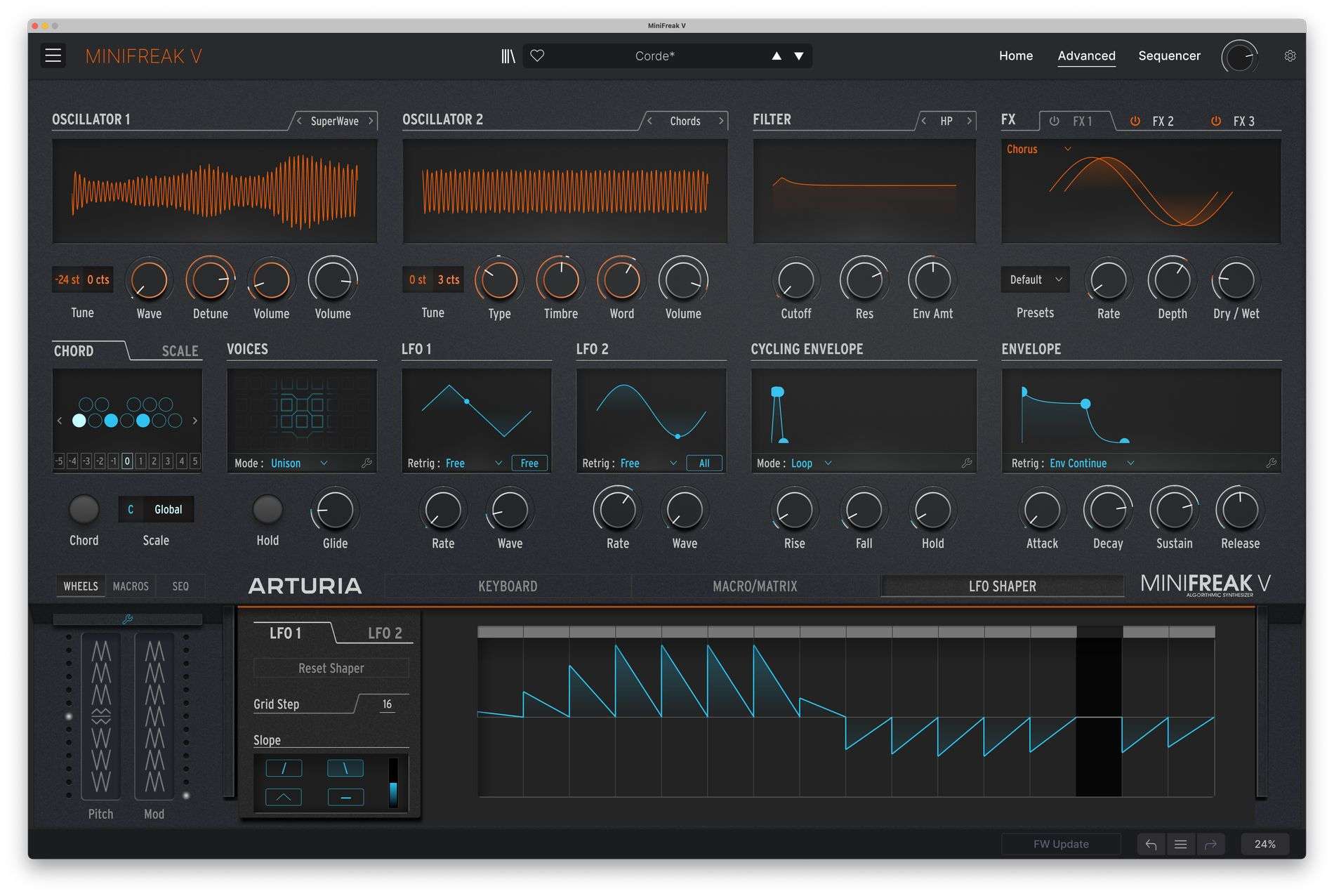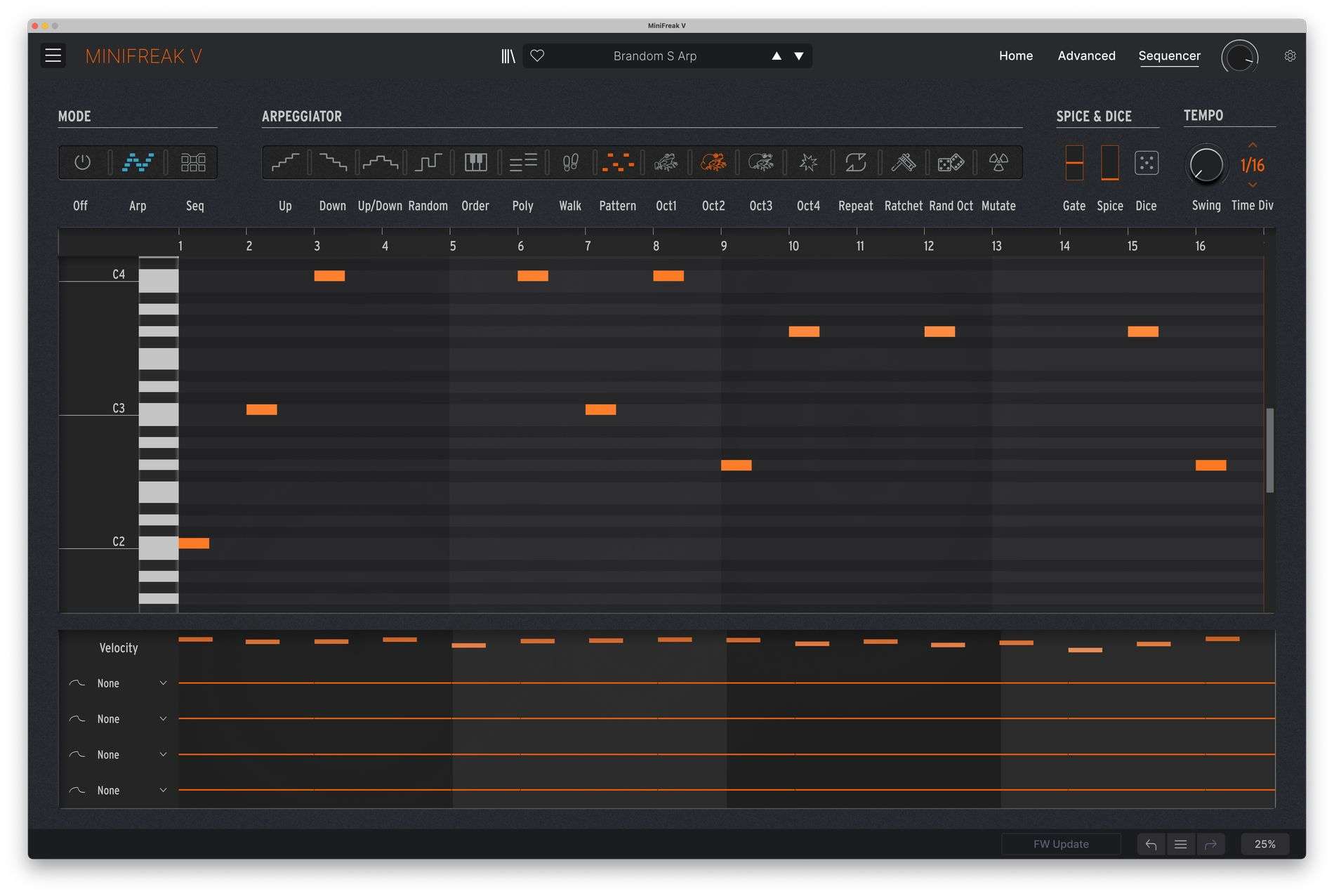 Main Features
6-voice polyphonic hybrid softsynth, identical to MiniFreak
Virtual Instrument playable in a DAW (Live, FL Studio, Logic Pro etc.) or standalone.
Can be synced to MiniFreak hardware for seamless control
2 sound Engines with 22 oscillator modes in total
1 cycling envelope per voice
Modeled polyphonic analog filters and VCAs
3 digital FX slots in insert or send mode, with 10 FX to choose from
User-customizable LFO curves
Mod Matrix with 7 sources and dozens of potential destinations
4 lanes of assignable automated modulation sequencing
Performance Arpeggiator controls including Ratchet, Octave Randomize, and more
Platform specifications
Windows
Win 10+ (64bit)
4 GB RAM
4 cores CPU, 3.4 GHz (4.0 GHz Turbo-boost)
3GB free hard disk space
OpenGL 2.0 compatible GPU
Required configuration
Works in Standalone, VST, AAX, Audio Unit, NKS (64-bit DAWs only).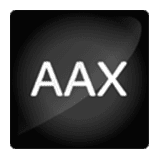 Apple
Mac OS 10.13+
4 GB RAM
4 cores CPU, 3.4 GHz (4.0 GHz Turbo-boost) or M1 CPU
3GB free hard disk space
OpenGL 2.0 compatible GPU
Work with ASC
An elegant and simple solution to help you install, activate, and update your Arturia software instruments.
All manufacturer and product names mentioned on this page are trademarks of their respective owners, which are in no way associated or affiliated with Arturia. The trademarks of other manufacturers are used solely to identify the products of those manufacturers whose features and sound were studied during the development. All names of equipment, inventors, and manufacturers have been included for illustrative and educational purposes only, and do not suggest any affiliation or endorsement by any equipment inventor or manufacturer.
*NKS ready
You may also be interested in: