You're currently on: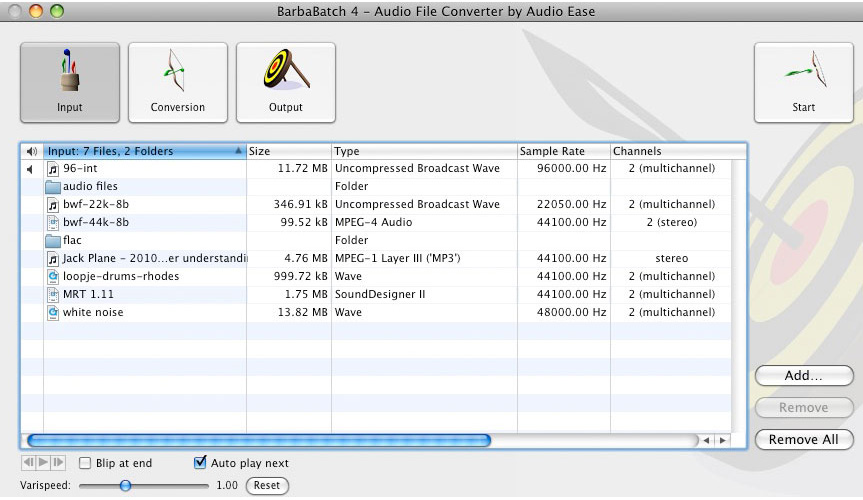 BarbaBatch is a professional batch sound file conversion application for Mac OS X.
Professional
Because it does not stop converting when an input file is corrupt.
Because it writes conversion log files.
Because it gives professional sounding results
Because it includes many pro-sound file formats
and because it has been proven to function over the past 15 years in projects with hundreds of thousands of sound files.

You can hear BarbaBatch in five out of ten top selling games, in the major navigation devices and in countless CD masters.
"Quick and Easy to use, BarbaBatch produces great sounding output, and it's the most efficient batch-processor"
Editors Choice award - Electronic Musician Magazine
---
"Superior batch processing"
Top Tool award - Interactivity Magazine
---
Hyper award
New media Magazine
"Excellent sound quality, fast processing, extensive file format support"
Key Buy - Keyboard Magazine
---
"Best-Sounding, easiest to use batch audio file format conversion package"
Interactivity Magazine
---
"Screaming-fast conversions with awesome-sounding results"
MacAddict Review
50+ formats
BarbaBatch converts 50+ formats and its conversion quality and speed are unrivaled and for over a decade BarbaBatch has been winning awards and acclaim for this.
High end sample rate conversion
BarbaBatch, with its unrivaled samplerate conversion algorithm, supports files like BWF, Sonic Solutions and 32 bit float files. It supports 192kHz sampling rate and the Redbook CD image extraction has made it popular among mastering engineers.
Telephony & game audio
The wide range of telephony formats together with dynamic compression and samplerate conversion that make low quality audio sound not as low as you'd expect, has made BarbaBatch exell in telephony audio.
Smooth and fast batch capabilities and extensive logging, allowing tens of thousands of files to be converted to multiple output formats in one run make BarbaBatch the production choice for 6 out of 10 top selling computer games producers.

Automated CD ripping of faded snippets to many streaming sound formats make BarbaBatch ideal for delivery of web based audio.
You may also be interested in: