You're currently on: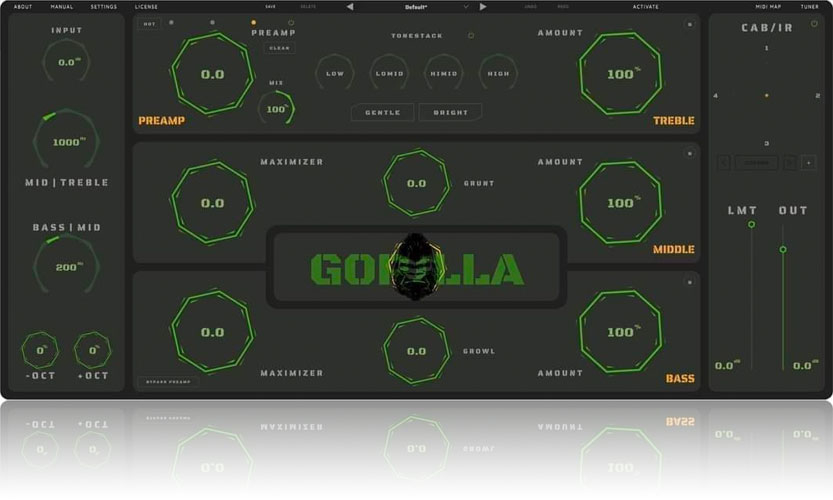 Aurora DSP - Gorilla
Different monsters for different genres: the Gorilla plugin includes 3 preamps and the simulation of 3 studio standard bass amps.
Preamps
The green one is the most versatile and can deliver a clean, warm sound, while the drive button delivers a distorted and fat tube sound. Inspired by the famous Aguilar hardware.
Yellow offers a wide range of sounds based on the legendary Super Bassman all-tube amp and is the best choice for modern rock sounds.
The orange module is what you're looking for in the classic Ampeg sound of the Heritage series. Powerful bass with punchy mids will solidify your mix.
Input
The Gorilla features a 3-way splitter that gives you full control over your final sound. Each section is equipped with a compressor and a saturator. These can be mixed to your taste.
Want to rock out with your band without a guitarist? No problem! The built-in octaver in the input section turns your bass into a wall of sound machine.
Standalone
There is no need to open your DAW to use Gorilla. We do care about guitar players that simply want to have easy to use rig at fingertips. That is why we are providing standalone version of the plugin for everyone.
Easy and advanced
The Main Window is a hub for quick, all-around changes to the sound. Pick a preset, change a few main parameters and you're ready to go. Sections unveil the true power of Gorilla, revealing options and parameters that open up a whole new world of guitar sound.
Aurora IRs
An unprecedented mixer with four custom IRs is all you need to create your desired sound. Or you can just load your own favorite IR and quickly get a familiar tone.
VST3 | AU | AAX | Standalone
Full M1 support
Tuner
Fast, accurate, simple.
Artist preset packs
Play within seconds using an array of presets curated especially for Gorilla by musicians and producers like Erik Arko, Gergo Hajer and Henning Pauly.
---
System Requirements
Intel, AMD, or Apple Silicon CPU
Free iLok account and iLok License Manager
iLok Machine, iLok Cloud, and iLok USB licensing methods are supported
Plugin Formats
AAX Native, AU, and VST3