You're currently on:

ANNOUNCING BITWIG STUDIO 2.4
Let's go sampling!
Bitwig Studio 2.4 features our Sampler reborn. Now equipped with granular and wavetable techniques, new sounds are at your fingertips and performance-ready.
Throw in visual crossfading and a revamped multisample editor, and Sampler has gone from trusted sideman to solo act.
But Bitwig Studio 2.4 has a lot else going on. Below is an overview of what's new, followed by some deeper explanations…
FEATURE OVERVIEW
In a nutshell, here's what's new.
Sampler overhaul
Extended MIDI channel support
New modulators: ParSeq-8, Note Counter
New devices: Note FX Layer, Channel Filter, Channel Map
Resizable tracks in Mix view
Resizable scenes in Arrange view
Colorable scenes
Controller take-over modes
On-screen controller visualization
Interaction-based hints
New quick start templates
Modulation workflow enhancements
And more...
AVAILABILITY
Beta Coming Soon
Bitwig Studio 2.4 will be released this summer, and it is a free upgrade to everyone with an active Upgrade Plan. Beta testing of this brand new version is about to start. If you have an active Upgrade Plan, we'll let you know when we're ready. Make sure you're subscribed to our newsletter.
SAMPLER, RESAMPLED
An old friend learns new tricks.
Sampler has always been centered on modulations, producing unique sounds by moving sample start and loop points while audio is active. On top of this solid foundation, Sampler snuck in wavetable and granular play modes, as well as an overhauled multisample editor and more.
REPITCH
Repitch represents a traditional sampler mode so its Speed control dynamically changes the playback time and pitch, even allowing negative speeds for record-scratch effects and more.
CYCLES
Cycles preserves note pitches while using Speed changes to warp the sample, and an additional Formantparameter dynamically shifts the sound's character. This is done by generating wavetables from the sample audio and stretching this to play incoming notes. Even metallic variations can be made when keyboard tracking is disabled.
TEXTURES
Textures uses a granular synthesis approach, preserving the samples' original pitch while allowing for independent controls for Speed, Grainsize, and grain Motion. Its uses can range from pleasantly cloudy to downright abstract.
FREEZE
Additionally, each mode can be set to freeze (❄︎ icon). This puts the sample playhead under your control, letting you grab the parameter directly or use Bitwig Studio's numerous modulators to innovative effect.
UPDATED MULTISAMPLE EDITOR
And more.
We made working with multiple samples easier and the result more interesting.
A revamped multisample editor has different ways of viewing your zones, depending on what the situation requires. You can also freely create groups, which make editing multiple zones a breeze. A new Select parameter decides which samples will be triggered as each note is played. And both velocity and select parameter settings can transition across zones, blending multiple samples and creating endless sonic combinations.
Additionally, three modulation sources are available which have per-zone modulation amounts, in case particular zones should adjust the cutoff frequency or anything else. And each instance of Sampler can be set to play its audio directly from disk, freeing your RAM for other tasks.
Taken along with additional features like bidirectional ping-pong looping and edits that snap to zero-crossings, Sampler is a new machine, ready for modern music production and open to wild sound design possibilities.
CHANNEL SUPPORT, PROGRAM-WIDE
Layers of sound with plenty of options.
MIDI coming into Bitwig Studio now preserves its channel data by default. Layered editing can now work by channel with intuitive view/edit modes and various options for how notes are colored.
Channel data can be useful to hardware MIDI devices, VST plug-ins, or internal Bitwig Studio devices, like Instrument Layer. And the new Channel Filter and Channel Map devices can make channels dynamic within a chain. Whether you are using MIDI or not, channels can be a welcome addition to your workflow.
NEW MODULATOR: PARSEQ-8
Step sequencing reimagined.
ParSeq-8 is a unique parameter modulation sequencer, where each step is its own modulation source. It can use the project's clock, advance on note input, or just run freely in either direction. As it advances, each step's targets are modulated and then reset. A great way to make your project dynamic, whether in the studio or on the stage. (Along the way, our Steps modulator got some improvements such as ping-pong looping so check it out too.)
NEW MODULATOR: NOTE COUNTER
Dynamic note-based modulations.
Use Note Counter to create cycling modulation patterns as each new note arrives.
OTHER DEVICE ENHANCEMENTS
A healthy library, renovated and growing.
Sampler, Channel Filter, and Channel Map aren't the only devices to receive attention. Our audio degrader, Bit-8, has gained new quantization methods and parameters, providing dirtier or even cleaner modes of destruction. Joining our other layer devices is Note FX Layer, good for creating parallel note effects. And with hovered parameters and their values now displayed in the window footer (beside all available click actions), devices have been reworked in ways big and small.
RESIZE AND COLOR
The Bitwig Studio GUI is now even more flexible.
Change track widths in the Mix view or change scene width in the Arrange view, and enjoy larger clip views and waveforms. You are in control of what and how much you see. In Bitwig Studio 2.4, you can also give scenes their own color, to help you manage those complex live projects.
ON-SCREEN CONTROLLER VISUALIZATIONS
Your hardware in action, both on-screen and on-stage.
On-screen visualizations of hardware controllers now appear directly in the Bitwig Studio window. So when you turn a knob on your controller, its effect is visible right on screen.
New controller takeover modes also define how the hardware controls and software parameters interact, and these on-screen visualizations show you the full relationship at a glance.
Sometimes Big Updates Come with Small Version Numbers
It's with great pleasure that we introduce Bitwig Studio to the world. With our biggest point update yet we deliver a number of features much requested by the community, alongside hot new things, profoundly expanding the sound design possibilities in Bitwig Studio.
Sink your teeth into Phase-4, our massive new phase manipulation synthesizer, time signature changes, voice stacking capabilities, and gloriously expanded views for seven devices. Additionally, with Bitwig Studio 2.3, we introduce major improvements in time-stretching, including industry-leading Elastique algorithms from zplane. We top things off with two new selector devices, a new modulator, a multitude of improvements, and a sound content update involving renowned sound designers. Scroll down for further details.
PHASE-4
Phase Manipulation Synthesizer
Meet Phase-4, a four-oscillator synthesizer powered by phase modulation and phase distortion. Drawing inspiration from legendary digital synths like Yamaha's DX7 and Casio's CZ series, Phase-4 is capable of vintage sounds that we know and love, but it goes further, greatly expanding these phase manipulation concepts.
At the heart of each of the four stereo oscillators in Phase-4 is a sine wave that can be shaped by five different phase distortion algorithms. Each oscillator can also be phase-modulated, by itself and by the other three oscillators, producing a vast range of possible sounds and timbres. This combination of phase distortion and phase modulation — which we lovingly call phase manipulation — brings Phase-4 to life with all of its awesome sonic power. The oscillators can also manipulate the built-in filter section for incredibly crisp and edgy textures.
The extensive controls for frequency, phase distortion, and phase modulation allow for easy and fast access to truly complex phase manipulation technology. Fire up Phase-4 in its expanded view (more on that below) to see it in all its glory.
This beast of a synthesizer makes no compromises so beware: Phase-4 can have an appetite for CPU resources.
Be sure to check out the sound examples below.
EXPANDED DEVICE VIEW
Some devices simply deserve more space.
It's time to break some (literal) boundaries and let our devices spread out further into space. Panoramic view and controls are now available for seven of our devices: EQ-5, FM-4, Phase-4, Polysynth, Resonator Bank, Sampler, and Spectrum Analyzer. Simply click any Device Interface Button to fire up the large view and enjoy.
This expanded view can also be opened as a detached floating window by clicking the detach button in the top right corner. Pin the detached window to keep it in view at all times.
This grand new view does not only look fabulous; it enhances connection, understanding, and control. Get greater detail, explore waveforms, and control several parameters at once.
TIME SIGNATURE CHANGES
It's about time...
With Bitwig Studio 2.3, we introduce time signature changes. You can now add time signature markers in your arranger timeline, and the timeline grid will be updated accordingly. Time signature changes will be included when exporting or importing MIDI files.
You can now also set time signature properties for clips, offering a flexible note grid to satisfy your musical needs. As a bonus, you can even set a time signature for a master clip in the clip launcher, using it to change or record time signature changes on the fly.
NEW AND IMPROVED TIME-STRETCHING
New & Improved Algorithms to Cover Your Needs
We give Bitwig Studio a generous boost in the time-stretching department by improving our existing algorithms and adding a number of new ones in the granular and spectral domains, including industry-leading third-party technology.
We're excited to welcome Zplane Elastique algorithms in four flavors to the party, with full formant control. We extended the functionality and quality of our own Stretch and Stretch HD algorithms, and add two new ones: Slice — slices audio at onsets — and Cyclic — retro stretching inspired by classic cream colored samplers.
With Bitwig Studio 2.3, you'll always find the right stretch mode and settings for your audio material, whether you are looking for a natural sound or aspiring to make an artistic point. Try them out for yourself and find your favorite.
INSTRUMENT & EFFECT SELECTOR
Simple Yet Effective New Devices
The Instrument Selector and Effect Selector are layering devices for transitioning into exclusive sounds. Only one layer can be played at a time, and the other layers are inactive to both your ears and your processor's load.
These devices are excellent for live use, particularly for swapping between patches and sounds — and not overloading your system in the act. They can also be used as multi-effects, permitting modulation and automated switching between layers.
Here's the good part: you will freely switch between layers without hard breaks or clicks, and your sustained notes and reverb tails will fade away naturally. Furthermore, the Remote Controls follow your selection in a dynamic and predictable way.
VOICE STACKING
Your Gateway to Incredible Sound Design Possibilities
We're introducing voice stacking for a selection of our internal instruments, opening up incredible sound design possibilities. With voice stacking, you can create thick, lush sounds that were previously out of reach so say hello to next-level unison.
Start out by increasing the voice stack count, how many voices each note should play, and assign parameters to spread for each voice.
But do approach this new feature with some discretion as increased voice count means your CPU has to work harder. As always, with great power comes great responsibility.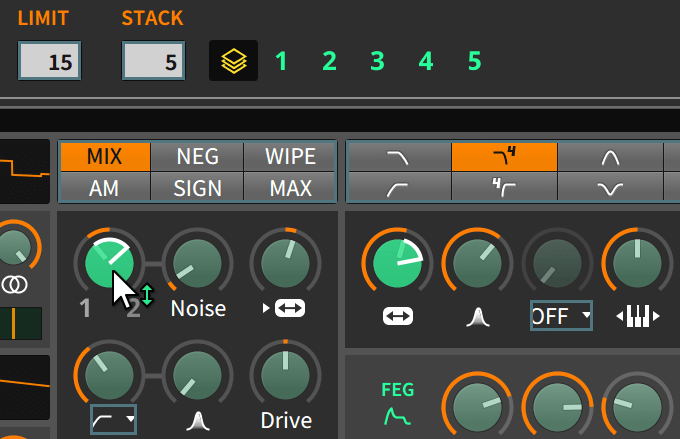 NEW MODULATOR: VOICE STACK
Detailed Voice Stack Control
The Voice Stack modulator can be used in conjunction with voice stacking for detailed mapping control of each voice in the stack.
SOUND CONTENT UPDATE
New Factory Presets Galore
We are further expanding our sound content library with a striking selection of new factory presets. We have worked with a wonderful team of renowned sound designers to give you top notch sounds. This preset collection covers our new, extraordinary synthesizer, Phase-4, and the new Voice Stack technology, but also includes great sounds for our existing family of instruments and effects.
JOIN THE BETA
Beta testing of Bitwig Studio 2.3 starts in the coming days. Anyone with a Bitwig Studio 2 license can join in and test the new version. We will send out a newsletter when the beta is available so subscribe to our newsletter (link below) to be sure not to miss anything.
WHAT'S NEW IN BITWIG STUDIO 2
Learn all about it...
Bitwig Studio 2 comes fully loaded with powerful new features and updates, here's a quick overview:
A re-conceptualized modulation system with 25 brand new Modulators
Numerous device updates, including remote controls, dynamic displays and spectrum analyzers
17 entirely new devices
Better hardware integration, with improved MIDI handling and several dedicated MIDI and CV devices
Fades and crossfades
VST3 support
...and much more!
Released back in 2014, Bitwig Studio 1 was the first music production software to combine linear and non-linear sequencing on Windows, macOS and Linux. With cutting edge technologies like plug-in crash protection and a highly flexible user interface, alongside a lightning fast workflow experience for keyboard, mouse and touch screens, Bitwig Studio has attracted a large and steadily growing user base all over the world.
We're proud to present the next edition of Bitwig Studio, introducing a full set of powerful new features. Watch the announce video and scroll down for more information.
We've made some additions since we first announced Bitwig Studio 2, watch out for things marked with *:s below.
We're proud to present the next update: Bitwig Studio 2.1
Beta testing of Bitwig Studio 2.1 starts now. If you own Bitwig Studio 2 we invite you to join the beta testing group,
Planned release date is end of April, 2017.
Inject a bit of virtual analog grit into your sounds with the new Amp device.
MIDI Clock Slave functionality let's you sync up to external clocks.
New note effect devices: MIDI Channel Filter and MIDI Channel Mapper.
Sound package: Irrupt Eurorack.


A UNIVERSE OF MODULATORS
Introducing A New Modulation Paradigm
The current version of Bitwig Studio already offers one of the industry's most flexible and powerful modulation systems, and with Bitwig Studio 2 we're taking things even further. We've reworked the entire modulation system and it now offers nearly endless possibilities;
this is a big step towards a fully modular device architecture.
Each device in Bitwig Studio 2 (internal devices and external plug-ins) have modulation slots where you can load individual modulators. Bitwig Studio 2 comes with 24 brand new modulators; from standard modulators like envelopes and LFOs - to more unique modulator types like Random, Select-4 and Math.
An unlimited number of modulators can be added to a device by simply clicking an empty Modulator slot and choosing a specific Modulator from the pop-up browser. Assign the modulator to any number of parameters, with ease and flexibility. Modulators can also be interconnected for truly dynamic and expressive sound design possibilities.
When using internal Bitwig instruments, many modulators can be set to polyphonic mode - enabling per-voice modulation - something previously only seen in closed systems.

NEW DEVICES
Because we love devices.
Apart from totally re-conceptualizing the modulation system and introducing an entire new class of Modulator devices, we're also expanding the standard device collection. Here's a list of the new additions, which we hope you'll love as much as we do.
SPECTRUM ANALYZER
This is an essential tool for many producers. Simply put, it gives you a visual representation of the audio material you feed it. The new Spectrum Analyzer allows for a freely selectable secondary input, so you can directly compare the frequency graph of two separate audio sources.
* DUAL PAN *
With this device you can control panning for individual channels of a stereo signal.
* DC OFFSET *
A utility device to add DC offset to an audio signal, for instance to generate audio signals from modulation.
PHASER
You asked for a phaser, we built a phaser - and a very capable one at that. Happy phasing!
PITCH SHIFTER
This pitch shifter shifts your pitch up or down one octave, with precise fine-tune and grain control.
TREEMONSTER
Organic zero-crossing amplitude controlled ring modulator with a life of its own. That's honestly the most accurate description we can give you.
MULTI-NOTE
This chorder device will generate up to 7 notes based on the note you send into it, with pitch and velocity settings.
NOTE LENGTH
This device will transform all notes to a defined length and velocity. In its second mode it can generate a fixed-length note when the key is released.
NOTE ECHO
So much more than a standard echo, this seemingly simple device allows you to get creative with note echoes and loops.
NOTE LATCH
The Note Latch device will simply hold any note you send into it until it receives the next note - or until you click its stop button.
NOTE VELOCITY
With this device you can transform velocity on incoming notes using a curve - or go ahead and use modulators for some dynamic velocity effects.
NOTE HARMONIZER
Note harmonizer will transpose your notes in real-time to harmonize with a chord playing on another track.
BETTER HARDWARE INTEGRATION
We speak hardware.
We've done a lot of work under the hood to revamp MIDI handling in Bitwig Studio; improving sync and note timing. We are also introducing a set of devices that will allow you to seamlessly integrate hardware machines into your workflow via MIDI and CV/Gate.
MIDI CC
This device can be used to send CC data to external hardware or plug-ins. Add it to a HW Instrument device to get instant access to your hardware's parameters.
MIDI PROGRAM CHANGE
As the name implies, this device allows you to control program changes of your hardware or VST plug-ins from Bitwig Studio.
HW CLOCK OUT
Using the HW CV Clock device you can send CV clock to audio outputs, with individual time settings.
* MIDI SONG SELECT *
A device used to send MIDI song select messages to external devices, for instance to change patterns on a drum machine.
HW CV INSTRUMENT
Use this device to send notes as CV and gate to an output on your audio interface, to control analog synths, eurorack modules and other hardware.
HW CV OUT
This is a simple device to send a CV signal to an output on your audio interface.
MIDI TIMECODE
Bitwig Studio 2 can send out MIDI timecode (MTC). In Settings, you can choose to send out MTC through any connected MIDI device, and configure its rate.
* CONTROLLER API IMPROVEMENTS *
We've worked on the open controller API to make it more consistent. A new scripting engine gives better performance, and you now get improved and immediate feedback while scripting.
DEVICE UPDATES
More creativity, more control.
We've made lots of enhancements to our existing devices, improving both sound quality and usability. Several devices now include a spectrum analyzer and dynamic display panels. In many devices, we've re-organized, re-designed and added new features. With Bitwig Studio 2 we've also improved visualization of parameters, movement and signal flow. We invite you to explore the device collection for yourself. Read about some of the highlights below.
POLYSYNTH UPDATES
Since Bitwig Studio first came out, Polysynth has been our go-to synth for musicians and sound designers. With Bitwig Studio 2, we've expanded our Polysynth's feature set further, by adding several oscillator mix and filter waveshaping modes. These new modes open up new possibilities for sound exploration; adding complex overtones and frequency modulation options to your sound palette.
Furthermore, with improved unison capabilities you can now control the stereo width of the oscillators - and place them individually in the stereo field. We've also equipped Polysynth with a sweepable high-pass filter to quickly get rid of unwanted low frequency content and a feedback loop around the filter and amplifier section.
With the new modulation system there's no need for the three LFOs or expression choosers, you can simply add all the modulators you like.
REMOTE CONTROLS
Now every device now has a Remote Controls panel, where you can assign remote control access to any parameter in the device (or nested in the device chain).
Navigate existing pages or freely set up your own, using different control elements (e.g. knobs, buttons, choosers).
Mappings can now be saved with presets or devices, allowing on-the-fly access to your favorite parameters directly from your hardware controller, when browsing through your library or swapping between devices and tracks.
This powerful and flexible new feature refines and improves the Device Mappings and Macro pages from Bitwig Studio 1.
DYNAMIC DISPLAYS EVERYWHERE
With the overhaul of our device collection, we've equipped several devices with spectrum analyzers and dynamic display panels.
FADES AND CROSSFADES
Your fast workflow just got a lot faster.
You can now create fades and crossfades for audio clips in the arranger timeline or audio editor. Additionally, you can create fades for audio events inside clips - for truly fast yet flexible editing. Naturally, the curve slopes of all fades can be adjusted.
Easily edit fades by hovering the mouse cursor over clip or event boundaries, and then drag the fade handle when it appears. Crossfades are automatically created when you move clips so they overlap.
In Bitwig Studio 2 you can freely adjust the height of individual tracks in the arranger timeline.
VST3 SUPPORT
We are happy to announce that we now support the VST3 plug-in standard, including per-note expression and sample accurate automation.
SMART TOOL SWITCHING AND IMPROVED EDITOR WORKFLOW
With Bitwig Studio 2, we've improved the efficiency of our tools. You can now achieve many standard tasks without having to swap tools: depending on where you click, you can select multiple objects or time segments, edit fades or zoom and scroll.
Furthermore, the arranger and detail editors now have their own tool selector - enabling you to work with separate tools in the two editors.
Oh, and a small nugget for the note editor aficionados: when using the pen tool, right-clicking a note now deletes it. You're welcome.
NOTIFICATIONS
We're introducing a new notification system, showing different types of messages in a clear, streamlined and non-intrusive format.
The notifications system will tell you when the application is scanning plug-ins or files, if there are problems with your project or if there's a new version of Bitwig Studio available for download.
You can select to show or hide different types of notifications.
DASHBOARD
The Dashboard, likely the first new feature you'll bump into, handles many tasks that were previously available only in menus and other windows - such as locating and opening projects, configuring settings, installing packages and accessing help resources. The Dashboard allows a more sophisticated and user-friendly approach, informed by modern software design paradigms.
Furthermore, we've consolidated most configuration settings and included them under the Settings tab in the Dashboard.
NEW MENU SYSTEM
We've reworked the menu system extensively. Bitwig Studio 2 now features a context-aware menu system to keep you focused on the task at hand. Depending on your selection, different menus and options will be shown. For instance, when selecting a track, a menu will be shown with all available related actions.
To speed up your workflow even further, you can pin actions so they are always visible in the menu bar.
We've also reworked all context menus, to give you quicker access to your favorite commands. All commands are now collected in the menus, and removed from the Inspector to make it less cluttered visually.
BITWIG STUDIO
Today it's possible to make music with any DAW. What sets each one apart is workflow, how quickly you can realize your ideas, and the freedom to choose how you produce and perform.
Bitwig Studio is a dynamic software for creation and performance of your musical ideas on stage or in the studio.
Discover the new standard in customized workflow. Bitwig Studio inspires you to take greater control of your music, giving you access to every aspect of your production. Streamline your creative process and quickly evolve your ideas into complete songs, tracks and compositions. Record and arrange, improvise and perform, or do it all at once. Welcome to the next generation of music creation and performance software for Windows, Mac OS X, and Linux.
Bitwig Studio comes loaded with industry-standard to industry-leading features, designed to meet the demands of present day musicians, producers and sound designers.
FLEXIBLE USER INTERFACE
Customized workflow to match any style.
Bitwig Studio features a flexible panel based user interface; you have the power to choose what you wish to see depending on task, on up to three monitors.
In Bitwig Studio, use the Clip Launcher alongside your arrangement to draft your song's layout on the fly, or use it exclusively as a performance tool.
DETAIL EDITOR
Your limitless creative space.
The Detail Editor optimizes audio editing by allowing you to perform non-destructive edits within a clip. This allows you to stretch, split, pitch, pan, copy, reverse, add, move and re-arrange audio as you choose. Edit multiple tracks in the same view, notes using audio as a reference, isolate your view to one clip or expand it to see the everything in the entire track.
EXPRESSIVE MIDI SUPPORT
The most expressive DAW in the industry.
Besides standard note editing features, and per note expressions such as Velocity, Gain, Pan, Timbre and Pressure, Bitwig Studio features unique tools like micro pitch and sophisticated layered editing, and is a forefront runner in supporting MPE.
MPE stands for Multidimensional Polyphonic Expression. By supporting the MPE standard, Bitwig Studio is among the first DAWs capable of capturing and utilizing the precise features of the most advanced MIDI controllers available on the market today, such as Roli Seaboard and the Linnstrument.
DEVICE NESTING
A device in a device in a device in a device...
Device Nesting is a powerful feature for sound design with any combination of Bitwig devices and VST plugins. From Container Devices to FX slots, virtually anywhere you imagine another device could go, it probably will. Nesting Devices means that you can place a device in a device in a device... theoretically, this can go on forever. There many cases where this technology is extremely useful. A Container Device is a simple example of nesting. For a more complex and detailed example, check out Cristian Vogel's "Deep Freeze" to see how far the rabbit hole goes.
UNIFIED MODULATION SYSTEM
Modulation redefined.
Modulating one parameter from the next often means losing hands-on control – until now. Bitwig Studio is hard-coded with a Unified Modulation System, allowing you to easily link any device parameter, including nested internal devices and VST plug-ins, without losing hands-on control. Never before has modulating virtually any parameter between devices been so simple. Nothing is locked, so you can manipulate on the fly to find the perfect range of modulation. Make your devices take on a life of their own, create dynamic relationships between sounds, and hear your music begin to breathe.
VST PLUG-IN AND HARDWARE SUPPORT
Bitwig Studio connects your eco system.
Bitwig Studio plugs right in to your existing setup. With modern software architecture 32-bit and 64-bit VST plug-ins are natively supported, no third-party bridging is necessary to run your favorite plugins side-by-side.
Dedicated Hardware Instrument and Effect devices allow you to control your hardware synthesizers, drum machines and effect racks from within your project.
PLUG-IN SANDBOXING
Damage Control.
Never again will a single plugin take down your entire project. The "sandboxing" feature built-in to Bitwig Studio ensures plug-in crashes will not interrupt valuable production time, or your performance on stage. Bitwig Studio protects your workflow while efficiently running your VSTs for non-stop creativity.
OPEN MULTIPLE PROJECTS
Limited to one idea? Think again.
The bassline from your last session could be the missing piece of your current project. The rhythm section in your latest song carries perfectly over to the next. No need to close anything or dig through complex file structures. With Bitwig Studio, open multiple projects at the same time and drag-and-drop between them.
DYNAMIC INSPECTOR
Mission Control
The dynamic Inspector panel is a workflow accelerator. It changes depending on where you are and shifts focus with you, to give you easy access to the tools you need. The Inspector allows you to simultaneously edit multiple notes, Events, Clips or Tracks.
The Histogram is a feature of the Inspector panel that offers a unique way of working with randomization and variation.
GROUP TRACKS
Simplify your mix.
Group Tracks is a tried and true way to quickly manage multiple parts of a mix at once. Grouping similar tracks together allows them to be controlled together as a unit and is a great help in organizing your workspace.
Bitwig Studio allows you to freely route audio and notes, create Groups inside Groups and work on and save grouped content as meta clips.
POP-UP BROWSER
Browse, Audition, Insert, Swap
The Pop-Up Browser makes auditioning and selecting Devices, Presets, VSTs and Samples fast, intuitive and inspiring. With powerful search and filter tools it's never been easier to locate, or discover the sound you're looking for.
The Pop-Up Browser is nothing less than your own personal content management system.
TOUCH INTEGRATION
Music at your fingertips.
With a touch screen and the dedicated touch display profile the full power of Bitwig Studio is literally at your fingertips. We've developed complete multi-touch functionality to quickly identify gestures for the most unique and intuitive workflow ever: multi-touch support, our unique radial gestures menu, touch keyboard and pen control (Microsoft Surface Pro and Surface Book).
OPEN CONTROLLER API
Control scripting with ease.
"Smart controller" takes on a new meaning in Bitwig Studio. Freely edit existing control scripts direct from the companies that design your controllers, or create your own. Get the most out of your gear with hands-on control of the parameters that mean the most to you, and take full advantage of every pad, knob, button, and key at your fingertips.
WAIT, THERE'S MORE...
Other notable features
32-bit floating point audio processing
Audio sample rate up to 192 kHz
Retina/High DPi Display Support
Audio import: WAV, MP3, OGG, FLAC
Bounce and Bounce in Place
Unlimited Audio-, Instrument- and Effect Tracks
Fully customizable keyboard shortcuts & action mappings
Fast and flexible MIDI Mapping tool
Audio and MIDI export
Choke Groups
Scalable GUI
Hybrid Tracks
Project Templates
Clip- and Track Automation
Tracks, Chains and Devices can be deactivated to save CPU
Plug-in Delay Compensation
Jack support including Jack Transport on all platforms
Micro Pitch in Note Editor
7 Display Profiles for up to 3 monitors
Over 8 GB of world-class content
BITWIG STUDIO DEVICES
Homemade in Berlin.
Each device in Bitwig Studio was designed in-house using a modular system integrated in the application. Our selection of devices demonstrate the power hidden beneath the hood of Bitwig Studio. This extensive array of devices will cover all your sound design needs, from the subtle to the extreme.
Bit-8
Blur
Chorus
Comb
Compressor
De-Esser
Delay-1
Delay-2
Delay-4
Distortion
Dynamics
EQ-2
EQ-5
EQ-DJ
Filter
Flanger
Freq Shifter
Gate
Ladder
Oscilloscope
Peak Limiter
Resonator Bank
Reverb
Ring-Mod
Rotary
Tool
Transient Control
Tremolo
Drum Machine
E-Clap
E-Cowbell
E-Hat
E-Kick
E-Snare
E-Tom
FM-4
Organ
Polysynth
Sampler
MODULATORS, GENERATORS, NOTE FX, ROUTERS
14 Devices
Arpeggiator
Audio MOD
Audio Receiver
Diatonic Transposer
Hardware FX
Hardware Instrument
LFO MOD
Note Filter
Note MOD
Note Pitch Shifter
Note Receiver
Step MOD
Test Tone
Transposition Map
Chain
Drum Machine
FX Layer
Instrument Layer
Mid-Side Split
Multiband FX-2
Multiband FX-3
Replacer
XY Effect
XY Instrument
You may also be interested in: