You're currently on: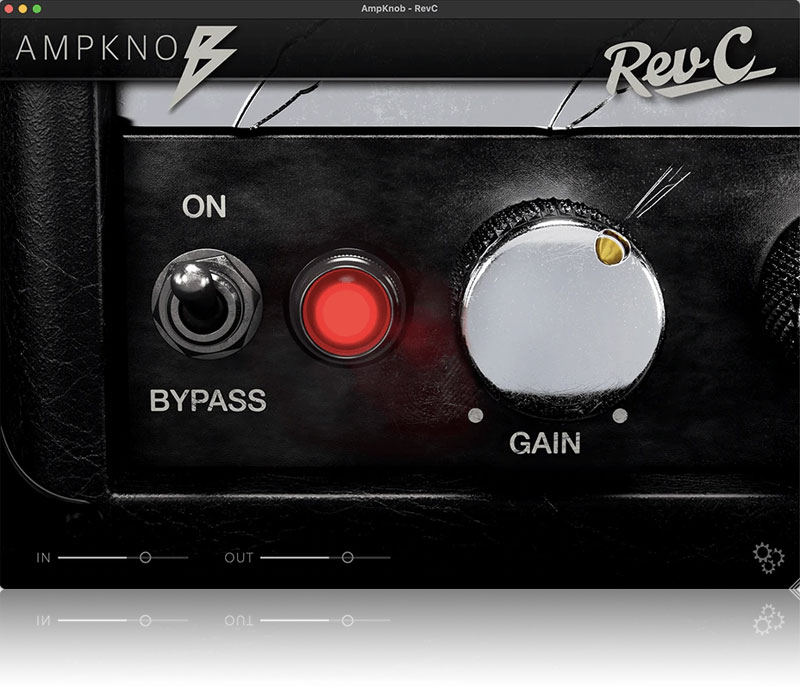 A ONE-KNOB REVOLUTION
For album-ready heavy guitars
CREATIVITY FIRST
What if we told you that you only need one single knob to get a great heavy guitar tone?

And what if we told you that you will experience responsiveness and realism previously unheard in a plug-in?

With the new AmpKnob RevC, this is becoming a reality. Plug in, rock out and immediately start recording bone-crushing guitars without anything to distract your creativity.
THIS IS NOT A TOY
In fact, AmpKnob is already making its way into top-tier productions.

Hear for yourself how AmpKnob RevC works in real-world mixes from a vast selection of styles!
A NEW STANDARD
Imagine this: you walk straight into a world-class recording studio, carrying your favorite guitar.

Towering before you is the Unholy Grail of rock and metal guitar amps — the classic treadplated RevC with a pre-500 serial number in immaculate condition.

Before your arrival, one of the world's most experienced metal producers has spent hours carefully selecting and placing microphones to perfectly capture the amp and cabinet.

Everything is set up and ready for you, all you need to do is plug in your guitar and start playing.

We give you AmpKnob RevC, the first in a series of revolutionary one-knob amps from Jens Bogren and Bogren Digital.
CAB-OFF, TUNE-UP
Don't like the sound of a perfectly matched speaker cabinet? RevC now comes with a 'Cab off' button, so you can experiment with your own impulse responses.

The excellent built-in tuner means you're always ready to jam!
IHSAHN
Musician, producer
"It sounds AMAZING! This tone is very much in line with my taste and the one-knob approach is perfect for my workflow when writing and tracking."
Ihsahn | Emperor | Leprous | Ibaraki
TUE MADSEN
Producer
"The fastest way to get a great guitar tone. From opening the plugin for the first time until it was in a single I was working on: 2 minutes. One knob, a little eq to fit my mix and BOOM!"
Behemoth | Meshuggah | The Black Dahlia Murder
JOHN DOUGLASS
Producer
"Finally! The classic recto sound in a plugin and it's un-fuck-up-able! AmpKnob RevC is now my go-to baseline tone whenever I get sent guitar DIs"
Megadeth | Stone Sour | Amon Amarth | Cannibal Corpse
ESA HOLOPAINEN
Musician
"Really, really cool! When the knob is at the scratch mark, it gives an amazing rhythm tone! Nice work, guys! I'm absolutely gonna use this."
Amorphis | Silver Lake
EYAL LEVI
Musician, Entrepreneur, Producer
"I never expected that it would be possible to have a one knob amp sim that actually sounds good enough for final takes, but here we are. This thing rules!"
URM Academy | Nail The Mix | Riffhard | DAATH | The Contortionist | Chelsea Grin | Firewind
DAN SWANÖ
Producer, musician
"It fucking rules and I wish all default settings in my amp sims sounded EXACTLY like that!"
Opeth | Bloodbath | Katatonia, | Aeon | Edge of Sanity
DANIEL FREYBERG
Musician
"Very Cool! I tried it on DI tracks and I was positively surprised how well it sits in the mix right off the bat"
Children of Bodom | Bodom After Midnight
DAVID CASTILLO
Producer
"Holy shit, what have you guys done?! This is the first amp sim I would actually use in a production"
Opeth | Whitechapel | Carcass | Candlemass
JAIMIE KING
Producer
"This is amazing! So inspirational to load a killer tone and jam. Riffs just came out with great crisp but smooth gain and an EQ perfect for the mix."
Between The Buried and Me | The Contortionist | Scale The Summit
EUGE VALOVIRTA
Musician, producer
"It really feels like a real amp. Damn! I love simple stuff because I just wanna focus on playing and writing music and this one is just perfect!"
Solo | Cyhra | Red Wolf
PSYCHON
Musician, Producer
"Rich sound, full of harmonics but you can still hear every detail in the notes. Basically, you can't go wrong with it. Amazing!"
Septicflesh
Available as VST3 / AU / AAX / Standalone
Windows 10 or newer
Mac OS 10.13 or newer (Intel & M1 Native)
JENS BOGREN
Over 20 years of musical excellence

Founder and head of Fascination Street Studios since 2001, Jens is famous worldwide for his work with some of the biggest acts in metal today.
• Arch Enemy
• Amon Amarth
• Opeth
• Sepultura
• And many more!
You may also be interested in: