You're currently on: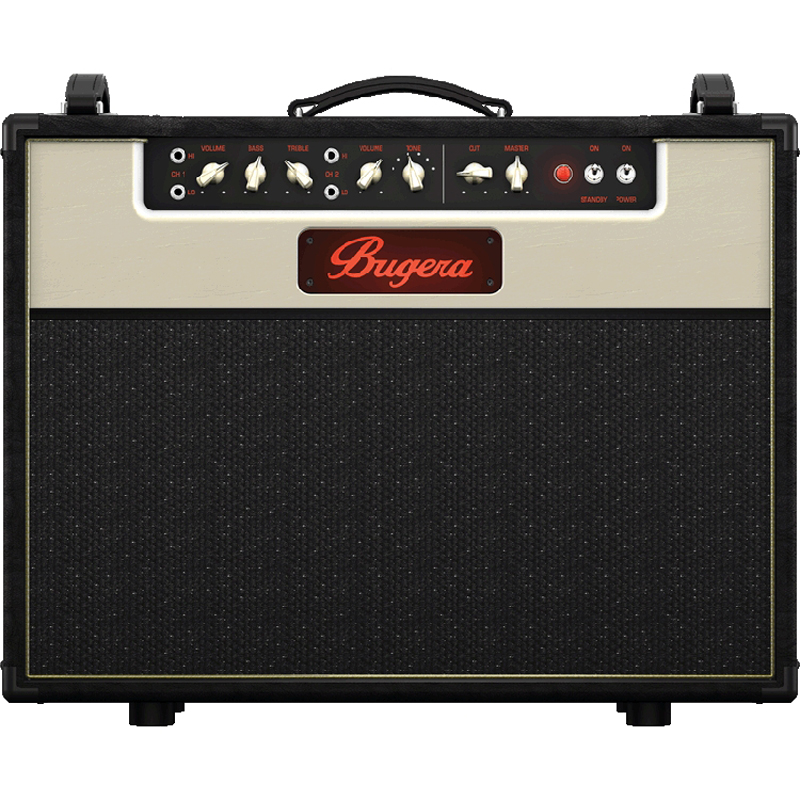 The BC30-212 is a musical instrument unto itself; it's the complement your guitar has always lacked, and the extra band member you've always needed. That's because unlike most amps, the BC30-212 actually communicates with you and your guitar, responding to the subtle characteristics of your playing technique and giving your creativity a voice all its own.
It's a concept that forced us to concentrate on the essence of tone and dynamics. As is often the case, it is the simple, straightforward design, combined with the most refined components available, which yields the highest fidelity and most dynamic response. In the end, we succeeded in creating an amp that will change how you play and perfect your sound.
The BC30-212 is the ultimate in tonal purity. The preamp conditions your signal then lets the power amp and speakers have their way with it. The amp becomes an extension of your guitar and your fingers - no channel switches or signal boosting devices to change the tone. Instead, you control the amp from the guitar; your dynamic nuances, picking technique, pickups, volume control, and tone knobs determine the sound you hear. Pick gently for crystal-clear clean tones. Pick hard, and you'll be rewarded with bone-shattering crunch. It's that simple.
The power amp section features four EL84 valves, the highly reactive, breakup prone secret to the sound that made England's finest amps (and guitarists) world famous. With the simple flick of a switch, you can choose two EL84's (15 W) or all four (30 W), giving the BC30-212 the power to restrain volume for smaller venues, or peel the paint off the walls in larger rooms.
In short, the BC30-212 thinks the way you do. And in true BUGERA fashion, it offers you a multitude of ways to customize its voice to meet your sonic tastes.
The power amp works hand-in-hand with the BC30-212's all-valve rectifier to give you natural compression and sustain not available from solid-state rectifiers. Put simply, a rectifier converts the Alternating Current (AC) entering your amp into the Direct Current (DC) it needs. Most modern amps have siliconbased rectifiers that quickly convert the current, so when you strum a power chord, it bursts out big and loud, then decays. But a valve rectifier converts current at a slower rate, which means when you hit that same huge chord, you still get that powerful response, but the notes naturally compress and sustain much longer.
The kind of rectifier you choose has a lot to do with your sound. That's why we provide two options on the BC30-212: use a single 5AR4 rectifier to deliver biggerthan- life stadium rock; or plug in a pair of 5U4's (not included) for a smoother, more-buttery sound.
The rectifier and power amp are the BC30-212's heart and soul, respectively, but the preamp works to predispose your sound to cleanliness or high-gain grind. When you're at your job and your workload is too heavy, you probably get a bit angry and likely do a little (or a lot of) griping. Valves work in much the same manner, except when one of them is overworked, the sound they make is often perceived as "totally kick-ass" instead of "bitching and moaning."
Bearing that in mind, BC30-212's first channel holds a pair of 12AX7s, the V1 stage of which creates a parallel triode circuit. More tubes share the workload, so the signal it conditions is tamer. Channel 2, on the other hand, holds a single ECC83A valve that works in a cascading dual-triode configuration. The accompanying 6-position tone switch allows you to dial-in a tone that can become beautifully disgruntled (or highgain, in amp-speak) in a hurry.
Both channels feature their own effects loop. You can also use these loops to create a virtual third channel. By using a short ¼" instrument cable to patch the Channel 2 Effects Send into the Channel 1 Input, you can take advantage of increased gain and use the Channel 2 tone control to govern the sound.
Another feature unique to the BC30-212 is its two different 12" BUGERA speakers. One, the 12G100B8, creates a high-sensitivity, in-your-face sound. We went to considerable lengths in our quest for tone, tweaking the suspensions, cone shape, and even optimizing the pulp from which the cone is made. We did all this at our in-house speaker plant, achieving the most mature and fullest guitar sound possible, which definitely possesses hair-raising bark. The other speaker, a 12G80A8, is slightly less sensitive, but with a warm, round lowend and clear midrange. Individually, these speakers can easily hold their own against the most highly acclaimed speakers on the market. Together, they create a tonal balance that is unsurpassed.
In addition to sounding great on stage, this configuration offers tons of flexibility to sound engineers both in recording studios and for live performance applications. And if you need to use additional speaker cabinets, the Impedance switch can be set to 4, 8 or 16 Ohms, making it compatible with virtually any speaker cabinet on Earth.
An amp with as much intuitive ability as the BUGERA BC30-212 would normally cost you about as much as a car! But because we believe all musicians should have access to this caliber of equipment, we've managed to create a sophisticated, beautifully voiced and durable instrument that will leave you with more than enough gas money to get to your next gig. Plug into a BC30-212 and create a sound that's thoroughly your own.