You're currently on: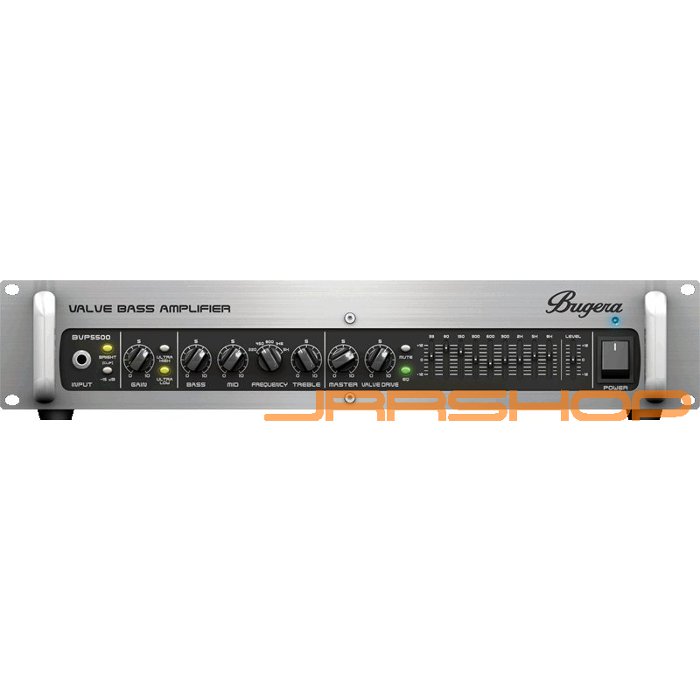 The BVP5500 begins with two selected pairs of 12AX7 preamp valves with their own Drive -control. Suhweet!
When you want to rock the house you need serious power. The BVP5500 brings 550 of the cleanest fan-cooled watts you'll ever hear — or feel.
And since bass players do not live by Watts alone, the BVP5500 is equipped with a stunning arsenal of tone-sculpting tools, including a 3-band EQ with sweepable mids, Ultra-High and Ultra-Low switches, and a 9-band graphic EQ for the ultimate in tone control.
For you non-purists, there is an Effects Loop and an Insert Channel with Preamp Out and Power Amp In connections for expanded versatility. Use the included footswitch to kill the signal to the amp, allowing you to tune in blissful silence and to activate/deactivate the graphic EQ.
Be gentle. This kind of power can go to your head!
Main Features:
Powerful 550-Watt valve bass amplifier head for classic sound and performance

4 x 12AX7 valves give you the ultimate sound and feel only valves can provide

Valve Gain controls the dynamics and tonal response of the power amp to deliver anything from punchy to thick and compressed sounds

Ultra-musical 9-band graphic EQ for total frequency control

Dedicated Bass, Mid, Treble and additional Mid frequency control enable ultimate sound shaping

Bright function for brilliant sound enhancement, even with heavy compression

Switchable Ultra Low and Ultra High function for ultimate tone

Dual footswitch for Mute and EQ functions included

Balanced XLR DI output for direct connection to your mixing console

Switchable Tuner output works either as a tuner connection or a live monitor feed

Effects Loop for external effects devices (stomp boxes, rack effects, etc.)

Power Amp input and Preamp output connectors allow you direct access to the power amp and a signal tap from the preamp section for even greater versatility

Integrated limiter and active, temperature-controlled cooling system for ultimate protection

High-quality components and exceptionally rugged construction ensure long life
zzz amp