You're currently on: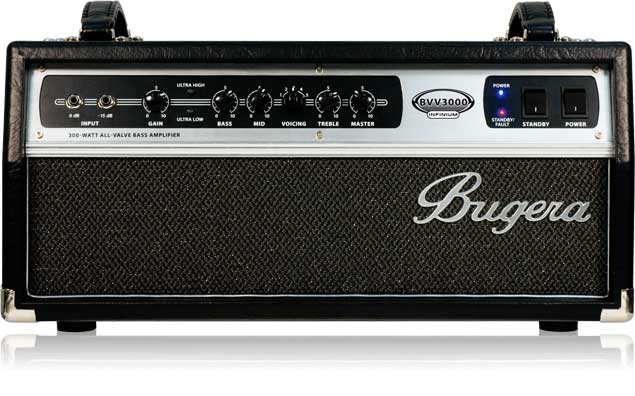 Leave it to BUGERA to bring the classic all-valve bass amp up to date. Lovingly handmade and sporting vintage styling, the BVV3000 INFINIUM merges in-your-face bass with state-of-the-art features, such as a 5-position Voicing selector and our new INFINIUM Valve Life Multiplier technology, which will keep your BVV3000 sounding great for many years to come.
With 300-Watts of chest-pounding output, the BVV3000 melds old-school aggressive attitude with a touch of nostalgia, creating tones that are only possible from an all-valve amplifier.
All-Valve Design
There are lots of amplifiers on the market today that claim to be valve amps just because they've got a 12AX7 inside. But it takes a whole lot more than just a preamp tube to qualify an amp as being "all-valve." The BVV3000 is a true all-valve bass amp with three 12AX7 and two 12AU7 valves. Two trios of 6550 (also known as KT88) output tubes operate in classic "push-pull" mode to create 300 Watts of room-shaking thunder.
Each BUGERA valve goes through a rigorous 48-hour burn-in process before being individually evaluated by a skilled Quality Control Inspector (a real live human being). Only about one in every ten valves actually gets the go-ahead for use in our amps. The rest get tossed onto the slag-heap, where they are melted down to make shot glasses.
Taming the Beast
The BVV3000 is so much more than just raw power. The all-tube preamp provides tremendous tone-shaping control. Sure, you get the standard boost/cut capability from the BASS (centered at 40Hz) and TREBLE (4kHz) knobs, but the real "voice" of your bass is defined by its midrange content.
BVV3000's 5-position FREQUENCY selector lets you choose the center frequency that best suits your playing style, or the one that brings out your instrument's true personality. Just select from 220 Hz, 450 Hz, 800 Hz, 1.6 kHz and 3.0 kHz and turn the MIDRANGE knob to boost or cut by as much as 15dB—and that's a lot! And if you want even more tone-sculpting options, engage the ULTRA-LOW switch for an additional +2 dB boost @ 40 Hz, or the ULTRA-HIGH switch for a soaring top-end boost of +9 dB @ 8 kHz.
Features
Hand-built 300-Watt bass amplifier head driven by 6 x 6550 valves
Vintage design from the '60s featuring 3 x 12AX7 and 2 x 12AU7 valves for harmonically rich and vibrant valve sound
Revolutionary INFINIUM Valve Life Multiplier technology: – Extends the life of your amplifier's expensive power valves up to 20 times. – Provides incredible reliability and consistent tone over the complete lifespan of your valves – No need for expensive matched valve sets – Allows you to mix and match any combination of compatible valve types and brands – Monitors performance of each power tube continuously and displays defective valves to allow for easy and individual replacement
Voicing selector provides you with 5 classic sound variations to suit your playing style
Dedicated Bass, Mid and Treble controls and High/Low switches for ultimate sound shaping
Balanced XLR DI for direct connection to your mixing console
Slave Output to connect with additional amplifiers
Preamp Out and Power Amp In connectors allow you a signal tap from the preamp section and a direct access to the power amp for even greater versatility
3 speaker outputs: two 1/4" jacks and a professional speaker connector (compatible with Neutrik Speakon)
Impedance switch (2 and 4 Ohms) to match virtually any speaker cabinet
High-quality components and exceptionally rugged construction ensure long life