You're currently on: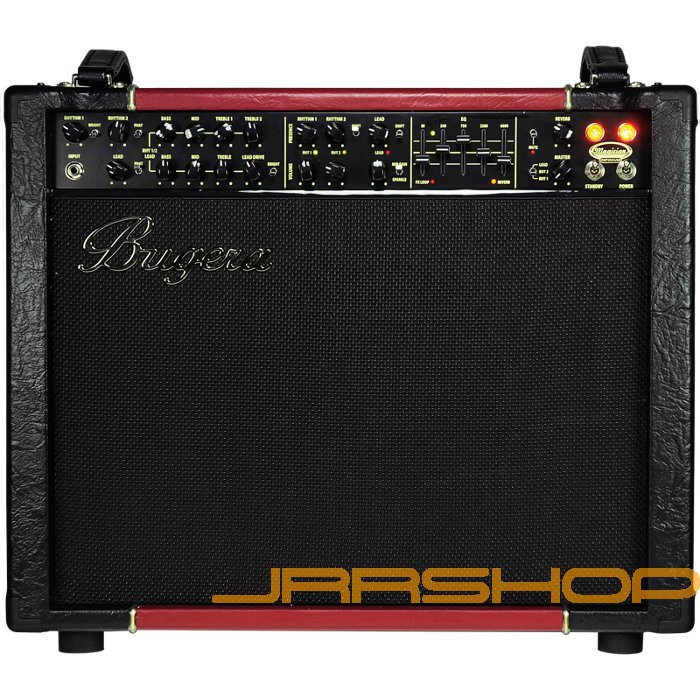 The supernatural power of the 85-Watt MAGICIAN INFINIUM is built to satisfy even the most discerning tone chaser. Its unbelievable array of tonal options will take you on a tonal tour of the greatest amplifier personalities to ever emerge from California. With three channels, multiple class modes (Class-A or combined Class A/AB), Varipower (adjustable output power from 1 - 85 Watts), switchable triode/ pentode operation, a multitude of EQ controls, and our incredible INFINIUM Valve Life Multiplier technology, the MAGICIAN is like having a truckload of neo-vintage amps—all in one!
Variable Voodoo
It all starts with a three-channel preamp design (Rhythm 1, Rhythm 2, Lead) featuring 4 x 12AX7 valves, producing everything from vintage clean to killer crunch. On the back panel, flick a switch to select PENTODE for a clear, powerful punch or TRIODE for a classic, mellow sound. Next, select either CLASS A mode for a bright, chiming tone that pushes easily into overdrive, or MULTI-CLASS mode to combine the Class A sound with the tight, punchy tone of Class AB amplifiers.
What is Varipower?
There's nothing like the roaring "soft-clip" sound of saturated power valves, but these tones are normally accessible only when an amp's volume is cranked. Unfortunately, this kind of volume isn't an option when you're jamming away in your apartment at 3:00 am, or if you're gigging in a tiny club. That's why the Magician features the Varipower rotary control, which adjusts output power anywhere from 1 to 85 Watts. Whether you're trying to record a searing solo without waking the neighbors, or blowing the roof off the biggest gig of your life, the Magician is always ready to provide the sound of overdriven valve fury.
Equalization Alchemy
The Magician's vast EQ controls put your signature tone well within reach. All three channels feature a three-band EQ (bass, mid, treble), and individual PRESENCE controls to adjust high-end clarity. Meanwhile, a multitude of switches give you access to countless tones: PHAT adds mid-range thickness to the RHYTHM 2 and LEAD channels, SHIFT affects the feedback loop and midrange sound of the RHYTHM 2 and LEAD channels, and the BRIGHT switch adds additional brilliance to the LEAD channel. A 5-band graphic equalizer rounds out all these tone-shaping options.
Effectively Magic
Your favorite stomp boxes will integrate seamlessly with the Magician via the built-in effects loop. This feature's on/ off status can be stored for each channel and recalled each time the channel is activated. And of course, we didn't forget to include onboard digital reverb. To further enhance performance, the Magician comes with a six-button BUGERA FSB106 foot controller for remote on/off switching of REVERB, FX LOOP and GRAPHIC EQ, as well as switching between the three preamp channels—which is even possible through the onboard MIDI connections.
On the Outs…
The Magician comes loaded with a Neo-Vintage 12" BUGERA speaker, handmade in the same factory as the amplifier. This tight transducer provides the tone character of vintage Alnico speakers and an incredible high sensitivity at a mere fraction of the typical guitar speaker's weight. But there are several ways to route the signal whether you're out rocking the clubs or recording in the studio. The SLAVE DI output sends a signal out to additional amplifiers or other processors, and its LEVEL knob controls the output signal. A RECORDING output sends a conditioned signal directly to a recording console, and also features a LEVEL knob for controlling the output signal volume.
INFINIUM Valve Life Multiplier Technology
Our revolutionary INFINIUM Valve Life Multiplier technology is like having your very own technician inside your amp constantly monitoring and tweaking valve performance for the ultimate in tonal integrity and reliability. This revolutionary circuit not only optimizes the performance of each output tube, it dynamically balances the drive between them to more evenly distribute the load. With INFINIUM, your tubes last up to 20 times longer, saving you substantial money over the lifespan of your amplifier. INFINIUM also compensates for the effects of aging, automatically adjusting current levels to keep your valves sounding as good as the day they were installed.
If and when a valve does reach the end of its life, the system even tells you which one to replace. All you need do is replace the faulty valve and let INFINIUM take care of the rest for you. This all adds up to more consistent sound quality and longer life for your valves. Maintenance for valve amps has never been this easy!
Main Features:
Hand-built 85-Watt guitar combo driven by 4 x 6L6 valves (convertible to EL34)
Original 12" BUGERA Neo-Vintage speaker for true vintage sound, high sensitivity and light weight
Revolutionary INFINIUM Valve Life Multiplier technology: – Extends the life of your amplifier's expensive power valves up to 20 times. – Provides incredible reliability and consistent tone over the complete lifespan of your valves – No need for expensive matched valve sets – Allows you to mix and match any combination of compatible valve types and brands – Monitors performance of each power tube continuously and displays defective valves to allow for easy and individual replacement
3-channel preamp design (Rhythm 1, Rhythm 2, Lead) featuring 4 x 12AX7 valves—everything from purring blues to mind-blowing crunch
VARIPOWER control allows the maximum power to be seamlessly scaled down to produce a cranked amp sound at much lower volumes
Multi-Class mode features either Class-A or combined Class-A/AB, blending Class-A purity with the raw power punch of Pentode Class-AB
Integrated high-class reverb with dedicated Reverb control
Switchable Triode/Pentode operation for ultimate power amp voicing: Triode for classic warmth and Pentode for raw, high-speed power
Dedicated Gain, Presence and Volume controls and several voicing switches per channel for awesome sound shaping
Multi-gain stage Lead channel with voicing switch (Mid Gain/Sparkle)
Heavy-duty 6-button footswitch for channel selection, Graphic EQ, Reverb and FX Loop function included--doubles as MIDI IN / THRU for complete MIDI remote switching
Assignable 5-band graphic EQ for ultimate sound shaping
Manual or auto-assignable FX Loop with independent Send and Return level controls
Compensated recording output with switchable Recording Mute function plus Line output with dedicated Level control
Multi-impedance output connectors (4 and 8 Ohms) to match virtually any speaker cabinet
External Switching connectors for remote control of channel selection, Reverb, Graphic EQ and FX Loop
High-quality components and exceptionally rugged construction ensure long life