You're currently on: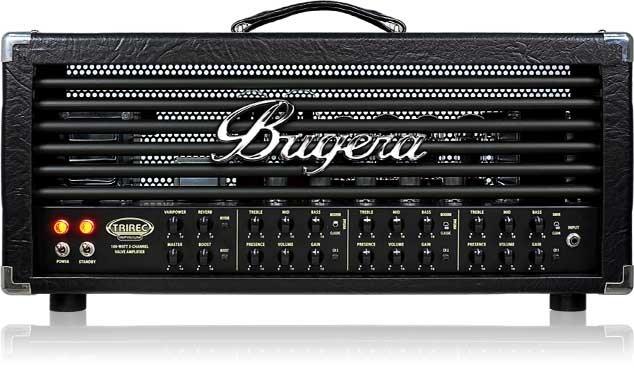 Valves can be mined for an enormous palette of tones, but most amps leave you with just a Master Volume dial and one choice of valves, making it all but impossible to experience these varieties at anything less than titanic volumes. Enter the BUGERA TRIREC INFINIUM—this all-valve tone buffet features a Varipower dial that scales output power from 1 to 100 Watts, giving you sweet power tube saturation at apartment-friendly volumes. Feel like experiencing a power valve variety besides 6L6? INFINIUM Valve Life Multiplier technology not only extends the lifespan of your output valves, it allows you to run all 6L6s, 6550s, EL34s, or you can mix any combination of the above to create your own signature tone. The TRIREC also gives you three preamp channels, each with a wide array of sonic options, internal reverb, an adjustable and remote switchable boost, an FX loop, and three rectifier modes to choose from (valve, silicon diode, valve and silicon diode).
Tri-What?
Rectifiers convert alternating current (AC) to direct current (DC), giving your guitar amp the power it needs to rock. Most of today's amps feature solid-state rectifiers, which have high power output and tight bass response. But many guitarists prefer valve-based rectifiers, which are known for their "sag" effect – this basically means when you slam a chord, it doesn't reach its full volume right away, but instead makes a tough initial impact before quickly blossoming into a classic rock ultimatum. With the BUGERA TRIREC, both breeds of rectifier are alive and well in the same amp. You can even use them at the same time! Choose Silicon Diodes for high power and tight bass, Valves (2 x 5U4 valves) for lower power and the almighty "sag," or a combination of the two called Valves & Diodes for medium-powered operation spiked with equal parts punch and vintage grace.
Good Things Come In Threes
Three is a recurring number when it comes to the awesome features of the TRIREC. There are three preamp channels, each with three-band EQ, Presence, Volume and Gain controls. Channel 1 gives you pristine cleans and a DRIVE setting for a dynamic crunch tone. Channels 2 and 3 give you three overdrive modes: Classic for blues and classic rock sounds, Vintage for more gain for hard rock, and Modern for pure, maniacal metal. Five 12AX7 valves give the TRIREC's preamp stage the mojo to cover this vast tonal palette. The output stage contains 4 x 6L6 valves (convertible to 4 x EL34 valves—not included).
What is Varipower?
There's nothing like the roaring "soft-clip" sound of saturated power valves, but these tones are normally accessible only when an amp's volume is cranked. Unfortunately, this kind of volume isn't an option when you're jamming away in your apartment at 3:00 AM, or if you're gigging in a tiny club. That's why the TRIREC features the Varipower rotary control, which adjusts output power anywhere from 1 to 100 Watts. Whether you're trying to record a searing solo without waking the neighbors, or blowing the roof off the biggest gig of your life, the TRIREC is always ready to provide the sound of overdriven valve fury.
The Back Story
The TRIREC's incredible tonal variations make it a recording studio gem, but it's got the features that make it equally amazing on stage. The back panel features a LINE OUT jack with dedicated Level knob for sending signal to a slave amp, as well as Loudspeaker jacks with switchable impedance (16, 8 or 4 Ohms), making this amplifier compatible with virtually any speaker cabinet. The built-in FX Loop has controls for adjusting the output (send) and return levels separately. The associated Assign knob has four states: FX loop is always on, has an individual status per channel, is activated via footswitch, or is deactivated. You also get six External Switching jacks that allow channel switching, BOOST, REVERB and FX LOOP to be controlled by an external switching system. This is where you'll find the input for the FSB106A footswitch, which also controls these parameters, and offers a MIDI IN /THRU connection controlling the TRIREC in sync with your MIDI setup.
INFINIUM Valve Life Multiplier Technology
Revolutionary INFINIUM Valve Life Multiplier technology is like having your very own technician inside your amp constantly monitoring and tweaking valve performance for the ultimate in tonal integrity and reliability. This revolutionary circuit not only optimizes the performance of each output tube, it dynamically balances the drive between them to more evenly distribute the load. With INFINIUM, your tubes last up to 20 times longer, saving you substantial money over the lifespan of your amplifier. INFINIUM also compensates for the effects of aging, automatically adjusting current levels to keep your valves sounding as good as the day they were installed.
If and when a valve does reach the end of its life, the system even tells you which one to replace. All you need do is replace the faulty valve and let INFINIUM take care of the rest for you. This all adds up to more consistent sound quality and longer life for your valves. Maintenance for valve amps has never been this easy!
Rectify Your Situation
"Heavy" is a relative term. The walls of amps at Woodstock? Heavy. The stacks used in modern metal? Colossally heavy. Yet neither flavor of heavy shows any signs of going out of style. This amp is loaded with brutal power, but it can also be tamed with unprecedented ease. Harness the power of valve-based rectifiers or silicon diodes in a single amp, or combine them for the best of yesterday and today with the TRIREC. Give your tone the power it deserves – plug into a TRIREC at your nearest BUGERA dealer.
Features
Hand-built and hand-wired 100-Watt Class A/B amplifier driven by 4 x 6L6 valves (convertible to EL34)
Revolutionary INFINIUM Valve Life Multiplier technology: – Extends the life of your amplifier's expensive power valves up to 20 times. – Provides incredible reliability and consistent tone over the complete lifespan of your valves – No need for expensive matched valve sets – Allows you to mix and match any combination of compatible valve types and brands – Monitors performance of each power tube continuously and displays defective valves to allow for easy and individual replacement
3 fully independent channels with switchable killer voicings (Classic, Vintage and Modern) featuring 5 x 12AX7 valves
3 unique rectifier modes featuring 2 x 5U4 valves and silicon diodes for ultimate performance
Integrated high-class reverb with dedicated Reverb control
VARIPOWER control allows the maximum power to be seamlessly scaled down to produce a cranked amp sound at much lower volumes
Dedicated Gain, Bass, Mid, Treble, Presence and Volume controls per channel for awesome sound shaping
Adjustable and remote controllable Boost function for ultimate punch when playing leads
Heavy-duty 6-button footswitch for channel selection, Boost, Reverb and FX Loop function included--doubles as MIDI IN / THRU for complete MIDI remote switching
Manual or auto-assignable FX Loop with independent Send and Return level controls
External Switching connectors for remote control of channel selection, Boost, Reverb and FX Loop
Line output with dedicated Level control
Multi-impedance output connectors (4, 8 and 16 Ohms) to match virtually any speaker cabinet
High-quality components and exceptionally rugged construction ensure long life