You're currently on:

Year Three Collection
Cherry Audio Year Three Collection for Voltage Modular assembles all of our killer "high-end" Cherry Audio/MRB brand modules from Voltage Modular's third year including VM900 Collection, VM2500 Collection and Synthesizer Expander Module Bundle, at a huge savings over the individual purchase prices.
System Requirements
macOS Requirements: macOS 10.9 or above (including macOS 12), 64-bit required. Native Apple M1 processor support. Quad-core computer with 8GB of RAM recommended.
Windows Requirements: Windows 7 or above (including Windows 11), 64-bit required. Quad-core computer with 8GB of RAM recommended.
Included Products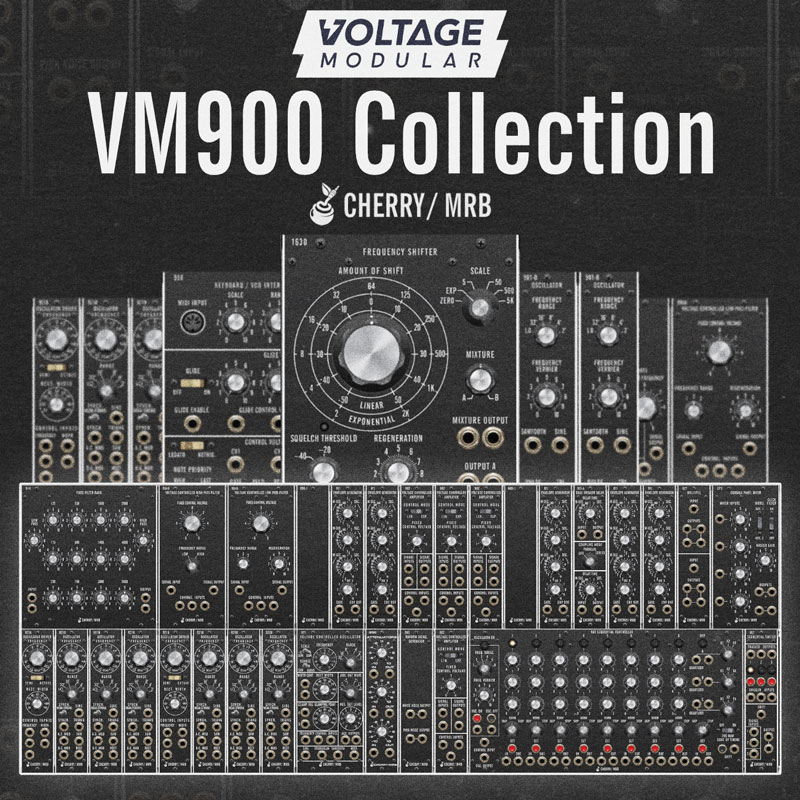 VM900 Collection
With the sound, look, and feel that started it all, the Cherry Audio/MRB VM900 Collection delivers the audio and visual experience of the legendary Moog 900-series modules with spine-tingling impact and accuracy. Every detail has been expertly reproduced, for a virtual window into the halcyon days of early analog synthesis - Mark Barton's (MRB) proprietary DSP coding reproduces each and every sonic nuance with unprecedented accuracy.
The 26-module VM900-series collection has not been altered or updated to reflect modern trends - panel layouts and operation have been preserved in order to present a one-to-one early analog experience like no other. From oscillator drift to warm mixer overdrive to painstakingly reproduced panel art, it's all there - the Cherry Audio/MRB VM900 Collection is simply a "must-have" module set for all purveyors of vintage analog synthesis!
VM2500 Collection
Cherry Audio and MRB have collaborated to deliver the unique module features, stunning sound quality, and overall user experience of the rare and classic ARP 2500 synthesizer to the Voltage Modular platform. All 18 modules originally produced for the ARP 2500 system have been recreated in perfect detail, as well as a couple that were planned but never produced (including a full-function oscilloscope and a spring reverb), and a mixer module that never existed, but should have! We've eliminated the matrix-switch I/O scheme and replaced all connections with standard CV jacks, and added bi-polar CV attenuators to all modulation inputs for full compatibility with all Voltage Modular modules. But most importantly, the tremendous analog sound and unique features of the original modules have been retained in their entirety, with a few small tweaks to improve the practicality of these 50-year-old designs. The recreation of the 2500 modules was a team effort, combining Cherry Audio's extensive design experience with award-winning synth designer Mark Barton's (MRB) DSP coding sorcery. The result is a virtual time machine of fat, impactful early electronic music history for the ears!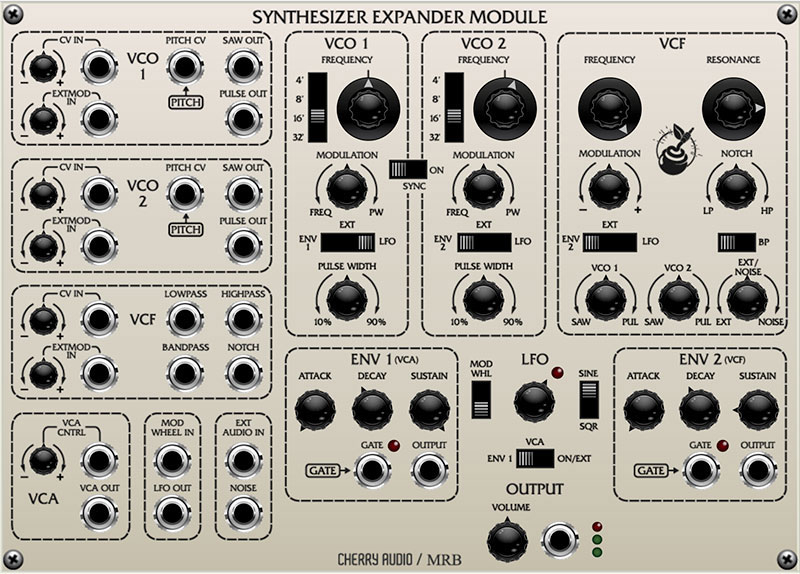 Synthesizer Expander Module Bundle
The Synthesizer Expander Modules are emulations of the classic Oberheim Synthesizer Expander Module, aka the "SEM." Originally released in 1974, the keyboardless, mono SEM module was intended as a companion to the Oberheim DS-2, one of the earliest digital sequencers.
The Voltage Modular Synthesizer Expander Modules are similar to the "patch panel" SEM reissues released in the 2000's - exactly like the original 70s versions, with the addition of an extensive patch panel for modular flexibility. Featuring a circuit-correct recreation of the SEM's 12 db/oct state-variable filter, programmed by award-winning synth designer Mark Barton (MRB), the Synthesizer Expander Modules sound incredible! The Synthesizer Expander Module Bundle includes mono and poly versions of this classic instrument.
You may also be interested in: