You're currently on: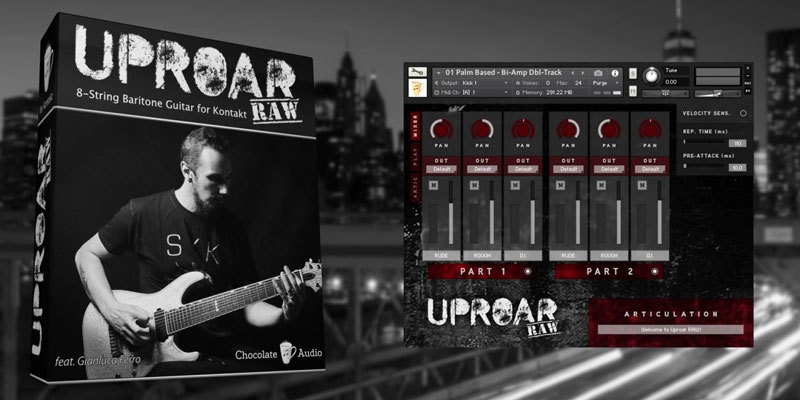 Chocolate Audio Uproar Vol. 2 8 String Guitar For Kontakt
A glorious ESP 8 String baritone guitar
The second release in The Choco•Matic Series features again the sound of a one-of-a-kind wonder: a custom shop ESP 8-string baritone guitar made for Gianluca Ferro. Two of the most powerful and balanced active EMG pickups were paired with boutique amps, effects and custom re-amping to achieve a thunderous guitar tone, tailored to cut its way through busy mixes in any genre: cinematic, orchestral and modern rock music in particular.
Playfulness
Gianluca Ferro is an accomplished guitar player and an ESP endorser. Having played in numerous international metal acts, knows quite a bit about the tone and attitude required to achieve perfectly tight and soulful tracks.
Stats
Uprorar Vol. 2
features:

7 Collections ranging 78 to 180 BPM
4 Parts for each Collection
each Part features between 6 and 10 Tonal Centers
each Tonal Center features up to 7 Variations
a total of 1872 Phrases
3.14 GB uncompressed content (1.99 GB compressed)
amp and DI version (so you can reamp or process it with your favorite plugins)
each Part can be routed to a separate output from Kontakt to your DAW for further processing
version 2 of our custom innovative Choco•Matic looping and phrasing engine for Kontakt 5.5.2 and up (Full Version)
recorded at 88.2 KHz/24 bit, released at 44.1 KHz/24 bit

The Collections
#1 - The Waiting Game
095 bpm
4/4
Tonal Centers: F#, G, A, A#, C#, D (modal)
#2 - Heavy Tech
135 bpm
4/4
Tonal Centers: F#, A, B, C#, D (modal)
#3 - Funkyfied Syncope
125 bpm
4/4
Tonal Centers: F#, G, A, A#, B, C, D, C#, D#, E (modal)
#4 - Assertive Whams
078 bpm
4/4
Tonal Centers: G, A, B, C#, D, D#, F (modal)
#5 - Train Ride
180 bpm
4/4
Tonal Centers: B, C#min, A, E/G#, F#min, G#min (tonal)
#6 - Bow and Fly
130 bpm
4/4
Tonal Centers: F, G, A#, B, D, Eb (modal)
#7 - Supposed to Swing
086 bpm
6/8
Tonal Centers: Eb, Bb, Cmin, Gmin, Ab, Fmin, Bb/D (tonal)
The Choco•Matic Engine
This is not your common "play a phrase at a time" engine
We built this engine making use of our expertise as sample library producers since 2003 and our needs as users of such phrase-based instruments.
Triggering and arranging up to 4 parts at a time
The scheme above exemplifies our system for triggering.
Triggering can happen either in Temp or Latch modes.
Playback Timing sets the moment when changes are actually triggered ("immediately" up to "next Bar").
Sync/Legato tells the engine the way you want to concatenate the different Phrases (see below for details).
Sync/Legato - a unique feature
We have always wondered why triggering a phrase and then another cannot simply make the first phrase flow effortlessly into the second one, rather than re-triggering the whole thing from the start in a rather un-musical way and vastly limiting the expressive possibilities offered by such phrases.
So, we took care of it.
Not only, this same logic applies also to the switching of Tonal Centers (harmonic contexts), allowing you to create custom harmonic progressions and/or riffs starting from the same Phrases, thus achieving almost endless creative possibilities for each release in The Choco•Matic Series.
A v. 2.0 exclusive of the engine is the ability to anticipate or delay each single part by the desired amount in musical time.
DISCLAIMERS:
- this Instrument requires the FULL RETAIL VERSION OF KONTAKT 5.5.2 or higher, the free Kontakt Player will run this Instrument in demo mode ONLY for a few minutes.
- this Instrument may be acquired only in downloadable format, download size is about 2 Gigabyte, so expect longer download times on slower connections
Features
7 Collections ranging 78 to 180 BPM
4 Parts for each Collection
each Part features up to 10 Tonal Centers
a total of 1872 Phrases
3.14 GB uncompressed content (1.99 GB compressed)
amp and DI version (so you can reamp or process it with your favorite plugins)
each Part can be routed to a separate output from Kontakt to your DAW
a set of custom Impulse Responses made on purpose for this release
vers. 2.0 of our custom innovative Choco•Matic phrasing engine for Kontakt 5.5.2 and up (Full Version)
recorded at 88.2 KHz/24 bit, released at 44.1 KHz/24 bit
requires Kontakt 5.5.2 Full Version or better
requires 2 GB of RAM and 1 GB of disk space (the more the better)
You may also be interested in:
| | |
| --- | --- |
| Variant | 1 |
| Specials | Dec 16, 2019 |